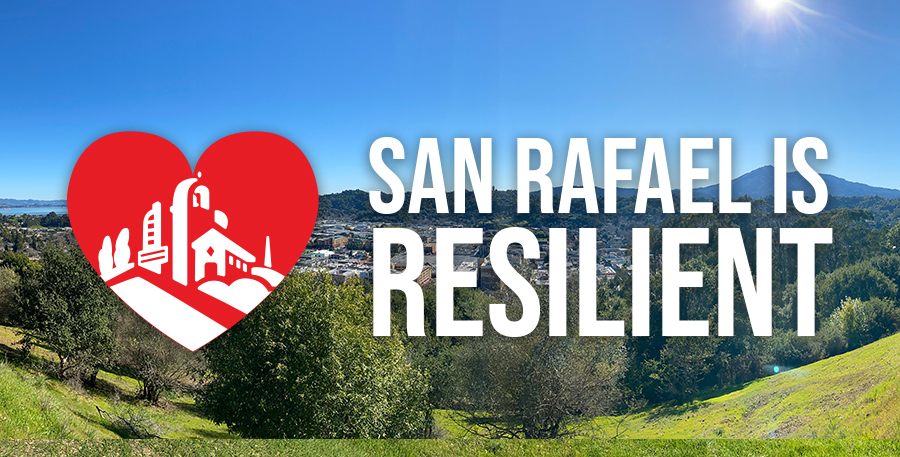 We know how important it is for our San Rafael Businesses to reopen, so we've partnered with the San Rafael Chamber of Commerce and Downtown Business Improvement District to support our incredible business community as best as possible. 
Over the weekend we created a free and automatic temporary permit process for businesses to use the sidewalk space in front of their business for outdoor dining or retail. Restaurants and shops that meet the requirements can fill out the online form and be granted an automatic temporary permit. As of today, we've received submissions from the following restaurants and retailers: 
Amici's East Coast Pizzeria

 

Gaspare's

 Pizzeria Ristorante Bar

 

Los Moles

 

The Kitchen Table

 

Tenkyu

 Japanese Restaurant

 

Tam Commons

 Tap Room & Kitchen

 

Extreme Pizza

 

Vin Antico

 

Sling-it Lacrosse

 
We'll keep you informed as more businesses opt–in for outdoor dining and retail! 
As a diner or shopper, please always remember to wear your face covering and maintain 6-feet from others whenever possible. Also, please only dine with members of your household and comply with the protocols put in place by the business.  
---
City Council Meeting Tonight
Tonight's City Council meeting will be streamed live starting at 7 p.m. on our YouTube Channel. Topics on tonight's agenda include: granting the City Manager further discretion to support businesses with reopening, paramedic tax rate, an appeal for 104 Shaver Street, and employee work agreements. 
To have your comments read aloud, write PUBLIC COMMENT before your message in the live chat section on YouTube. You can also participate by telephone by calling (669) 900-9128, check out tonight's City Council video description for the meeting ID.  Also, if you want your name included make sure to introduce yourself! 
Not interested in commenting live? Email your comments to Lindsay Lara, City Clerk, prior to the meeting. 
---
San Rafael Libraries Opening for Curbside Services
Starting on Wednesday, June 3 the Downtown and Pickleweed library locations will be opening for curbside pickup! Appointments are required. For your safety and ours, staff will not engage with patrons face-to-face except to place checked-out materials on a table. All patrons must wear a face covering. 
To make an appointment: 
Call 

415-485-3323

 for Downtown or 

415-485-3483

 for Pickleweed during 

open hours

 

You can place items on hold using our

 online catalog

 

When you get an email notification informing you that your holds are ready for pick-up,

 call to make an appointment

.

 
---
Health Officers Pledge to Remain United
The circumstances we're experiencing as a community are of that like none before, and the Health Officers in the Bay Area feel strongly that partnering to make decisions together is the best way for the region to tackle the challenges of this crisis. 
Earlier today, the Public Health Officers from Marin, Alameda, Contra Costa, San Francisco, and Santa Clara counties and the City of Berkeley released a statement vowing "to remain united in their commitment to work together as a region" and "continue doing all that they can to protect the most vulnerable and keep everyone safe." 
HEALTH OFFICERS' PLEDGE OF PARTNERSHIP
---
Marin County Offices Begin Reopening
Starting this week, the County of Marin will begin reopening a number of their in-person customer service offices. Residents and visitors are encouraged to continue utilizing online services and will need to make appointments for in-person visits. Residents with in-person appointments are required to wear face coverings to receive service in compliance with the updated orders. County staff will wear masks as well. Check out their website for more detailed service updates in anticipation of the revised Public Health Order.  
---
COVID-19 Testing 
Opportunities
If you've continued working during the COVID-19 pandemic and are frequently coming into contact with the public, this means you are strongly encouraged to get tested for COVID-19.  
There are several ways to get tested in San Rafael. You can call your medical provider to see if they offer testing; most do. If you don't have health insurance, you can get tested for free by calling 1-888-634-1123 or visiting lhi.care/covidtesting to make an appointment. Multilingual staff are available to assist with both appointment scheduling and testing. 
---
Reminders
Text "MARIN COVID" to 46811 for text notifications

.

 

Text "MARIN COVID [email address]" to 46811 for email notifications

.