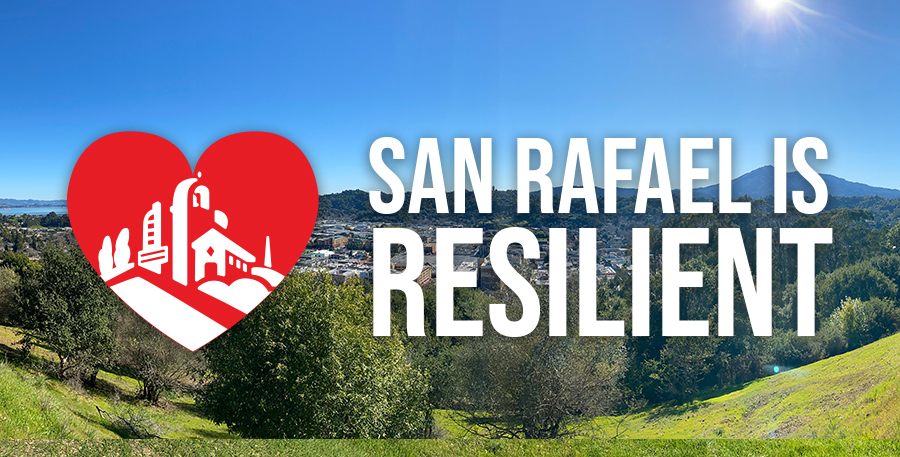 DESPLAZARSE HACIO ABAJO PARA ESPAÑOL
These dynamic and uncertain times have left many feeling disheartened and isolated; remember that we're all in this together even though we're keeping physically distant. Now may be a good time to teach yourself or another member of your household something new. There's also lots of good literature out there to get lost in and your local San Rafael Library will mail books right to your home. And, don't forget to step outside to enjoy the sun when it's shining through the clouds. Thank you for doing your part to protect our community, especially our community members who are most vulnerable.
As of last night, several updates were put in place to increase restrictions on the shelter in place order. Take some time to read about the updated order to get a better understanding about how the order modifications might affect you and your family in terms of social distancing, usage of parks and open space, construction, and access to food.
---
Shelter in Place Order
The County Health Officer issued a new shelter in place order on March 31, 2020 which supersedes the previous order issued on March 16. This revised order is effective until May 3, unless reformed by the County Health Officer.
Unfortunately, the public health crisis has worsened over the past two weeks. In order to protect our communities, the County Health Officer determined that Marin County, along with other counties in the Bay Area, must enact stricter social distancing measures for a longer period of time.
Beyond extending the shelter in place requirements until May 3, the new order is more restrictive in a number of ways, including:
Social distancing is now mandatory; individuals must maintain 6 feet of physical distance between people who are not members of their immediate household.
Essential businesses that remain open must post and implement social distancing protocols in their facilities.
Recreational areas such as playgrounds, dog parks, and basketball and tennis courts must be closed to the public.
To read the new order, executive summary, and to find other helpful resources, please see the Marin County Health and Human Services website.
---
Park Closures
Effective March 31-May 3, all parks, campgrounds and other open spaces in Marin County are closed to motorized vehicle access.
Individuals may still access open spaces by foot or bicycle. If you'd like to exercise, enjoy a walk or a jog in your neighborhood. When utilizing open spaces, it is imperative that we continue to engage in mandatory social distancing.
Individuals with disabilities who drive a vehicle with a DP Parking Placard or DP License Plate may still access park facilities by motorized means.
Anyone driving to or around a park facility for the purpose of accessing that facility is in violation of the new order (excepting individuals with disabilities with the appropriate placard or license plate).
---
Construction
All construction work must immediately cease and desist unless authorized by the City of San Rafael Chief Building Official as essential.
Most construction—residential and commercial—is prohibited. Exceptions are made for healthcare facility construction directly related to the COVID-19 response; affordable housing; public works projects when designated as essential by the lead governmental agency; shelters and temporary housing; projects necessary to provide critical services to certain vulnerable individuals; construction necessary to secure an existing construction site; and limited essential residential or business repairs.
Check out the full list of qualifying essential construction.
---
Access to Food for Vulnerable Populations
As we continue to shelter in place, there are still options in Marin County for vulnerable populations to access fresh and healthy foods.
Use the SFMarin Food Bank Locator to find local options for accessing food.
Learn about public assistance options such as CalFresh offered through Marin County Health and Human Services.

If you're already enrolled in CalFresh, use the EBT Locator to find local stores that accept EBT.

For older adults (ages 60+) and people with disabilities, many local grocery stores are offering special shopping hours. Here are several options in San Rafael:

Safeway: Tuesday and Thursday – 7 a.m. to 9 a.m.
Target: Wednesday – 8 a.m – 9 a.m daily
Whole Foods: 8 a.m – 9 a.m daily
Individuals who are not able to access public assistance or have no other means to access food can call 415-473-7191.
Get more info on Marin County food resources.
---
REMINDERS 
Today is national Census Day! The census is just getting started, now is a great time to submit your form and it only takes a few minutes, fill it out online at 2020census.gov.
Property Taxes due on Friday, April 10, payments can be made:

By phone: 800-985-7277
By mail postmarked by Friday, April 10

Our next City Council meeting is Monday, April 6 at 7:00 PM. Check out how you can participate online or by phone.
---
Updates on Coronavirus in Marin County
For the most up-to-date information on COVID-19 in Marin County please visit the Marin Health and Human Services Website:  https://coronavirus.marinhhs.org/
Watch Video Updates from Marin HHS:
COVID-19 Video updates from Marin HHS are available on YouTube. Subscribe to be alerted when they post a new video.
COVID-19 Updates  and FAQs 
---
COVID-19 Hotline and Public Health Email
Call: 415-473-7191
Email: COVID-19@marincounty.org
---
City of San Rafael Coronavirus Information
https://www.cityofsanrafael.org/coronavirus
---
City of San Rafael COVID-19 Business Resources
https://www.cityofsanrafael.org/coronavirus-business-resources/
---
Miércoles
, 1 de April 2020
Estos tiempos dinámicos e inciertos han dejado a muchos sintiéndose desanimados y aislados; recuerda que estamos todos juntos en esto aunque nos mantengamos físicamente distantes. Ahora puede ser un buen momento para aprender algo nuevo para usted u otro miembro de su hogar. También hay mucha buena literatura por ahí para perderse y su Biblioteca local de San Rafael enviará los libros directamente a su hogar. Y no te olvides de salir para disfrutar del sol cuando brilla a través de las nubes. Gracias por hacer su parte para proteger a nuestra comunidad, especialmente a los miembros de nuestra comunidad que son más vulnerables. 
A partir de la noche anterior, se implementaron varias actualizaciones para aumentar las restricciones en el orden de refugio. Tómese un tiempo para leer sobre el pedido actualizado para comprender mejor cómo las modificaciones del orden podrían afectarlo a usted y a su familia en términos de distanciamiento social, uso de parques y espacios abiertos, construcción y acceso a alimentos. 
---
Refugio en Lugar Orden
El Oficial de Salud del Condado emitió una nueva orden de refugio el 31 de marzo de 2020 que reemplaza la orden anterior emitida el 16 de marzo. Esta orden revisada es efectiva hasta el 3 de mayo, a menos que sea reformada por el Oficial de Salud del Condado. 
Desafortunadamente, la crisis de salud pública ha empeorado en las últimas dos semanas. Para proteger nuestras comunidades, el Oficial de Salud del Condado determinó que el Condado de Marin, junto con otros condados en el Área de la Bahía, deben promulgar medidas de distanciamiento social más estrictas por un período de tiempo más largo. 
Más allá de extender los requisitos de refugio en el lugar hasta el 3 de mayo, el nuevo orden es más restrictivo de varias maneras, que incluyen: 
El distanciamiento social ahora es obligatorio; las personas deben mantener una distancia física de 6 pies entre las personas que no son miembros de su hogar inmediato.

 

Las empresas esenciales que permanecen abiertas deben publicar e implementar protocolos de distanciamiento social en sus instalaciones.

 
Las áreas recreativas como parques infantiles, parques para perros y canchas de baloncesto y tenis deben estar cerradas al público.

 
Para leer la nueva orden, el resumen ejecutivo y encontrar otros recursos útiles, visite el sitio web de Salud y Servicios Humanos del Condado de Marin. 
SITIO WEB MARIN HHS: https://coronavirus.marinhhs.org/stay-home-order-effect-marin-county  
---
Cierres Del Parque
A partir del 31 de marzo y hasta el 3 de mayo, todos los parques, campamentos y otros espacios abiertos en el Condado de Marin están cerrados al acceso de vehículos motorizados. 
Las personas aún pueden acceder a espacios abiertos a pie o en bicicleta. Si desea hacer ejercicio, disfrute de una caminata o trote en su vecindario. Al utilizar espacios abiertos, es imperativo que sigamos participando en distanciamientos sociales obligatorios.

 

Las personas con discapacidades que manejan un vehículo con una placa de estacionamiento DP o una placa de licencia DP aún pueden acceder a las instalaciones del parque por medios motorizados.

 
Cu

alquier persona que maneje hacia o alrededor de una instalación del parque con el propósito de acceder a esa instalación está violando la nueva orden (excepto las personas con discapacidades con la placa o placa correspondiente).

 
LEA EL ORDEN COMPLETO: https://coronavirus.marinhhs.org/sites/default/files/2020-03/20200331131045626.pdf 
---
Construcción
Todo el trabajo de construcción debe cesar y desistir de inmediato, a menos que sea autorizado por el Oficial Jefe de Construcción de la Ciudad de San Rafael como esencial. La mayoría de las construcciones, residenciales y comerciales, están prohibidas. Se hacen excepciones para la construcción de instalaciones de salud directamente relacionadas con la respuesta COVID-19; vivienda asequible; proyectos de obras públicas cuando sean designados como esenciales por la agencia gubernamental principal; refugios y viviendas temporales; proyectos necesarios para proporcionar servicios críticos a ciertas personas vulnerables; construcción necesaria para asegurar un sitio de construcción existente; y reparaciones residenciales o comerciales esenciales limitadas. 
MÁS INFORMACIÓN: https://www.cityofsanrafael.org/all-non-essential-construction-prohibited/  
---
Acceso a Los Alimentos Para Poblaciones Vulnerables
A medida que continuamos refugiándonos en el lugar, todavía hay opciones en el Condado de Marin para que las poblaciones vulnerables accedan a alimentos frescos y saludables. 
Use el Localizador de bancos de alimentos 

SFMarin

 para encontrar opciones locales para acceder a los alimentos.

 

C

onozca las opciones de asistencia pública como 

CalFresh

 que se ofrece a través de los Servicios Humanos y de Salud del Condado de 

Marin

.

 
Si ya está inscrito en 

CalFresh

, use el Localizador de EBT para encontrar tiendas locales que acepten EBT.

 
Para los adultos mayores (mayores de 60 años) y las personas con discapacidades, muchas tiendas de comestibles locales ofrecen horarios especiales de compra. Aquí hay varias opciones en San Rafael:

 
Safeway

: 

M

artes y 

J

ueves de 7 a.m. a 9 a.m.

 

Target

: 

M

iércoles – 8 a.m – 9 a.m. diariamente

 

Whole Foods

: 8 a.m. a 9 a.m. al día

 
Las personas que no pueden acceder a la asistencia pública o no tienen otros medios para acceder a los alimentos pueden llamar al 415-473-7191.

 
RECURSOS ALIMENTARIOS DEL CONDADO DE MARIN: https://www.marincounty.org/main/county-press-releases/press-releases/2020/hhs-covid-food-resources-040120  
---
Recordatorios
¡Hoy es el día nacional del censo! El censo recién comienza, ahora es un buen momento para enviar su formulario y solo toma unos minutos, complételo en línea en www.2020census.gov. 
Impuestos a la propiedad se vencen el viernes 10 de abril, los pagos pueden hacerse: 
En línea

 

Por teléfono: 800-985-7277

 

Por correo matasellado antes del viernes 10 de abril

 
Nuestra próxima reunión del Consejo de la Ciudad es el lunes 6 de abril a las 7:00 PM. Vea cómo puede participar en línea o por teléfono. 
---
Actualizaciones sobre Coronavirus en el Condado de Marin
Para obtener la información más actualizada sobre COVID-19 en el condado de Marin, visite el sitio web de Marin Health and Human Services: https://coronavirus.marinhhs.org/
Ver actualizaciones de vídeo de Marin HHS:
 
 COVID-19 Actualizaciones de vídeo de Marin HHS están disponibles en YouTube. Suscríbete para recibir alertas cuando publiquen un nuevo vídeo.
Actualizaciones de COVID-19 ?  Preguntas frecuentes
---
Línea directa COVID-19 y correo electrónico de salud pública
Llame al: 415-473-7191
Correo Electrónico: COVID-19@marincounty.org
---
Información de la ciudad de San Rafael Coronavirus
 https://www.cityofsanrafael.org/coronavirus
---
Ciudad de San Rafael COVID-19 Recursos Empresariales
  https://www.cityofsanrafael.org/coronavirus-business-resources/
---