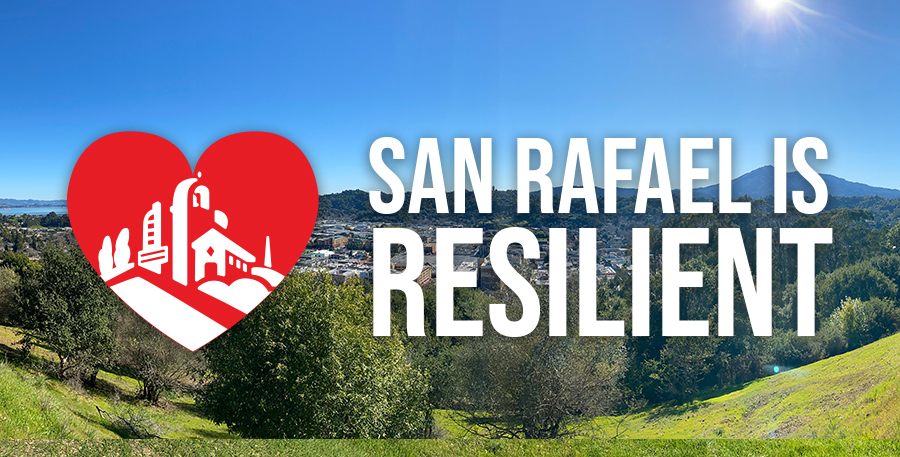 At the end of April, Governor Newsom announced a new food delivery service program for older adults called, Great Plates Delivered: Home Meals for Seniors.  It's intended to accomplish two things: provide access to nutritious meals for older adults who are sheltering in place, and support local restaurants. The framework for Great Plates was developed at the State level, but it must be first approved and then implemented at a local level. 
The Marin County Board of Supervisors will consider approving the program at its May 12 meeting. If approved, Marin Great Plates will launch on May 18 and run through May 29, with the possibility of extension through June 10. Older adults participating in the program will receive three meals a day, five days a week, delivered to their homes at no cost to them. Funding will be provided by FEMA and the State of California with Marin County covering remaining costs, if any. The first 1,000 Marin residents who apply and meet the program criteria will be enrolled.   
To be eligible for Marin Great Plates, Marin residents must: 
Be 65 or older, or 60-64 and in a 

high-risk category

 as defined by the CDC

 

Live alone or with one other program-eligible adult

 

Not currently receive assistance from another sta

te or federal nutrition program, such as Meals on Wheels, 

CalFresh

, or the 

C

ounty 

grocery delivery service

 

Earn no more than 600% of the federal poverty limit, or $74,940 for an individual or $101,460 for a house

hold of two

 

Affirm an inability to prepare or obtain meals

 
If you have questions about your eligibility, you can call Whistlestop starting Tuesday, May 12 at 415-456-9073 to receive assistance. Applications are not available at this time. Following the Board of Supervisors meeting, the County will release the application process, pending program approval. Stay tuned! 
Are you a local restaurant interested in providing meals? You can submit your interest online for review pending program approval. The County will select 50 food providers to participate, based on various factors. 
---
7 Days to a Fire Safe Home – Tip #3 
Hey, it's Friday! We're in our third week of sending out one tip per week that you can tackle to make your home more fire safe. Just to reiterate, last week modifications were made to the extended Public Health Order to allow for the operation of "outdoor businesses," including gardeners and landscapers.  
Last week we cut our tall grasses, this week we'll jump on getting rid of combustible items, that's right, Tip #3: Clear combustibles within 5' of your home.  
Combustible materials include things such as fire-prone vegetation, firewood stacks, combustible patio furniture, umbrellas, and lumber decking. Desirable substitutions include irrigated grass, rock gardens, stone patios, metal patio furniture, and noncombustible decking. It's especially important to consider this step on Red Flag Days. Have a plan to cover combustibles with fire resistant materials or replace them with fire safe plants or furniture. 
 San Rafael City Ordinance 1856 explains that Juniper and Bamboo, both highly combustible plant species, are not to be within 15' of the home. Did you know that we offer a free Juniper/Bamboo Chipper Program to assist homeowners with collection and disposal? Now's the perfect time to get to work clearing combustibles around your home! Please let us know if you would be interested in having the chipper in your neighborhood. 
FireSafe Marin's website provides great general guidelines to follow for your property as well as additional information on home hardening. Please check out their website before you begin. 
If you have any questions you can reach our office by using the Contact Fire Department Form or calling 415-485-3308. 
---
PG&E Power Shutoff Preparedness Webinar 
Should you go solar at your home? Should you add battery storage if you do? And how do battery systems compare to traditional backup generators? The webinar will cover basic information a homeowner would need before investing in solar for their home including costs, return on investment, technical specifications, owning vs. lease agreements, and more. Sign up online for one of the following webinars! 
Webinar schedule: 
Saturday, May 30, 9-10:30 a.m.

 

Tuesday, June 2, 6:30-8 p.m.

 

August, date and time to be determined

 
---
Companionship for 
Older
Adults 
in Quarantine
Know a senior in need of some emotional support? The Friendship Line, created by the Institute on Aging, was created to bring non-emergency emotional support to older adults. The Friendship Line has actually been around for nearly 50 years. In addition, it's the nation's only accredited 24-hour hotline! 
Just because social distancing has become our new norm, doesn't mean we should stop being social. If you are or know an older adult looking for support, call the Friendship Line, it just might make your day! 
---
Resources for Domestic Violence Victims
For some, sheltering at home is anything but safe. If you or someone you know is experiencing domestic violence, there are resources; you don't have to face it alone. Call the Center for Domestic Peace 24-hour hotline at 415-924-6616 and get help making a plan. If it's unsafe or uncomfortable for you to speak on the phone, the National Domestic Violence Hotline has a chat service available 24/7.   
---
REMINDERS
It's 

Bike Safety Month

! If you plan to get out for a ride, don't forget your helmet!

 

The San Rafael Public Library is still here for you! Find out about remote services and upcoming virtual programs in the latest edition of 

Your Online Library

 

and 

subscribe

 to receive weekly updates

.

 

Red Cross continues hosting blood drives—check out their 

website

 

for upcoming donation 

opportunities near you

!