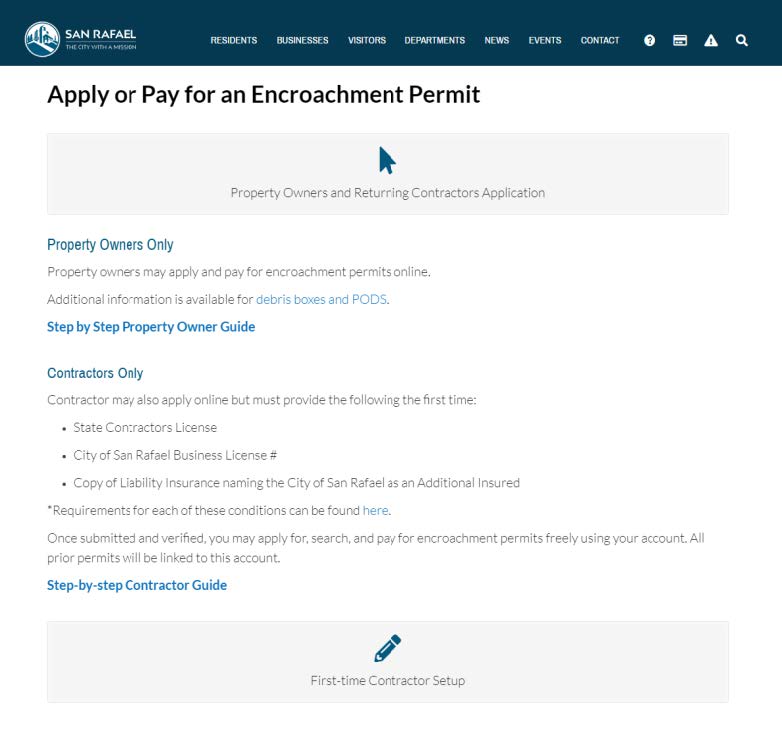 The Department of Public Works is pleased to announce that Encroachment Permit applications and payments will now be accepted online at www.cityofsanrafael.org/epapply. Property owners and contractors will now be able to apply for all types of encroachment permits and make payment via credit card. Once applied for staff will review the permit and send the approved permit to the applicant for signature via email. It should be noted that the online application is just that, an application only and does not approve work. A valid permit issued by the Department of Public Works must be in hand prior to start of any work in the City right-of-way.
For property owners and contractors that currently utilize the Building Division's online permit
application, the process will look very familiar. The same login can be used across all of the City's
online permit and citation payment system. This shared login will allow users to track all their
permits with the City in one convenient location. Contractors must submit insurance, state
contractor's license, and City of San Rafael business license. Once submitted and approved, the
contractor's information will be held on file and future permit applications will be processed more
expediently.
The online system will reduce the number of trips contractors, residents, and utility operators will
have to make to DPW. It will also reduce the amount of time staff spends inputting as online
applications will be inputted into the permitting software directly. In conjunction with issuing "No
Parking" permits, the Department of Public Works continues to search for ways to streamline the
permitting process and make it as easy as possible for applicants.
More information regarding encroachment permit requirements and frequently asked questions can be found at www.cityofsanrafael.org/encroachment-permits.