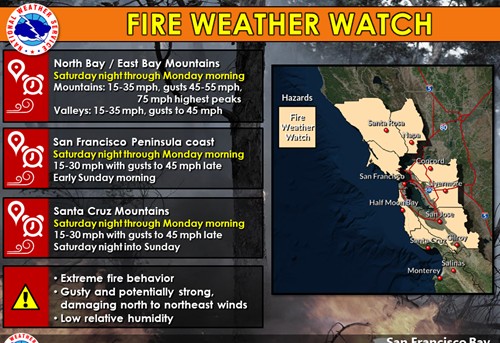 Prepare Now
Pacific Gas & Electric Company (PG&E) has notified the County of Marin that it may activate its Public Safety Power Shutoff (PSPS) protocols in response to a high wind event and Red Flag Warning. At 7:30am this morning, PG&E said it could potentially initiate a planned power shutoff in parts of Marin County between 1pm and 5pm on October 26th, 2019. PG&E estimated that 86,813 metered locations within Marin would be affected by a possible PSPS. The duration of the shutoff is unknown and will be determined by PG&E.
We are currently awaiting more information from PG&E on the extent of impacts to San Rafael and Marin County. We expect to have more information later this afternoon.
Fire Weather Watch 
A Fire Weather Watch has been announced for Saturday night through Monday morning for dangerously strong offshore winds. Another offshore wind event will develop Saturday Night into Sunday. This event looks to be the strongest of this year and since the 2017 wine country fires. Strong northeast winds will only slowly ease later Sunday and persist right through Monday morning. This will be a long duration and extreme wind event.
Any fires that develop will likely spread rapidly.
A Fire Weather Watch means that critical fire weather conditions are forecast to occur. Listen for later forecasts and possible Red Flag Warnings.
Drift Smoke 
Please note that San Rafael may experience drift smoke from the Kincade Fire in Sonoma County starting tomorrow.
Stay Informed 
PG&E text alerts: text 'Enroll" to 97633
PG&E by phone: dial 877-9000-PGE
Sign up to receive safety information on Nixle by texting your ZIP code to 888-777.
Sign up for AlertMarin notifications to receive information on immediate threats to personal safety or property, tailored to an address of your choosing.
Sign-up for PSPS Zip Code Alerts by texting ENROLL to 97633 or by calling 1-877-9000-PGE.
Update contact information with PG&E at pge.com/mywildfirealerts or by calling 1-866-743-6589.
911 vs 211
Call 911 for an immediate response from police, fire department, or emergency medical service teams, for crimes happening now, suspicious activity, and life-threatening emergencies.
Call 211 to find resources on non-emergency event information like community resource center locations, power shutoff area updates, and other social services.