Point San Pedro Road
Streets Maintenance crews spent some time on Point San Pedro Road (PSP) at Loch Lomond Drive extending the existing red curb on PSP from 20ft to 80ft. In addition, the shoulder lane was changed to 100ft of "skips" markings leading up to Loch Lomond Drive for bicyclists.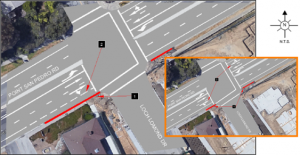 Las Flores at Las Gallinas
Traffic improvements were made to the intersection of Las Flores & El Prado Ave, Las Gallinas & Corrillo, and Las Huertas & Las Gallinas when crews installed STOP Signs, painted and extended red curbs, and trimmed back vegetation to allow visibility of signs.