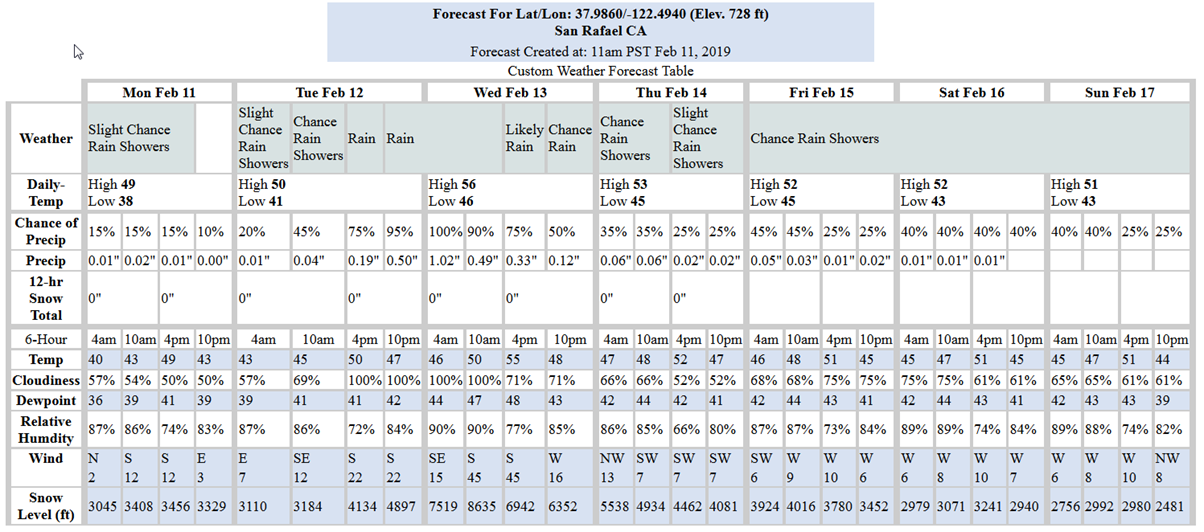 Synopsis
We should expect lingering rain showers this morning with a drying trend into the afternoon today.  Drier conditions should prevail until early evening tomorrow where an atmospheric river is predicted to arrive bringing heavy rain and strong winds.  This storm is predicted to bring about 2.65-inches of rain between 4PM Tuesday to 10PM Wednesday.  Most of that is predicted to occur early Wednesday morning.  The wet weather is expected to last through Wednesday and Thursday tapering-off on Friday.  Then, with a short break late Friday and into early Saturday morning, more wet weather and cold temperatures are predicted for the remainder of the weekend, but not as strong as Wednesday's storm.
For long-range forecast though March-April-May, the NWS prediction models are continuing to indicate equally above or below normal precipitation with above normal temperatures.
Tides:
Tide peaks are predicted slightly below 6-ft through Thursday this week, but are predicted to have a rising trend starting Friday to over 6-ft into the weekend.  The Golden Gate gage is currently showing a residual of about half a foot higher than predicted and with the incoming storms, that separation is expected to increase.  Therefore, we may see tidally-influence flooding at low-lying areas near the bay into the weekend.  Note that these predictions are for the Golden Gate Bridge tide gage.  At specific locations throughout the north bay, peak times will be later and heights may vary, but typically not by much.
Weather Websites of interest:
Weather Updates
CNRFC Interactive Map Interface
NOAA Satellite and Information Service 
Tides & Currents