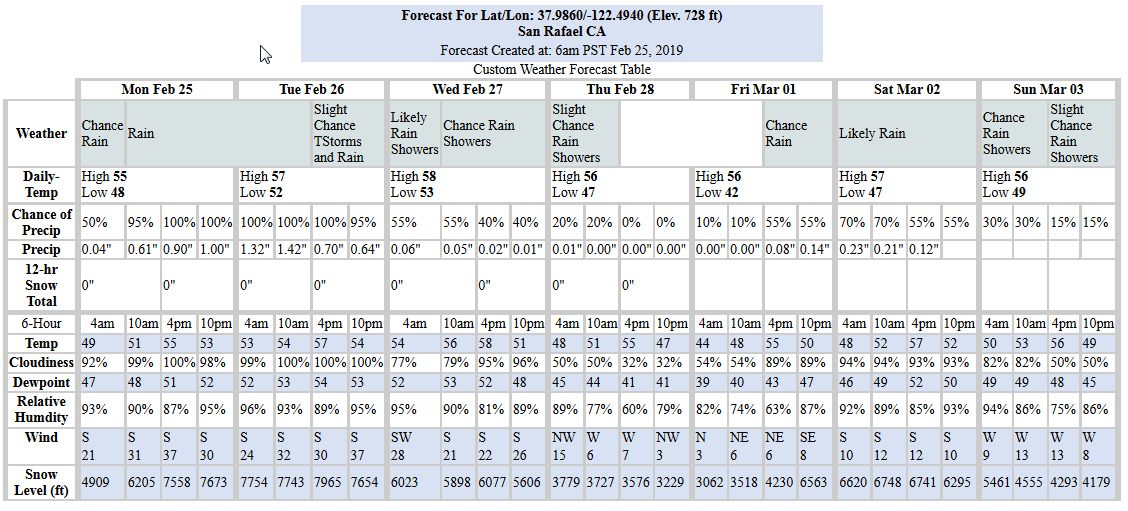 Synopsis:
Another atmospheric river (AR) storm has arrived to the Bay area.  Coming from the south Pacific it will bring copious amounts of precipitation from the subtropics as it drifts slowly southward into the San Francisco Bay Area over the next 24 hours.  It is predicted to then stall-out through late Tuesday night, resulting in periods of moderate to heavy rain and potential flooding throughout the area.  The predicted amount of rainfall starting this morning through early Wednesday is 6.6-inches.  The NWS has issued a flood watch starting today at noon until Thursday 4:00AM.
Strong winds are also expected to pick up as this storm approaches.
Dry conditions are expected to return on Thursday and Friday, but then another storm system may bring more rain into the region over the weekend.
Tides:
Tide peaks are predicted to be close to 6-ft, but the residual from the last AR was close to 2-ft higher.  Therefore, we may see tide peaks nearing 8-ft.  So watch for flooding in low-lying areas.
Note that these predictions are for the Golden Gate Bridge tide gage.  At specific locations throughout the north bay, peak times will be later and heights may vary, but typically not by much.
Weather Websites of interest:
National Weather Service, San Rafael, CA
CNRFC Interactive Map Interface
Water Vapor Loop Map
Tides and Currents