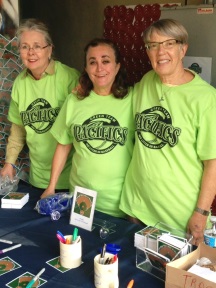 San Rafael Clean (SRC) is a coalition of residents, business-owners, nonprofits and government agencies working together to reduce litter in San Rafael. The coalition hosts cleanup days, outreach events, business partnerships, and strategic planning sessions. Projects SRC has organized include: a Clean Business Partner program; litter education at schools, businesses, and public events; and cigarette litter reduction efforts with the Downtown Streets Team. SRC also works with other organizations throughout Marin to share best practices and to support the goals of groups interested in litter and environmental protection. Some examples of these groups are Clean Mill Valley, the Marin Litter Coalition, Marin Clean Highways, the Downtown Streets Team, and the Marin County Stormwater Pollution Prevention Program (MCSTOPPP).
In 2005 when SRC was founded, volunteers regularly filled two dumpsters with trash at a few of our dirtiest locations during community cleanup days. Now, those locations are kept so clean they can barely cover the bottom of one dumpster!
Some of the most active members are San Rafael volunteers. Here we spotlight three who have dedicated countless hours to the program: Libby McQuiston, Andree Jansheski, and Laurie Sheldon. These three are forces to be reckoned with, and have spearheaded numerous projects, some of which have been replicated in other places.
Why did you choose to volunteer for SRC?
Libby: I had been doing volunteer beach cleanups for years in SF before moving to Marin. I like making my city look good so people will want to come here and live here. People want to live in a nice place, and I just don't like seeing trash where I live.
Andree: I read an article in the newspaper about SRC and Volunteer Coordinator, Cory Bytof. So I reached out to Cory and he came over to meet me. I liked him and decided to become part of the team.
Laurie: I have always been concerned about litter and the negative effects it has on a community. I was looking to implement ways to sustainably reduce litter by working with a range of people and groups to change behavior. San Rafael Clean has been a very approachable and supportive coalition.
What do you enjoy most about your volunteer work?
Laurie: The immediate gratification you feel. It is possible to identify a project and complete it in one session. At the end of the day, you can see that the environment has been improved and the area is more attractive because of your efforts.
Libby: It looks better when you are finished, and you can see your results. Other people notice, and you become an example so that other people will clean up litter as well.
Andree: It's a tie between the social aspect and the results. We've done so much, and this is such a great team.
What accomplishment with SRC are you most proud of?
Libby: I started the cigarette litter campaign that is now being run by the Downtown Streets Team. They are doing such a great job now. When we started we counted over 1,000 butts on one block alone on 4th Street. I also started the Adopt-a-Highway program for SRC here in San Rafael, which I manage.
Laurie: Enrolling the business community as Business Partners by having them pledge to keep their area free of litter. It encouraged businesses to do their part to maintain the business district, but equally important let the businesses know that the City and volunteers were working with them to support their efforts to attract and maintain customers.
Andree: The cigarette litter campaign is what I'm most proud of. I helped develop it, and continue to support it financially. There is so much less cigarette litter now! It started by picking up one butt at a time, and now we have a no-smoking ordinance and the Downtown Streets Team to pick up the remaining butts and send them to be recycled.
What do you suggest to those considering volunteering with the City or SRC?
Andree: Everyone has great ideas – join the team! We will help you develop an action plan. Little steps add up and before you know it your goal has been accomplished. It's a great committee and we all take ideas and turn them into success.
Laurie: Volunteering is a great opportunity to learn more about the City of San Rafael, its businesses, and to contribute to the health and future of the City.
Libby: Just do it.
Describe the impact of the SRC, or what you consider the greatest successes.
Andree: The impact has been tremendous. Everyone is now aware of the harms of smoking and cigarette butts; we have a healthier environment for all – humans and wildlife.
Libby: People in government agencies know about SRC now and take litter more seriously.
Laurie: Raising awareness of litter in general and cigarette butts in particular.