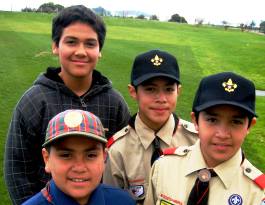 In 1999, the Marin Boy Scout Council asked Willy Coronado if he could help bring Scouting to the Canal neighborhood of San Rafael. Willy had been a leader and Scout Master for Boy Scout Troop 1 in Mill Valley for 15 years. Willy, originally from Peru, was a great choice to lead a Troop in this predominantly Spanish speaking population. Although the language barrier was overcome this did not mean it would be easy. Willy was not from the neighborhood and most residents were from Central America. The financial and cultural differences from Mill Valley and San Rafael's Canal are varied as well.
Willy was assisted by community leaders such as then-Mayor Al Boro and then-police Chief Cam Sanchez, whose department contributed seed money to get the Troop started and Canal resident Ramon Lopez who manages an apartment in the neighborhood. Ramon recruited boys from his apartment and provide the first meeting location. In January 2000, at the first Troop meeting, 10 boys showed up. Through the years the troop has had up to 20 boys. In 2001, Cub Scout Pack 2000 was formed, bringing Scouting opportunities to younger boys, preparing them to join Troop 2000.
Describe Troop 2000's volunteer activity with San Rafael?
Troop 2000 provides an opportunity for boys in the Canal Neighborhood to expand their horizons, learn about team work, community service and build their personal growth skills. One of Willy's focuses is "community work", so teaming up with the San Rafael's Volunteer Program has been a perfect relationship. Over the years, Troop 2000 has participated in countless days of service in San Rafael, helping at the community garden, with Public Works projects, participating at events, like Earth Day and offering their service for Eagle Projects. These involve one Scout: coordinating the project, meeting with City staff, planning the work day, recruiting help from other Troops, to complete a discrete project, in order to achieve his Eagle rank, the highest rank for a Scout.
This Fall, Scouts from Troop 2000 and parent leaders participated in Coastal Clean-up Day, completed a two-day Eagle Project at the Albert J. Boro Community Center repairing the back deck and trimming the plants. This weekend Troop 2000 will sand and paint picnic benches at Albert Park for Make a Difference Day. Willy says "it is important for the boys to feel good about these activities and give back to the community."
Why did you choose to volunteer for San Rafael?
Willy welcomed the chance to start a Troop in the Canal neighborhood, to reach boys with more need, in a diverse community. Willy encountered financial and transportation challenges and cultural differences. So working in-and-with the City was a natural resource!
What do you enjoy most about your volunteer work?
For Willy: It is the opportunity to be a positive influence on the Scouts. So many families in the Canal neighborhood are in transit. Some boys are only in the Troop for one year. However, in one year they learn life skills, basic first aid, participate in pioneering and learn to look "sharp". Troop 2000 is known for adhering to the Scout uniform code without exception. Assistance from Willy and other donors ensure all boys have what they need.
What accomplishment are you most proud of as a volunteer?
Troop 2000 has had 11 Scouts reach their Eagle Rank. All those boys have gone on to college and/or been successful in other ways. One flies helicopters with the Coast Guard! Willy is proud of all the Scouts no matter what rank they reach, "they have shared experiences that have formed them and great memories to look back on. Creating new citizens that see they can make a difference."
What other volunteer activities do you do?
Willy has many other roles in Scouting. He participates on the Board of the Marin Boy Scout Council, he is one of the leaders organizing 72 Scouts from Marin County for the 2017 National Scouting Jamboree in West Virginia. He is also a Section Leader with the Order of the Arrow, an "honor society" for Scouts. Willy ensures that Scouts from Troop 2000 participate in all these special Scouting programs: "Expanding the experiences of youth that might not otherwise have had these opportunities."
What do you suggest to those considering volunteering with the City?
Use the resource! I found great support from City staff and leaders. For the Scouts, volunteering with the City allows them to demonstrate that they can make a difference.
In a few words, describe your volunteer experience.
Very rewarding! Troop 2000 will be there!
Steve Mason, Supervisor at the Albert J. Boro Community Center has this to say about Troop 2000 and their Scout Master: Troop 2000 continuously gives back to multiple causes and agencies in San Rafael. Willy is an incredible individual who has empowered the boys in this community.