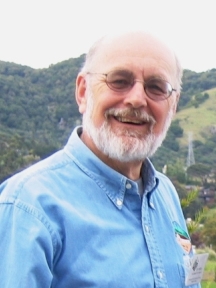 Cyr's Volunteer Career
In 1972 Cyr began volunteering with neighborhood activities and he joined the West End Neighborhood Association. In 1992, he represented the neighborhood association in the successful Downtown Visioning Committee. That experience propelled his interest in becoming more involved with City planning. In 1993, he was appointed to the Planning Commission, serving as the Chair in 1995. In December, 1996 Cyr was appointed to an open seat on the San Rafael City Council and after nearly fourteen years on the Council, he retired in 2009.
He continues to serve on the City's Measure E Transactions and Use Tax Oversight Committee and on the Día De Los Muertos Celebration Planning Committee at the Al Boro Community Center. He also serves on the Boards of Aldersly Retirement Community, The Multicultural Center of Marin and a Patient Advisory Council of San Rafael Kaiser Hospital.
Core Values
The core values that guide Cyr Miller's long volunteer career are: creating community, caring for the living earth and looking to a bright future. He found that San Rafael is one of few cities in California that has a definition of "Community-based Governance", in the City Charter. This premise dove tailed with Cyr's core value of creating community. He believes that a volunteer department or program is fundamental for any City. "Volunteering is the very definition of democracy. See, feel, listen, learn and act! Use your compassion; do for others and for the common good."
Cyr lived in the West End, but his business, Smoothill Sports Distributors, Inc. was located in the Canal Neighborhood. He became the City Council champion for the Canal Neighborhood. His collaborations with members of the neighborhood, Canal Welcome Center and Canal Alliance were vital to understanding the best interests of this diverse and dynamic neighborhood. Cyr's influence insured that many volunteer projects and events took place in the Canal neighborhood on Make a Difference Day and Cesar Chavez Day. Cyr was one of the co-founders of the San Rafael Clean Coalition, a volunteer-based group that actively works to eliminate litter and maximize recycling in San Rafael through education and action.
Establishing the Volunteer Program
Before the Volunteer Program was formed in 1996 many departments including Police, Fire, and the Library had volunteers helping in vital ways. However, there was no central department where one could learn about the variety of volunteer opportunities in the City. In 1997, Cyr worked with members on a Volunteer Program Advisory Committee to guide the nascent program. Initially, the Volunteer Program was placed in the Administration Department. It was later moved to its current home in the City Managers Department. Cyr believed this move was important: "taking the focus from organizing people to a focus on serving and nurturing people." The Volunteer Program supports all City Departments. According to Cyr, "We wanted to make volunteering transparent and show the community they can be involved in all areas of City governance and improvements." When asked to name activities or accomplishments of the Program he was most proud of. Cyr answered, "That forming the Volunteer Program was what I am most proud of. The many accomplishments and activities of the Volunteer Program are an asset to the City and were a pleasure to participate in, but making it happen was the most important."
Cory Bytof, Sustainability and Volunteer Program Coordinator for San Rafael shares: "Cyr has always been such a champion for the Volunteer Program and for volunteerism in general. He not only made sure it was a City priority, he walked the talk, coming out to many events to make sure that volunteers were personally thanked for their efforts."