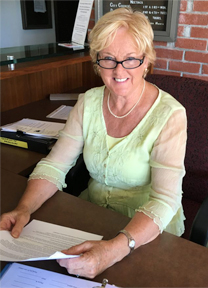 This Spotlight shines on a group of volunteers who combined have served almost 15 years as Concierge Volunteers. Some are retired, while others have jobs and seek another venue for experience or to meet and help a diversity of people. Thank you to our current volunteers: Joanne Doyle (9 years), Judy Herman (3 years), Dennis Papendick (3 years), Elizabeth Kelleher (1 year) and Anna Carlson (9 months). Dennis and Elizabeth share their experience below.
Concierge Volunteers are the first contact visitors see at City Hall
Concierge volunteers work weekdays in the lobby of San Rafael City Hall for three hour shifts. They greet visitors and give directions and offer information regarding City departments or services, businesses, or places of interest in San Rafael. Some questions are easy (Where do I get a business license?). Some are more difficult and require internet research or telephone calls. The fun part is trying to answer a really hard question in a way that helps the visitor. Often people think the City provides a service that really is done by the County or by another agency. Volunteers also assist City staff with clerical tasks such as mailings, sorting etc.
Some Concierge volunteers have added other duties to their day: Dennis, who works on Monday afternoons, helps minimize junk mail that comes to the City. "I send requests to senders of identified junk mail asking them to desist, and try to keep the literature table neat." Elizabeth, who works on Thursday mornings, takes her place at the Concierge desk after she helps the Information Technology Department with the day's mail. "I walk to the Post Office on D St. to pick up the mail, and then I sort the mail into the appropriate mail boxes for the employees."
Why did you choose to volunteer for San Rafael?
Dennis: "My wife saw the job posting in the library and thought it would be useful for me to get out of the house and interact with City Hall visitors and staff. She was right. She usually is."
Elizabeth: "Having lived in San Rafael for almost 40 years and at times taken for granted the community that I live in, I wanted an opportunity to give back. The City website was my starting point where I found information on the need for volunteers at City Hall."
What do you enjoy most about your volunteer work?
Dennis: "Meeting people and having the opportunity to help with their questions."
Elizabeth: "Volunteering gives me balance in my life; I have a desire and enthusiasm to help. When people come through the door with varied expressions, I observe how they seem brighter when acknowledged and welcomed."
What accomplishment are you most proud of as a volunteer?
Dennis: "One distraught visitor who had been burned out in the Lake County fire, ended up at the City Hall seeking help. After talking with her for a while, she told me she wanted to see someone at the Red Cross. I helped her speak get an appointment. I hope I was able to alleviate her distress and that she got the help she needed."
Elizabeth: "I am proud of the small part I play in being an Ambassador for the City, and returning to society some of the benefits that have been given to me."
What other volunteer activities do you do?
Dennis: "I help my wife tend the city park area in front of our house, cut weeds, pick up trash, that sort of thing."
Elizabeth: "Since living in San Rafael I have been involved at St. Raphael's parish and school with service in many areas. I also work regularly with the weekly suppers offered by Saint Vincent De Paul Society to the unhoused. For shorter amounts of time I have been involved many other community service groups.
What do you suggest to those considering volunteering with the City?
Dennis: "Make sure you are signing up for the type of work you really like to do. There appears to be quite a range of volunteer opportunities.
Elizabeth: "Be aware that you don't need to be someone in power to make a difference. Be open to what your day brings!"
In a few words, describe your volunteer experience.
Dennis: "Fun when there are lots of visitors."
Elizabeth: "ENJOYABLE."
If you are interested in becoming a Concierge volunteer please contact our Volunteer Program Assistant at info@sanrafaelvolunteers.org or call 415-485-3071. Click here to look for other volunteer opportunities with San Rafael.