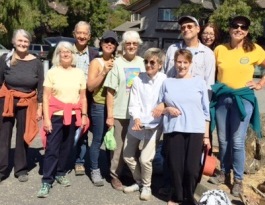 This Spotlight honors the thousands of community volunteers who participate in the Volunteer Program's Days of Service. The accomplishments on these days could not happen without dedicated volunteer leaders and the enthusiastic volunteers who choose to give their time on a particular day. Community groups including local nonprofits, neighborhood associations, Boy Scout troops, Rotary Clubs, and religious groups are key participants as well.
Service days are an easy way for the public to contribute their time to enhance, and maintain our critical parks, paths and public spaces in San Rafael. Some support the City's Parks Division of the Public Works Department on beautification projects like painting picnic benches or repairing playground equipment, or focus on community safety such as filling sand bags in preparation for winter rains. Public Works and Volunteer Program staff plan the work depending on the need and if it is a National Day of Service like:
Martin Luther King Jr. Day – Third Monday in January
Cesar Chavez Day – March 31
Earth Day – April 22
Coastal Cleanup Day – Third Saturday in September
Make a Difference Day – Fourth Saturday in October
Martin Luther King, Jr. Day focuses on "projects to build community"; Cesar Chavez Day is about respect for the environment and a preference to help the most needy; Earth Day projects focus on trash clean ups, removal of invasive plants and replanting damaged habitats; on Coastal Cleanup Day volunteers remove trash and debris from the our Bay and inland waterways; and on Make a Difference Day the focus is "to improve the lives of others".
Each public service day is led by a San Rafael volunteer leader or staff person, and they typically take place from 9am – noon. They include a little information on the park, path or area and training and tools are provided. Our goals are to have meaningful work and a lot of fun; and when the day is finished, participants take pride in a sense of accomplishment, and know they personally helped to better our community.
Take Coastal Cleanup Day as an example: Since 2006 more than 1,300 Community Volunteers have cleaned more than 17,500 pounds of trash and debris from San Rafael's canal, marsh and creeks and shoreline paths. In 2016, seven sites were cleaned. Community volunteers were lead by volunteers from the Newport Boating Association, Boy Scouts Troop 38, 101 Surf Sports, Friends of the Canal, Target and our San Rafael Clean Coalition.
Thank you to the thousands of Community Volunteers that make San Rafael a great place to live!