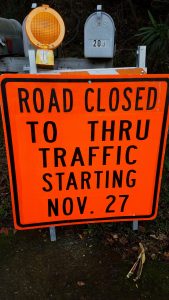 You may have noticed our recent road closure signs posted on the 100 block of Irwin Street. During the 2016-17 winter season, heavy storms and rainfall contributed to a slide on part of the hillside adjacent to the upper portion of Irwin Street. We are working with FEMA to make necessary repairs on this steep hillside after this winter, but in the meantime, we will be closing the upper portion of Irwin starting Monday, November 21st. The road will be closed from 70 Irwin to 90 Irwin: the location of the slide that occurred last winter. This portion of the road will be closed to all vehicle traffic this winter as a precautionary measure. We will leave a walking path on the uphill side of the street as several people in the neighborhood (and their four-legged companions) use Irwin Street as a neighborhood walk. There are no homes that cannot be accessed as a part of this closure.
The road remains safe for all residents and property owners on Irwin to access their homes from either side of the closure area. From west of the closure, signs posted at Baywood Terrace warn that the road ahead is closed to thru traffic, and from the east, warning signs have been placed at Rose Street. Public Works has taken several other precautionary measures to secure the closed area, including installing k rail and sandbagging the culvert on the uphill side of Irwin Street to ensure water stays in the channel and away from the slide area. Public Works will also line the culvert (again on the uphill side of Irwin) with asphalt. These temporary fixes were recommended by specialized engineers that were consulted in this effort. Crews will be continuously monitoring this area during the winter months to ensure it remains safe.
The road will reopen this spring. We are continuing to complete the design for permanent repairs and are coordinating our effort with FEMA as the repair will be funded as a part of the National Disaster declared last January.  Repairs are anticipated to be made next summer.
Follow Public Works on Twitter