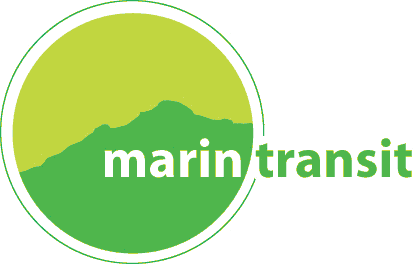 2020 is bringing new changes to Marin Transit programs and fares!
In February 2020, Marin Transit's Board of Directors voted unanimously to adopt a staff proposal on changes to Marin Transit fare policies, Marin Access program eligibility, and the Low-Income Fare Assistance program. The adopted plan includes changes to local bus pass programs, Catch-A-Ride, Dial-A-Ride, and paratransit fares, the reimbursement rate for STAR & TRIP volunteer driver programs, the Low-Income Fare Assistance program, and eligibility standards for Marin Access programs. All changes will be effective July 1, 2020. To learn more about the policy changes, please visit our fare policy page.
This February, Marin Transit Connect, Marin Transit's on-demand, accessible pilot program, was expanded to serve downtown San Rafael and expanded areas in Santa Venetia, Marinwood and Lucas Valley. Fares for Connect were adjusted to a distance-based pricing of $4 per mile, and Marin Access riders can take advantage of a discounted $3 flat fare. Monthly passes are also available to the general public for $80 and to Marin Access riders for $40. Share the ride because extra riders are only $1 per passenger! To use the Connect service, download the app on your smartphone (iPhone or Android), create an account and request a ride. Use the promocode DOWNTOWN to get $10 in free ride credit! Do not have a smartphone? You can contact the Travel Navigators at (415) 454-0902, to get started, find out if you are eligible for Marin Access pricing, or learn more about the program.
____________________________________________________________________________________________________
Asunto: Noticias importantes de las tarifas y los programas de Marin Transit
¡2020 está trayendo nuevos cambios a los programas y tarifas de Marin Transit!
En febrero de 2020, la Junta Directiva de Marin Transit votó para adoptar una propuesta del personal sobre los cambios a las políticas de tarifas de Marin Transit, la elegibilidad del programa Marin Access y el programa de asistencia de tarifas para bajos ingresos. El plan adoptado incluye cambios en los programas locales de pases de autobús, Catch-A-Ride, Dial-A-Ride y tarifas de paratránsito, la tasa de reembolso para los programas de conductor voluntario STAR & TRIP, el programa de asistencia de tarifas de bajos Ingresos y los estándares de elegibilidad para programas de Marin Access. Todos los cambios serán efectivos el 1 de julio de 2020. Para obtener más información sobre los cambios en las políticas, visite nuestro sitio web.
Este febrero, Marin Transit Connect, el programa piloto accesible de Marin Transit se expandió para servir al centro de San Rafael y más áreas en los barrios de Santa Venetia, Marinwood y Lucas Valley. Las tarifas para Connect se ajustaron. Los viajes públicos generales ahora cuestan $4 por milla y todos los clientes de Marin Access califican para una tarifa fija de $3 por viaje. Los pases mensuales están disponibles para el público por $80 y los pasajeros de Marin Access por $40. ¡Comparta el viaje porque los pasajeros adicionales solo cuestan $1 por pasajero! Para usar el servicio, descargue la aplicación en su teléfono inteligente (iPhone o Android) para crear una cuenta y solicitar un viaje. ¡Use el código promocional DOWNTOWN para obtener $10 en crédito de viaje gratis! ¿No tiene un teléfono inteligente? Para recibir el precio de Marin Access u obtener más información sobre Connect, comuníquese con los Navegadores de Viaje al (415) 454-0902.