Third Street Projects scheduled to go to Council
City staff with the consultant team will be presenting an Informational Report for the Third Street corridor projects to City Council on Monday November 2nd. If you would like to listen and participate, the City Council meeting starts at 7pm and the link to the virtual meeting can be found on the city's website https://www.cityofsanrafael.org/departments/city-council/
The team has received lots of great feedback from the community in the last month and has continued to advance design concepts that take into account this important feedback. The city has posted a revised Second Street Bicycle Path concept that includes parking and added a section for Frequently Asked Questions to the website. https://www.cityofsanrafael.org/third-st-rehab/
Southern Heights Bridge Project
On November 4, 2020, staff and our construction management consulting team, led by Substrate, Inc., will host a virtual public outreach meeting from 6-7pm. To attend the meeting and receive the Zoom meeting link, we are requesting community members register on the City's website at: https://www.cityofsanrafael.org/southern-heights. This is a neighborhood meeting not only for residents directly affected by the bridge construction, but adjacent neighborhoods too. Construction is set to start the end of November/early December. We anticipate noise may carry across the valley floor into other neighborhoods, such as Gerstle Park, Bungalow Avenue and/or Bret Hart and want to use this opportunity to inform the public of such.
Lucas Valley/Smith Ranch Road Resurfacing
During the week of September 28th and early October, the City's contractor, Ghilotti Bros, resurfaced a portion of Lucas Valley Road/Smith Ranch Road under Highway 101. The paving work was very successful and performed at night to allow a full road closures under Highway 101 while motorists on the freeway used signed detours. The new pavement markings are in place providing a new roadway surface that will last many years. The remaining work includes replacing the lighting fixtures mounted to the underside of the Highway 101 bridge overcrossing and a minor cleanup work requested by Caltrans. As can be imagined, the feedback from the community has been positive!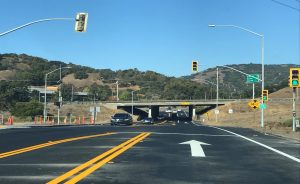 Francisco Blvd West Project Update:
The Francisco Blvd West one way conversion and Phase 2 Multi-use pathway project is making progress. The sidewalk between Second Street and Rice Drive has been reopened to the public. The Class IV cycle track and final striping is proposed to be complete in November 2020. In addition, the city has a contractor installing lighting along the fence on the Phase 1 Multi-use Path between Andersen Drive and Rice Drive. This is also anticipated to be complete by the end of November.