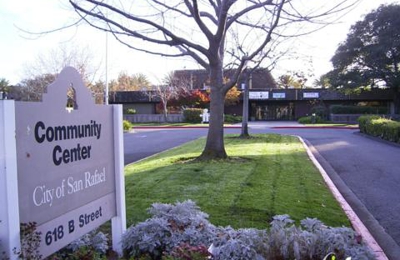 Have you been wondering what a fire-adapted landscape or yard looks like? Come see for yourself at the San Rafael Fire Department fire-adapted demonstration garden at the San Rafael Community Center located at 618 B Street in spring 2023.  
Beginning Thursday, December 15th, 2022, the San Rafael Fire Department, in collaboration with the San Rafael Department of Public Works, San Rafael Department of Libraries and Recreation, and the Marin Wildfire Prevention Authority will begin the installation of a fire-adapted and ecologically sound demonstration landscape in front of the B Street Community Center. The work will remove existing roots/ debris, revitalize the aging irrigation system, and install fire-wise landscape features. 
The Fire Department will be utilizing a contracted professional landscaping company to perform all the landscaping and irrigation functions of this project. Once the landscaping has been installed, interpretive educational signs will be installed throughout the demonstration garden. Please be aware of temporary parking restrictions and alterations that may take place during this project and please do not enter any active worksites. 
The City of San Rafael is funding this project through the Marin Wildfire Prevention Authority (MWPA). In 2020, Marin County voters passed special tax Measure C, which established a Joint Powers Authority called the MWPA. The MWPA funds and oversees proactive and community-focused wildfire prevention and preparedness efforts within the County. For more information about this project and other projects please visit the MWPA's San Rafael Zone webpage.