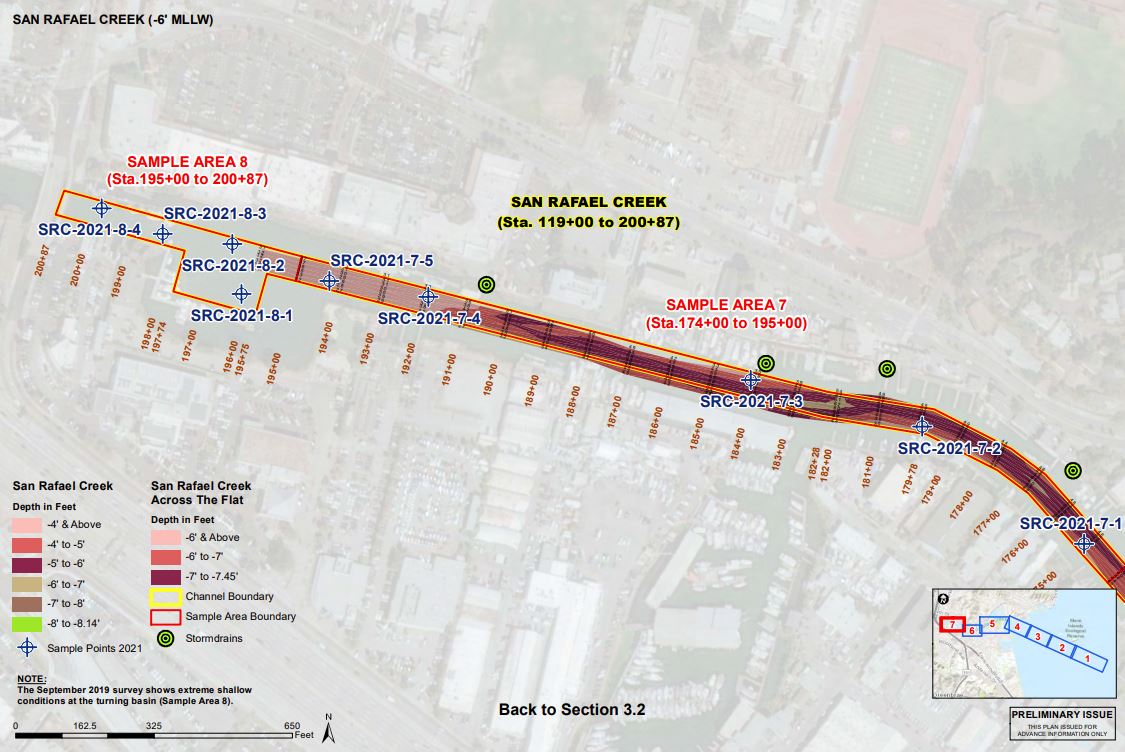 Last week the US Army Corps of Engineers (USACE) brought their sediment testing plan for the San Rafael Channel to some of the regulatory agencies last week, the first key step in the dredging permitting process. Regulatory agencies involved in the dredging permitting process (yes – USACE needs a permit too!) include the DMMO (Dredge Material Management Office), BCDC (SF Bay Conservation and Development Commission), the regional Water Quality Control Board and CA Fish & Wildfire.
Once the sediment testing plan is approved by the regulatory agencies, USACE will conduct the testing in the federal channel. The results of their sediment testing is critical because while the western portion San Rafael Creek is known to have contaminants, the extent of these contaminants is unknown. The results will ultimately guide the Corps' dredging plan.
Two big dates coming up: In March we will know whether Congress allocated funding for the full San Rafael Creek dredging in FY 2021. In May USACE's sediment testing will be complete.
Additionally, 69 Channel-waterfront property owners, residents and business owners registered last month to participate in the City's Dredging Umbrella Permitting process (though some of these registrations are for single waterfront parcels that front up to 25 addresses). All waterfront properties on the San Rafael Channel that seek to dredge private docks and berths while the USACE contractor is mobilized in the federal channel will need undergo a separate permit process to do so – one that requires the same approval by regulatory agencies as USACE's dredging permit. The City has retained the firm Haley & Aldrich to coordinate with property owners and tenants to aggregate all individual private permits into one dredging and disposal "Umbrella Permit" application package to be reviewed and approved by the various agencies involved in the dredging process.
Consultant Scott Bodensteiner of Haley & Aldrich has begun preparing for the permitting process for private property owners along the channel. The City will apportion the cost of permitting among property owners.
Stay tuned to cityofsanrafael.org/dredging for updates on the project and next steps in the umbrella permitting process. The City is still accepting applications from property owners/tenants interested in participating in umbrella permitting. They can fill out the form at cityofsanrafael.org/dredging-umbrella-permits/.