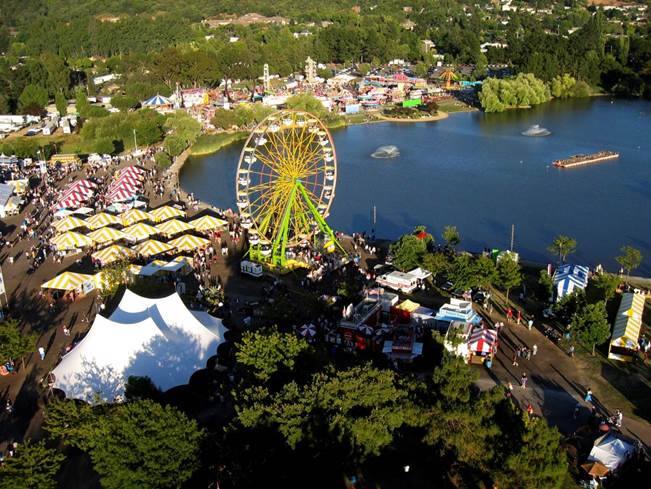 The gates to the 76th annual 2017 Marin County Fair open this Friday, June 30th.  The San Rafael Police Department would like everyone to have a fun and safe experience at the fair. Each year an estimated 20,000 visitors arrive throughout the course of each day and park in the various areas surrounding the fairgrounds. The majority of visitors stay for the nightly fireworks and then attempt to leave in mass at the conclusion of the fireworks display. The roadways surrounding the fairgrounds are not equipped to handle the surge of high traffic volume. Visitors leaving the Marin County Civic Center should expect traffic delays.
Drivers should be mindful of the railroad crossings. The SMART train will be operating during the fair. Do not stop on the tracks, especially during heavy traffic. Pedestrian safety is also a concern. Pedestrians should only cross roadways in marked crosswalks. Do not walk on the tracks or on the railroad right of way.
We ask visitors to be respectful toward neighbors and businesses in the area.  There is no outlet on McInnis Parkway and no direct access to the fairgrounds from that street.
To avoid traffic delays please consider some of the following alternatives to driving:
Mass Transit – Golden Gate Transit and Marin Transit will be operating busses to and from the Civic Center. Check their websites for bus schedules.
Shuttle Service – There is a shuttle available from Marin Commons, 1600 Los Gamos Drive, San Rafael. Parking at the fairgrounds is $10, but parking at Marin Commons is free and taking the shuttle is only $2 round-trip. Kids 4 and under ride for free. From the bus stop at Marin Commons' Lobby B, shuttles will run about every 20 minutes to the fairgrounds Friday, June 30, from 3 p.m. to 11:30 p.m. and from 11 a.m. to 11:30 p.m. on the other four days of the fair. Shuttle users can expect delays after the fireworks, which are scheduled each night for 9:30 p.m.
SMART- The Sonoma Marin Area Rail Transit will debut limited service this week.
On Saturday, July 1 and Tuesday July 4, SMART will run a train on each day from the Sonoma County Airport Station with stops at each station to the Marin Civic Center for the Marin County Fair with an arrival at the Marin Civic Center Station at 6:01 p.m. Refer to the SMART website for the preview schedule. The northbound train will depart from the Civic Center platform at 10:36 p.m. on those two days.
Carpools – Carpooling is encouraged. There will be a family loading zone at the Civic Center Post Office. Please utilize the family loading zone rather than the Main Gate.
Bicycling- Bicycle valet parking is available daily at the main gate.
Have a safe, fun, and happy holiday weekend!