NIGHTWORK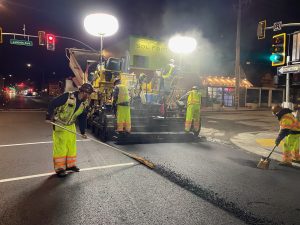 The City of San Rafael will be sending out weekly project updates with construction updates, traffic closure updates, and other relevant information for this project. To receive these updates, please sign up using the form at the left-hand side of the project website.
NEXT WEEK  – October 9 – October 13
Nightwork from 8:00pm to 6:00am. Please move vehicles out of the overnight closures areas to avoid being towed. There will be road closures with detours in place.
Beginning Monday Night (10/9), paving will resume on Third Street between Union Street and Hetherton Street. This will be the top lift of asphalt.
Tuesday Night (10/10), crews will place top lift of asphalt on Third Street between Hetherton Street and C Street.
Wednesday Night (10/11), crews will place top lift of asphalt from Third Street and C Street to Westbound Second Street entrance to Jack-In-the-Box.

Thursday Night (10/12)

, crews will place

top

lift of asphalt from

w

estbound

Second

Street from

Jack-In-the-Box

to

the

in

tersection of

Second Street

and

Fourth Street

.

Then,

switching directions, crews will pave

e

astbound

Second Street

from the

Fourth Street

i

ntersection to Shaver

Street

.

 

Friday (10/13)

, crews will

repave Ritter St

reet

from

Third

St

reet

to Lincoln

Avenue

. 

 
FOLLOWING

WEEK   October

16

– October

20

 
Day

crews will

uncover manholes that have been paved over. They will

reset manhole covers to

match the grade of

the new asphalt surface.

 
IMPACTS:
Overnight detours will

be put in place to direct motorists

around

the work area

s

. 

 

Street parking spaces will be marked "No Parking." Please move your vehicles overnight.

 
The daytime hours of work will be 6:00am – 6:00pm and lane closures 6:00am – 3:00pm on Third Street and Second Street westbound, and 9:00am – 6:00pm on Second Street eastbound.