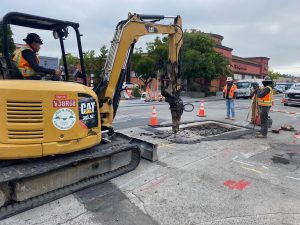 The City of San Rafael will be sending out weekly project updates with construction updates, traffic closure updates, and other relevant information for this project. To receive these updates, please sign up using the form at the left-hand side of the project website.
THIS WEEK June 19 – June 23
Construction crews excavated for new streetlight foundation and conduit at Second Street and East Street.
Crews conncected to electrical service to energize new traffic signal at Second Street and East Street.
Crews spliced in new fiber optic communication cable at B Street, C Street, and D Street.
Crews potholed to locate existing utility conflicts with the new sewer at Third Street and Lindaro Street.
Crews removed and replaced concrete sidewalk and constructed new tree wells on Third Street between A Street and E Street.
Crews repaired the storm drain box culvert under Second Street at Shaver Street.
NEXT WEEK   June 26 – June 30
Crews will set new streetlights and restore paving at Second Street and East Street. The work will require a sidewalk closure and pedestrian detours.
Crews will permanently close off the Jessup Street stairway. This work set up a no parking area along the north curb of Second Street at the retaining wall.
Crews will continue with the San Rafael Sanitation Department culvert repair locations on Second Street between Shaver Street and G Street. The work will require a lane closure on Second Street.
IMPACTS:
The stairway from Second Street to Jessup Street (south of Ida Street) is closed.
For the Lane Shift on Second Street, the posted speed limit is 25 mph. Drivers should be aware of changed conditions and be alert.
Traffic Controls (temporary signs, message boards, traffic cones, delineators and detour signs) will be put in place to direct motorists through the work area.
Curb parking spaces will be marked "No Parking."
The hours of work will be 6:00am – 6:00pm and lane closures 6:00am – 3:00pm on Third Street and Second Street westbound, and 9:00am – 6:00pm on Second Street eastbound.