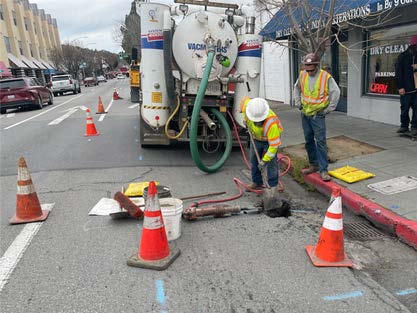 The City of San Rafael will be sending out weekly project updates with construction updates, traffic closure updates, and other relevant information for this project. To receive these updates, please sign up using the form at the left-hand side of the project website.
---
THIS WEEK (February 28- March 4): Maggiora & Ghilotti worked on locating existing underground utilities and identifying potential utility conflicts between Lincoln Avenue and Brooks Street.
Ghilotti Bros. worked on obtaining geotechnical data along curb lane of eastbound 2nd Street between East St. and Miramar Ave.
NEXT WEEK (March 7 – 11): Maggiora & Ghilotti will be locating existing underground utilities in 3rd Street between Brooks St. and E St.
Maggiora & Ghilotti will also start the trenching and installation of the new MMWD waterline from Lincoln Ave. to Lindaro and will continue to the west for the next month.
This work will require a lane closure on 3rd Street and detours on A St., C St., Cijos, D St., E St. and 4th St.
IMPACTS: Traffic Controls (temporary signs, message boards, traffic cones, delineators and detour signs) will be put in place to direct motorists through the work area. Curb parking spaces will be marked "No Parking."
The hours of work will be 6:00am to 3:00pm.
For more information, visit the project website or contact the City at thirdstreet@cityofsanrafael.org.
Please note: all estimated timelines are tentative and subject to change.