Permit Type "Temporary Outdoor Dining Area" (Commercial Parklet)
This permit is for the use of commercial outdoor dining areas associated vertical structures.
Engineered or Architectural plans will be required to be submitted for review.
This permit will for a temporary use only and approved permits are only valid through November 30, 2022.
For additional Info, guidelines and regulations click here.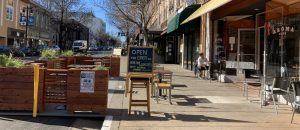 To Visit the COVID Temporary Outdoor Services: Dining, Retail & Salons Webpage    Click Here 
Building off of the criteria developed last spring for temporary on-street dining areas, the City has finalized new guidelines for restaurants in San Rafael seeking to build semi-permanent outdoor dining areas in the parking lane to expand their COVID-friendly dining.  There is no fee for this temporary permit.
The new webpage provides guidance to establishments on how to construct a semi-permanent platform, walls, and overhead structures in the parking lane should they choose to. It is important to note that the City strongly recommends establishments erect tents as overhead sun and weather protection as opposed to building a semi-permanent roof or trellis overhead. No permit is required to set up a tent (open on 2 sides) 400 sq ft or canopy (open on 1 side or no sides) 700 sq ft in the parking lane. However, any installation of a semi-permanent roof or trellis will require a Building Permit. The ordinary building permit fee will be waived for on-street dining structure roofs and trellises.
For tents 400 sq ft and canopies 700 sq ft, electrical and propane heaters may be installed without a permit. Propane heaters installed should have overhead clearances that conform to the manufacturer's specifications from combustibles (typically 3' above and on all sides).
To protect diners, the City will install 2 water wall barriers at the end of each on-street dining area that faces oncoming traffic, as well as reflective plastic delineators along the outer edge of the dining area.
Any establishments that previously received a temporary permit from the City for outdoor dining may continue to operate under the conditions of the previous permit without applying for a new one. However, any establishments that wish to expand their outdoor dining by constructing a semi-permanent structure in the on-street parking lane must reapply at this time.
Questions about submitting your building permit?
(415) 485-3367
building@cityofsanrafael.org
Virtual Counter Hours – visit Building permit homepage for days and hours