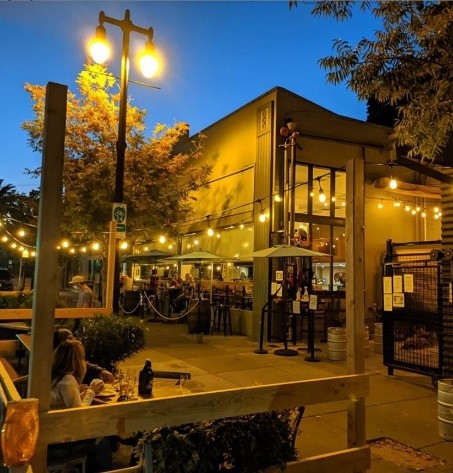 This past week Public Works Streets and Parks Maintenance staff installed 6 new outdoor dining areas in parking spaces in front of businesses along 4th Street. The barricades, planters, and plants were funded by TAM's Quick Build Grant – a Measure AA funded grant program designed to aid local businesses during the pandemic by building out outdoor dining and/or transportation. Last week outdoor dining buildouts went up in front of the following restaurants in San Rafael:
Amici's, Yet Wah, My Thai
Bangkok Thai, Vin Antico
Stateroom
Caribbean Spices, Theresa & Johnny's
Pond Farm Brewing
The Kitchen Table
Since the initial barricades and planters were installed, restaurants were quick to personalize the spaces – adding cozy lighting, space heaters, some wooden build-outs and additional plants. Restaurants reported that the spaces were in demand over the warm weekend – patrons excited about the expanded options for outdoor seating. One restaurant (Vin Antico) noted that the first night their outdoor dining area was installed, their nightly revenue tripled.
Streets staff that installed the dozens of metal barricades and traffic delineators included Gabe Dias, Matt Von Bima, Trevor Thomas, Brendan Smith, and Tyler Nord. Parks Staff that installed and readied more than 40 planters and plants included Aaron Tubbs, Brendan Mitchell, and Jorge Hernandez, Alex Nacaspaca and Jim O'Hagan. The City has contracted with Downtown Streets Team to keep the outdoor dining areas clean and the plants watered.