The COVID-19 pandemic is having a disproportionate impact, both economically and from a public health perspective, on our low-income Latinx community in San Rafael and across the County. Many of the individuals who have been disproportionately impacted by COVID-19 are essential workers who work in our restaurants, grocery stores, etc. The recovery and long-term resilience of our community is inextricably connected to the recovery and resilience of the local business sector, the non-profit sector, and the public sector and the community at large.
In August 2020, a coalition of community organizations representing health, education, and non-profit sectors came together to encourage swift and bold action by policy makers and to specifically address the economic and public health crises facing the Canal neighborhood in San Rafael.
City and County elected officials and staff joined representatives from the Canal Alliance, Community Action Marin, and Legal Aid of Marin to form the Canal Policy Working Group (CPWG). This group was formed to work collaboratively on the development of a range of actions aimed at keeping residents in their homes and addressing the growing burden of rental debt. The CPWG has been meeting weekly to work urgently towards a path to recovery that puts equity front and center, for residents and businesses alike. In addition, the CWPG is researching, analyzing, and developing specific policies for consideration by the County Board of Supervisors and the City of San Rafael City Council.
What problem are we trying to solve?
The chart below shows how current confidence in paying rents varies by ethnicity in the Bay Area and is indicative of the disproportionate impact that COVID-19 is having on BIPOC (Black, Indigenous & People of Color) residents in our region.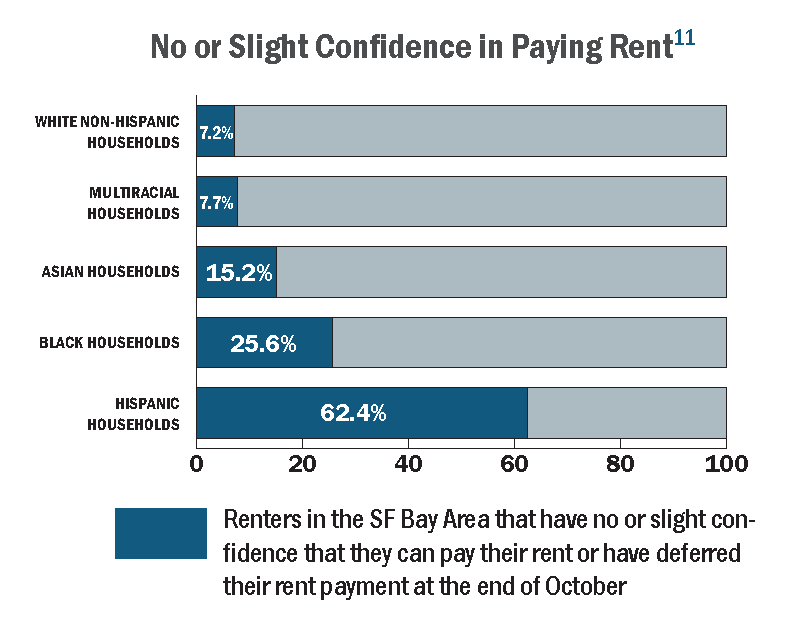 Housing Instability Due to COVID-19
With employment rates for low wage earners in Marin decreasing more than 40% since the beginning of the year and those that are still employed experiencing wage stagnation and even declines in income, many tenants in Marin are facing a rapidly growing burden of rental debt. The CPWG developed an information sheet to quantify the scale and urgency of this housing crisis facing our community. The below excerpt from the information sheet shows the estimated households at risk of eviction in Marin as well as data on the rental burden facing Marin residents.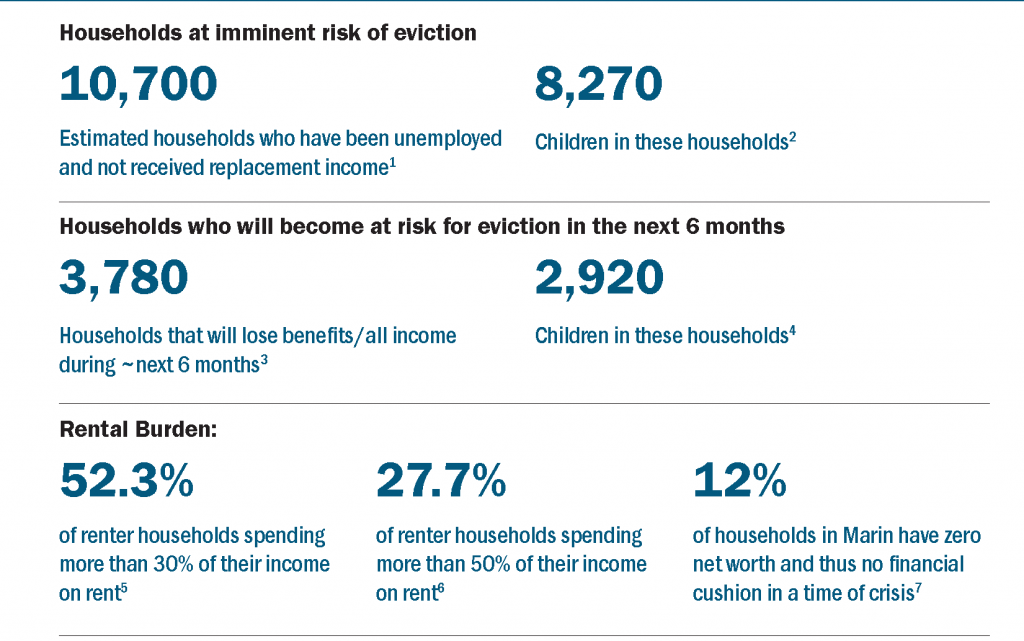 Additional Resources