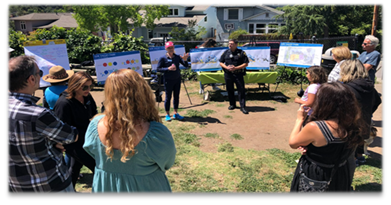 On the morning of Saturday, June 18th a community outreach meeting was held at Sun Valley Park.  Dozens of residents showed up with their families to participate in the survey and share their thoughts on the upcoming playground improvement project.  Residents were able to vote on several different options including color scheme, accessory play equipment, and play structures.
Residents were able to voice additional comments, that were not captured by the survey, on another poster board.  The survey will continue to be available online through Friday, June 24th.  City staff were happy with the energetic turn out from Saturday's meeting and will be incorporating the survey and comments into the next phase of our project.
We were joined by Mayor Kate Colin and Patrol Lieutenant Todd Berringer to discuss a recent security incident at the park.  Law enforcement shared the next steps that were taken after the incident. Those who were present were encouraged to build community with one another, so that residents can work in tandem City staff and law enforcement to keep our park safe for all!