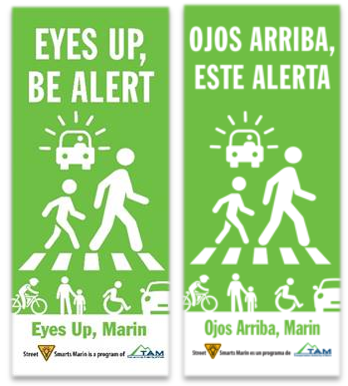 DPW staff will be working with other Marin municipalities to promote the 'Streets Safe' Marin in the coming weeks. From mid-October through the end of November, you'll see bright and colorful banners and lawn signs popping up all over Marin asking people to keep their "Eyes Up" and be alert.  These signs will be asking drivers to slow down, watch when turning and look for pedestrians in the crosswalk; bicyclists to yield to pedestrians and to follow the rules of the road; And those walking to pay attention when crossing the street.
Signs are available for members of the public and can be picked up at the DPW Building located at 111 Morphew Street.
Staff are also encouraging City of San Rafael staff to include the Streets Smart logo and insignia onto their email handle to promote the local campaign.
These messages will also show up in your social media feeds, and you can find them at www.streetsmartsmarin.org. Please share with your friends, family and co-workers!
The Eyes Up, Marin Campaign is part of the Street Smarts Program and Safe Routes to Schools, locally funded programs of the Transportation Authority of Marin.