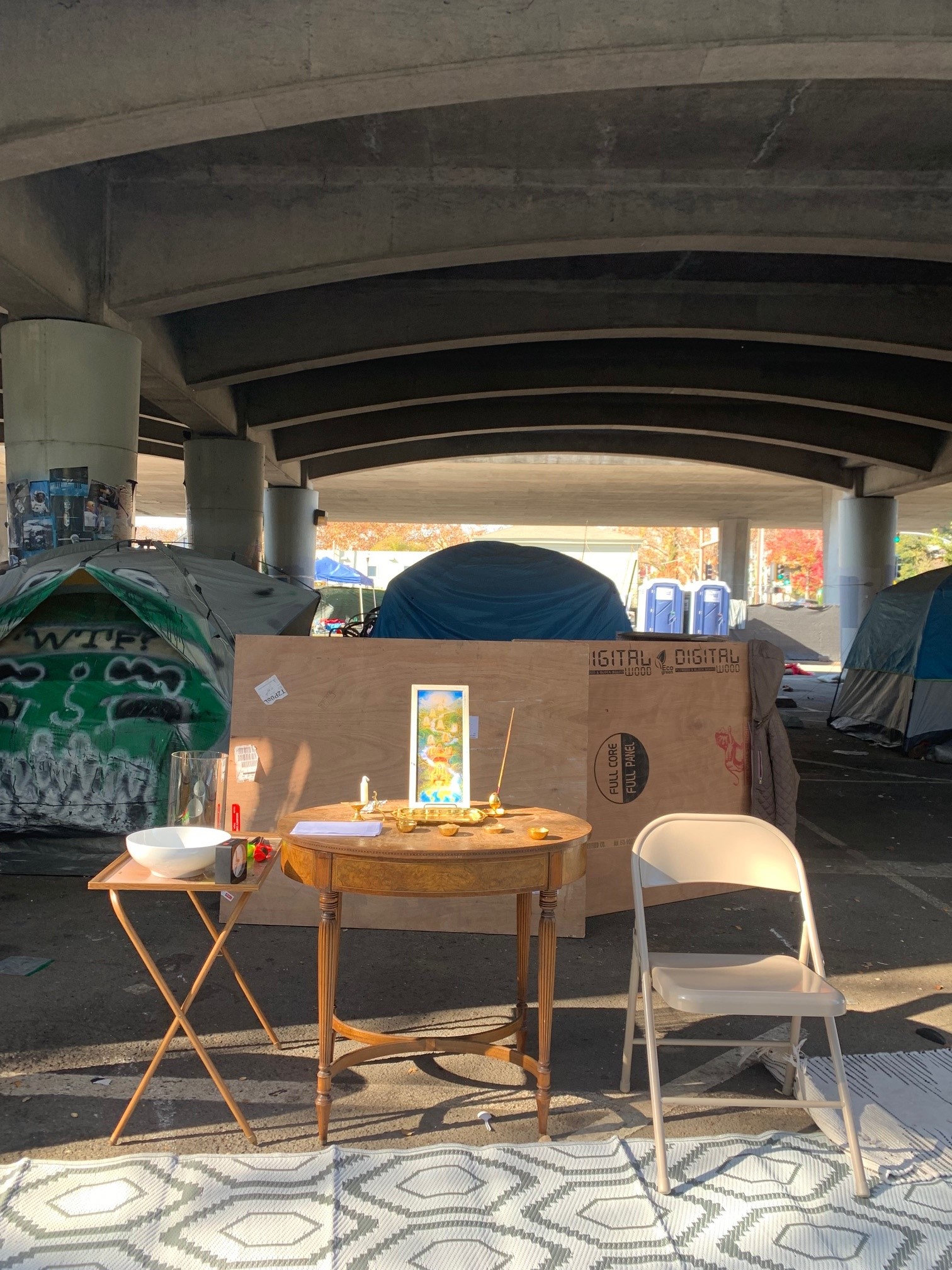 The City of San Rafael continues to successfully operate the temporary Service Support Area (SSA) for those experiencing homelessness. Individuals are in a safe place (the City funds security 24 hours a day, 7 days a week) where they can connect with a variety of services including mobile showers, case management, charging stations, and food donations.  The site has an office space that allows clients to meet with case managers in privacy to help individuals move towards permanent supportive housing. The City's community partners also continue to provide excellent onsite services throughout the week.
Thanksgiving Thanks
For Thanksgiving, the residents were treated to a meal by Dee Wagner who provided all the food, tables, chairs, linens and flowers! Dee prepped an amazing feast. The celebration included all the goodies that created a special event for all who attended. The City wants to thank Dee and her team for her compassion and contribution to the SSA. You are truly a beacon of hope during these difficult times.
A Meditation Story
Over the past month, our own Lynn Murphy has been organizing meditation and mindfulness classes for the residents of the SSA. Meditation Without Borders is a local non-profit that teaches meditation to those in challenging circumstances.  The teachers came 10 days consecutively to teach and practice Vedic Meditation.  These classes offer meditation and serenity for those looking to get a renewed perspective on life. Not only do these classes help in creating skills to cope with life's complicated issues, it also has shown to help create organizational skill and focus. Lynn is continually finding ways to improve the resident's life by giving them tools to help them succeed in life after homelessness. Thank you, Lynn, and Meditation Without Borders!
Weather Support
The rain and has certainly had an effect on the SSA, but the City and local partners have been quick to help keep the area dry. City staff has offered platforms to everyone to keep tents elevated and out of puddles with lumber donated by Golden State Lumber, re-routed drainage, and has offered plastic bins to keep individual's personal belongings from getting damaged by rain. Thank you, Golden State Lumber, for the incredible kindness and support.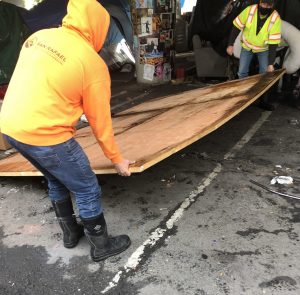 Donations Still Welcome!
The City, in coordination with Police and Fire Departments, continues our "Clothes and Cards" Drive for the individuals experiencing homelessness. The collections will continue until December 31st. Only the four following items will be accepted:
Gloves
Hats
Long Underwear (new in package)
Gift Cards (for food vendors only) – Drop off only at the Public Safety Center at 1375 5th St.
Items can be dropped off at