The evaluation of the T's and L's parking markers for both Spinnaker Point and Baypoint Village roadways have been completed. The objective is to maximize the number of vehicle parking spaces with the installation of T's and L's pavement markings. This approach would add a net gain of 41 additional parking spaces. The work will be completed by summer of 2023.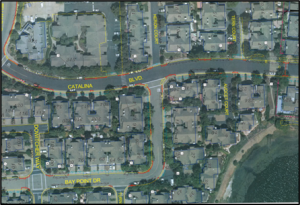 Canal Area T's and L's
The larger scale project for striping the whole area with T's and L's is also underway. The re-striping is expected to avail an additional 146 parking spaces to the area. The design has been completed and is awaiting the execution of a contract this summer of 2023 since the work scope is beyond the capabilities of the City signing and striping crew.