Snapshot en Español
Spotlight Photo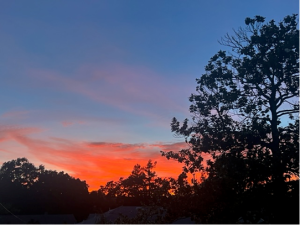 Sunset over Rafael Meadows
Photo Credit: Bernadette Sullivan, City Manager's Office
Last Quiz Question
Congrats to our anonymous winner! Who was first to answer but did not share their name. The mural featured in our last quiz is called Siéntese en Casa (You Are Home) and can be viewed in the lobby of the Canal Alliance building in San Rafael. The art piece features the collaborative work of ten local artists and depicts an expression of the immigrant experience. Congratulations, and thanks for reading Snapshot! Scroll down to see this edition's quiz and be the first to answer.
---
San Rafael City News
Upcoming City Council Meeting – Monday, October 2nd, 2023
The following items with be considered at the upcoming City Council meeting on Monday, October 2nd, at 7:00 p.m.
New Emergency Operations Plan
The City Council will hear a presentation and consider adopting the San Rafael Emergency Operations Plans (EOP).  This plan is a critical document that includes all the information a local government needs to manage responses to various emergencies, ensuring continuity of government, mobilizing resources, and establishing a coherent emergency management organization. In addition, Steven Torrence, the Director of the Marin County Office of Emergency Management, will present a brief update on the new Marin County Office of Emergency Management structure.
Read the Staff Report Here.
---
Indigenous People's Day Proclamation
The second Monday in October is celebrated across the country as Indigenous Peoples' Day. To mark this occasion, the City Council will consider a proclamation to declare October 9th as Indigenous People's Day. The proclamation urges all residents and community members to reflect upon the ongoing struggles of Indigenous people in our City and to celebrate the thriving culture and value that the Federated Indians of Graton Rancheria, who are present-day Coast Miwok People, add to our city.
Read the Proclamation Here.
---
Cyber Security Awareness Month
October is Cybersecurity Awareness Month, to highlight this, the City Council will consider a proclamation emphasizing its dedication to supporting a secure, resilient, and knowledgeable digital community. This proclamation stands as a reminder of the shared duty that individuals, organizations, and government entities have in protecting our digital landscape from cyber threats.
Read the Proclamation Here.
---
Other News
Marin Master Gardeners Landscaping Tips: Maintaining a Fire-Smart Landscape⁠
Clear leaf and needle litter from gutters, roof, eaves, vents, and chimneys.⁠⁠
Clear branches 10 feet from the chimney.⁠
Rake-up fallen leaves and evergreen needles.⁠
Remove dead vegetation and dry grasses, and dead wood from trees and shrubs.⁠
Check plants for drought stress.⁠
Learn more about Fire-Smart Landscaping here.
---
Third Street Paving Project
The Third Street paving project is now underway. Residents in the surrounding areas can expect an uptick in construction activities that will last for approximately five-six weeks.  The first few weeks will involve noise-generating work from the hours of 8 p.m. to 6 a.m. This will be followed by a striping operation to enhance road safety and functionality. To keep the community informed and prepared, message boards around downtown, including locations on Second and Third Streets, will be updated with changing project details, dates, and hours. Read below for additional details.
---
Third Street Improvements
There will be road closures with detours in place from 8 p.m. to 6 a.m.
THIS WEEK   September 25 – September 29
Initial paving continued from D Street west towards the Shell Gas Station at the intersection of Second and Fourth Streets with Marquard Avenue.
On Thursday night, crews picked up their operation and began paving west from Union Street near Montecito Plaza towards Heatherton Street, along the freeway.
For Friday Night, paving will continue from Heatherton Street west to Brooks Street which will complete the initial paving.
The initial pavement surface is 2 inches low, with temporary lane striping for two weeks, until final paving brings it up to finished grade. Please drive slowly through intersections where grade adjustments occur.
NEXT WEEK   October 2 – October 6
Crews will pave side streets and perform various repairs to smaller areas. Work areas include Ritter Street, Third Street at Ross Valley Drive, and the intersection of Second Street and D Street.
The initial pavement surface throughout will continue to be 2 inches low, with temporary lane striping in place until final paving brings it up to finished grade.
FINAL PAVING WEEK   October 9 – October 13
Crews will begin final paving which will consist of a 2-inch overlay across all paved areas within the project.
Final striping will begin after the final paving. Striping work will be done at night with lane closures.
IMPACTS:
Traffic controls (temporary signs, message boards, traffic cones, delineators, and detour signs) will be put in place to direct motorists around closed work areas.
Street parking spaces will be marked "No Parking." Please move your vehicles overnight.
The daytime hours of work will be from 6 am to 6 pm, with lane closures from 6 am to 3 pm on Third Street and Second Street westbound. Lane closures will also be in effect from 9 am to 6 pm on Second Street eastbound.
VISIT THE THIRD STREET IMPROVEMENTS PROJECT WEBPAGE
---
TALES OF THE CITY- PORCHFEST 2023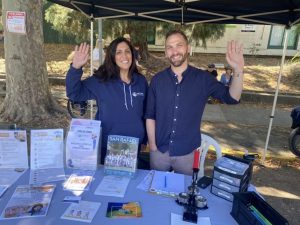 Daniel Cottrel and Azadeh Honarmand from the Library and Recreation Department, were out at the September 17, Porchfest event in the Gerstle Park neighborhood where thousands of people gathered to enjoy festive live music on 21 porches in San Rafael. Daniel and Azadeh provided attendees with information and interactive experiences. Over 200 visitors stopped by to craft buttons, learn how to enroll in various youth and adult classes, and how to obtain free library cards. A heartfelt thank you is extended to the organizers, volunteers, musicians, and community members for their roles in making the event a huge success.
---
LAST COUNCIL MEETING on September 18, 2023
At the September 18th regular City Council meeting, the City Council:
Held open time for public expression.
Heard City Manager and Councilmember reports.
Approved the consent calendar.
Held a special presentation for a youth art exhibit titled "Fair Housing for All."
Accepted a report on Community Development's Permit Improvement Programs & Customer Satisfaction Surveys.
Adopted resolution on fiscal year-end 2022-23 budget amendments.
City Council meetings are held every first and third Monday of the month. City Council meetings that fall on a holiday are rescheduled for the following Tuesday.
---
Events
Community Media Center of Marin Open House
Saturday, September 30th, 1:00 p.m. – 4:00 p.m., 819 A Street, San Rafael
The Community Media Center of Marin is hosting an open house event this Saturday, September 30th. Whether you're discovering the Center for the first time or revisiting it after some time, seize this opportunity to explore the myriad of resources and services offered to Marin's residents. Come see the newly upgraded editing lab, test out the podcast studio, and step on the set of the production study. Learn more at www.marintv.org.
---
Hops & Vines Stroll in Downtown San Rafael
September 30th, 2:00 p.m. – 6:00 p.m., Fourth Street, Lincoln Avenue to West End
Don't Miss the Annual Hops & Vines Stroll in Downtown San Rafael! Celebrating the craft beer and premium wine scene in Marin, the festive tasting event will take place along the San Rafael Downtown Fourth Street corridor, with numerous downtown breweries/taprooms, boutiques, and businesses offering wine and beer tastings as well as light refreshments inside their establishments. Purchase tickets here.
---
Final FREE Movie in the Park & Treats with City Staff
Friday, October 6th, 2023
Movie begins 15 minutes after sunset.
5:00 p.m. – Enjoy free snacks, including favorites like sno-cones, popcorn, and cotton candy, and learn about City services and programs.
15 minutes after sunset – Monsters University (Rated PG) at Terra Linda Park – 670 Del Ganado Road
Join us for the final movie in the City's movie in the park series and meet your City of San Rafael team! Stop by to say hello one hour before showtime to meet our team members from various City departments and find out what's happening in your city.
Attendees are welcome to bring low chairs, blankets, a picnic dinner, or snacks to enjoy during the movie, and reminded to bring a flashlight for when it gets dark.
For more information, call (415) 485-3333 or email recreation@cityofsanrafael.org
---
West End Block Party
Fridays from July – October 2023
Dates remaining: 10/6, 10/13, 6:00 p.m. – 10:00 p.m. (music ends at 9:00 p.m.)
Join the vibrant West End Friday Night Block Party in Downtown San Rafael! Spanning Fourth Street, from F to G Streets, and running from 6:00 p.m. to 10:00 p.m., with live music wrapping up at 9:00 p.m.
---
Ageism Awareness Day
Saturday, October 7th, 2023
The Aging Action Initiative (A.A.I.) reminds us that October 7th is Ageism Awareness Day. Join with A.A.I and others across the country to draw attention to the existence and impact of ageism in our society and how we can reframe aging in our communities. You can learn more about Ageism Awareness Day here.
---
Dia de los Muertos Car Procession/Cruise & Car Show
Saturday, October 21st, 3:00 p.m., 1100 E St, San Rafael
Application Due Date: 10/6/23
Now an annual part of our Dia de los Muertos celebration, the car procession/cruise extends the festivities, showcasing decorated cars while attendees view the Dia de los Muertos altars in downtown business windows. It also serves as a reminder of our upcoming traditional Dia de los Muertos celebration two weeks later at the Albert J. Boro Community Center on November 4, 2023 (details below). The car procession will end in the parking lot at the corner of Fifth Avenue and Tamalpais Avenue, where participants are encouraged to display their cars. Music and food will be available at the Multicultural Center of Marin.
To apply for a spot, visit https://dayofthedeadsr.org/?page_id=2043. For questions or additional information, please contact Steve Mason at steve.mason@cityofsanrafael.org or (415)485-3079.
---
Quiz
Where in San Rafael are these pelicans enjoying the water?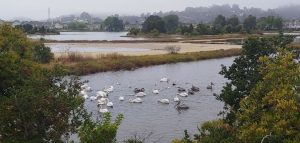 Be the first to respond!