Snapshot en Español
Spotlight Photo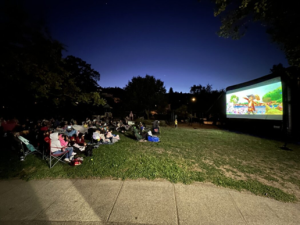 Movie in the Park
Photo Credit: Craig Veramay, Assistant Director Library & Recreation
Last Quiz Question
Congrats Jim Findlay! You can check out that awesome view from the rooftop at the AC Marriott Hotel in downtown San Rafael. Congratulations Jim, and thanks for reading Snapshot! Scroll down to see this edition's quiz and be the first to answer.
---
San Rafael City News
Upcoming City Council Meeting –Monday, September 18th, 2023
The following items with be considered at the upcoming City Council meeting on Monday, September 18th at 7:00 p.m.
Youth Art Exhibit- "Fair Housing for All"
This City Council meeting will include a special presentation and unveiling of a new youth art exhibit. The exhibit, recently approved by the City's Public Art Review Board, showcases artwork created by 3rd-grade students from Laurel Dell Elementary, focusing on the theme "Fair Housing for All." In a series of workshops, the students collaborated with the Federal Housing and Urban Development Department Office of Fair Housing and Equal Opportunity, Youth in Arts, architects, and mentors from UC Berkeley's Y-PLAN to create books, posters, and photos. These materials reflect their understanding and perspectives on housing fairness laws that protect against discrimination. The exhibit will be on display at City Hall in the main lobby for three months, ending in December.
---
Permit Improvement Program & Customer Satisfaction Survey
The City Council will hear a report on the Marin Builders Association's (MBA) Permit Improvement Program & Customer Satisfaction Survey. In 2018, the City of San Rafael collaborated with the MBA and the Marin Economic Forum to survey Community Development Department clients, including homeowners and contractors, to gauge their overall satisfaction with the services provided by the department. The findings from this initial survey have been documented in the "Permit Simplicity Initiative, Customer Service Assessment – Phase I Report."
Building on the success of Phase I, the City contracted with MBA for a Phase II report aimed to further improve the permit process experience for applicants and with a primary goal of decreasing illegal construction activity. The recent Phase II report shows a notable surge in customer satisfaction with the City's permit process and provides a range of recommendations for the City to consider. Staff will evaluate the recommendations and identify which ones to implement based on how they align with the overall City Council Goals and Objectives and available staff capacity.
Read the Staff Report Here
---
Fiscal Year 2022-2023 Budget Updates
Staff will present updates on Fiscal Year 2022-23 revenues and expenditures and request year-end budget adjustments. After the City's fiscal year ended, staff reviewed all citywide revenues and expenditures and, as a result, are recommending a series of budget adjustments that are specific to year-end clean-up, consistent with past guidance provided by the City's outside auditors.
Read the Staff Report Here
---
Other News
Help Grow the Local Green Economy!
The City wants to hear your feedback on how local climate action efforts can have the greatest benefit to local businesses and our workforce. What is a "green job" in San Rafael? What really drives business development while greening the local economy? Share your thoughts through this 5-minute survey if you are a local business, or this survey if you are a local worker or job seeker and enter a raffle to win a $100 gift card. Thank you in advance for your time and insights.
---
Third Street Paving Project
The Third Street paving project will begin on Wednesday, September 20. Residents in the surrounding areas can expect an uptick in construction activities that will last for a five-week period. The initial phase, lasting three weeks, will involve noise-generating work. This will be followed by a two-week striping operation to enhance road safety and functionality. To keep the community informed and prepared, message boards will be up with project details, dates and hours.
---
Third Street Improvements
THIS WEEK   September 11 – September 15
Construction crews removed and replaced sections of failed paving in preparation for paving on Second Street and Third Street.
Crews lowered manhole frames and covers in preparation of paving Second Street and Third Street.
NEXT WEEK  September 18 – September 22
Crews will activate the new traffic signal at Third Street and Brooks Street. This is a changed condition so motorists should be alert.
Crews will prepare for paving operations and surveying Second Street between Fourth Street and Shaver Street. This work will require a lane closure on Second Street.
Crews will lower manhole covers and valve boxes on Second Street and Third Street in preparation for the paving of Second Street. The work will require a lane closure on Second Street and Third Street.
On 9/21, crews will begin the Nightwork paving on Second Street. This work will be performed between the hours of 8 pm and 6 am to mitigate traffic impacts.
IMPACTS:
The posted speed limit within the construction work zone is 25 mph. Please be alert for construction workers and drive slow in the cone zone.
Traffic Controls (temporary signs, message boards, traffic cones, delineators and detour signs) will be put in place to direct motorists through the work area.
Curb parking spaces will be marked "No Parking."
The daytime hours of work will be from 6 am to 6 pm, with lane closures from 6 am to 3 pm on Third Street and Second Street westbound. Lane closures will also be in effect from 9 am to 6 pm on Second Street eastbound.
CLICK HERE FOR AN INTERACTIVE MAP
VISIT THE THIRD STREET IMPROVEMENTS PROJECT WEBPAGE
---
TALES OF THE CITY- SHADED FUEL BREAK PROJECT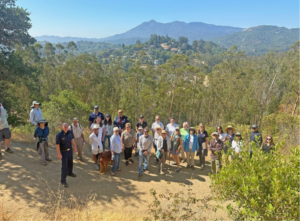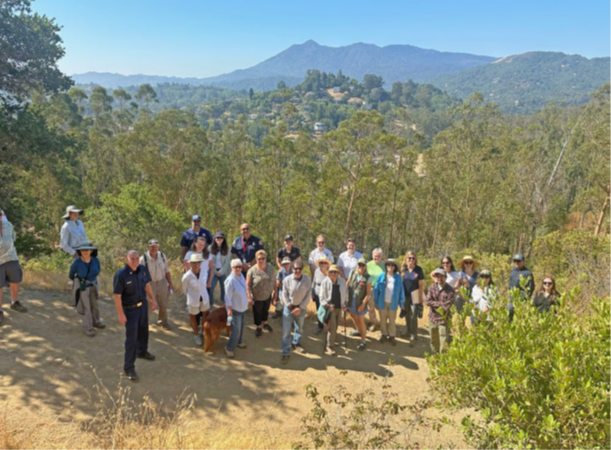 On August 28, a community gathering took place at the Ridgewood Fire Road to discuss the upcoming San Rafael-San Anselmo Fuel Reduction Project. Leading the discussion were Fire Chief Darin White and Deputy Director of Emergency Management Quinn Gardner, alongside Kate Anderson from the Open Space Mitigation team. They were joined by Mark Brown, Executive Director of the Marin Wildfire Prevention Authority (MWPA) and Ross Valley's interim fire chief, Dan Mahoney, who shared historical background and handy tips to keep in mind as the project starts. Councilmember Rachel Kertz and Marin Supervisors Mary Sackett & Dennis Rodoni were also there, brainstorming with a large group of neighbors who came by to stay informed and engaged.
---
LAST COUNCIL MEETING on September 5, 2023
At the September 5th, regular City Council meeting, the Council:
Held open time for public expression.
Heard City Manager and Councilmember reports.
Approved the consent calendar.
Held a special presentation Supporting National Suicide Prevention and Awareness Month.
Held a special presentation Supporting Hispanic Heritage Month.
Held a special presentation Supporting National Preparedness Month.
Accepted an annual report and update on greenhouse gas emissions and climate action priorities.
Accepted a report on the Electric Vehicle Strategy and Workplan.
City Council meetings are held every first and third Monday of the month. City Council meetings that fall on a holiday are rescheduled for the following Tuesday.
---
Events
Suicide Prevention & Recovery Month Events
September is Suicide Prevention and Recovery Month. In recognition of this, the Marin County Behavioral Health and Recovery Services, the Marin County Suicide Prevention Collaborative, and many community-based partners throughout Marin are coming together to build a safe and healthy community through awareness and educational events. To see a full list and register for events click here.
---
Greening Our Future: A Tree Plan for San Rafael
Thursday, September 14, 7:00 p.m., San Rafael City Hall or Zoom
Join the Federation of San Rafael Neighborhoods and Sustainable San Rafael for this event and learn why trees are key to cooling Marin's intensifying urban heat islands and sequestering the greenhouse gases driving climate change. Attendees will learn how community members can better nurture and care for healthier trees in the ground and a greener canopy overhead. More information can be found at: https://www.fedsrn.org.
---
San Rafael PorchFest
September 17th, from Noon to 5:00 p.m.
Porchfest is back! The event will encompass a 6-block area near San Rafael's historic Gerstle Park. Musical performances will be on front porches throughout the neighborhood — San Rafael Ave., Clark St., Bayview St., and Ross St. and then up Marin St. and Clorinda Ave. View the interactive map here. For additional event details click here.
---
Downtown Streets- Fall Fest Benefit Concert
Friday, September 22, 5:00 p.m.- 10 p.m.
Join Downtown Streets (DST) to raise spirits, awareness, and funds to continue their mission of ending homelessness through the dignity of work and the power of community. The Fall Fest Benefit Concert promises a soul-stirring evening with live musical performances by the phenomenal Shawn Mullins and Steve Poltz. The evening starts with a splendid dinner reception catered by Full Circle Catering from 5:00 to 7:30 p.m., followed by an insightful DST programming segment and capped by music performances until 10:00 p.m. Your participation not only guarantees an evening of delight and camaraderie but also supports a noble cause. For ticket information click here.
---
FREE Movies in the Park & Treats with City Staff
Fridays, September 22nd & October 6th (details below)
5:00 pm – Enjoy some free snacks including favorites like sno-cones, popcorn, and cotton candy, while learning about City services and programs.
Movies begin 15 minutes after sunset.
September 22nd, 6:00 p.m. – 9:00 p.m., The Super Mario Brothers – en español (Rated PG) at Pickleweed Park – 50 Canal St.
October 6th, 6:00 p.m. – 9:00 p.m., Monsters University (Rated PG) at Terra Linda Park – 670 Del Ganado Road
Join us for movies in the park and meet your City of San Rafael team! Stop by to say hello one hour before showtime to meet our team members from various City departments and find out what's happening in your city.
Remember to bring low chairs, blankets, a picnic dinner or snacks to enjoy during the movie and a flashlight for when it gets dark. For more information, call (415) 485-3333 or email us at recreation@cityofsanrafael.org
---
West End Block Party
Fridays from July – October 2023, Dates: 9/22, 9/29, 10/6, 10/13, 6:00 p.m. – 10:00 p.m. (music ends at 9:00 p.m.)
 Join the vibrant West End Friday Night Block Party in Downtown San Rafael! Spanning from F to G Streets and running from 6:00 p.m.-10:00 p.m., with live music wrapping up at 9:00 p.m.
---
Marin Sanitary Services (MSS) Customer Appreciation Day
Sunday, September 24th, 9:00 a.m.- 2:00 p.m., 535 Jacoby St.
Join Marin Sanitary Services at 535 Jacoby St. from 9:00 am to 2:00 pm for a day of environmental awareness and community engagement! Attend compost and recycling classes at 10:00 am and 12:00 pm for tips on reducing landfill waste. Take a 45-minute guided tour of our recycling facilities at 11:00 a.m. or 1:00 p.m. and learn how your recyclables are processed for reuse (closed-toe shoes recommended, limited to 50 participants per group). Explore booths hosted by local organizations advocating for a greener Marin. Get up to 64 gallons of free compost—just bring your ID or proof of residence (exclusive to MSS customers, one per household while supplies last).
For additional information please contact 415-456-2601 or email at CustomerService@MarinSanitary.com, and visit recycleforchange.org for more details.
---
Hops & Vines Stroll in Downtown San Rafael
September 30th, 2:00 p.m. – 6:00 p.m., Fourth Street, Lincoln Avenue to West End
Don't Miss the Annual Hops & Vines Stroll in Downtown San Rafael. Celebrating the craft beer and premium wine scene in Marin, the festive tasting event will take place along the San Rafael Downtown Fourth Street corridor, with numerous downtown breweries/taprooms, boutiques, and businesses offering wine and beer tastings as well as light refreshments inside their establishments. Purchase tickets here.
---
1973: The Marin Countywide Plan at 50 Exhibit at the Boyd Gate House
Wednesday through Friday 10:00-2:00 p.m. and Saturday 11:00-3:00 p.m.
1973: The Marin Countywide Plan at 50 exhibit at the Boyd Gate House is now open. Immerse yourself in a captivating journey back in time to explore the roots of Marin's preservation movement.
---
Dia de los Muertos Car Procession/Cruise & Car Show
Saturday, October 21st, 3:00 p.m., 1100 E St, San Rafael
Application Due Date: 10/6/23
Now an annual part of our Dia de los Muertos celebration, the car procession/cruise extends the celebration, allowing people to view decorated cars while looking at altars in downtown business windows. It also serves as a reminder of our upcoming traditional Dia de los Muertos celebration two weeks later at the Albert J. Boro Community on November 4, 2023. The car procession will end in the parking lot at the corner of Fifth Avenue and Tamalpais where we encourage participants to display their cars while music and food will be available at the Multicultural Center of Marin.
To apply for a spot visit https://dayofthedeadsr.org/?page_id=2043. For questions or additional information please contact Steve Mason at steve.mason@cityofsanrafael.org or (415)485-3079.
---
Marin Green Home Tour
October 26th, 6:00 p.m.
After the success of last year's event, the Marin Green Home Tour is back for 2023, and will take place this October 26th at 6:00 p.m. This will be a one-evening, virtual tour featuring a variety of home types, along with information and tips to help you live more sustainably, including resources for renters and homeowners alike! Registration is now open.
---
Dia de los Muertos
Saturday, November 4th, 3:00 p.m.-9:00 p.m. Al Boro Community Center
Join us in celebrating San Rafael's 35th annual Dia de los Muertos celebration. Local artists and community members will create ofrendas (altars) to honor the spirits and lives of loved ones who have passed, whether they be ancestors or important historical figures. These altars are open to the public and will be displayed from 3:00 p.m.-9:00 p.m.
If you are interested in participating in the City's Community Altar: Viva la Vida (Celebrate Life) – honoring those who have left us, you can send a photo of a loved one digitally to Lidia.que@cityofsanrafael.org or by bringing a copy (no larger than 4×6) to the City Manager's office (1440 Fifth Ave. Room 203, San Rafael) or any of our San Rafael community centers before Friday October 27th.
This free-to-attend celebration also includes art workshops for children, live music (multiple performers), cultural performances, a walking procession through the Canal neighborhood and traditional food available for purchase.
For more information on the event you can check out https://dayofthedeadsr.org/
---
Quiz
Where can you find this mural?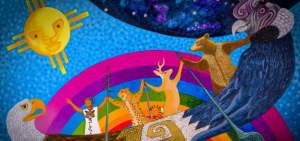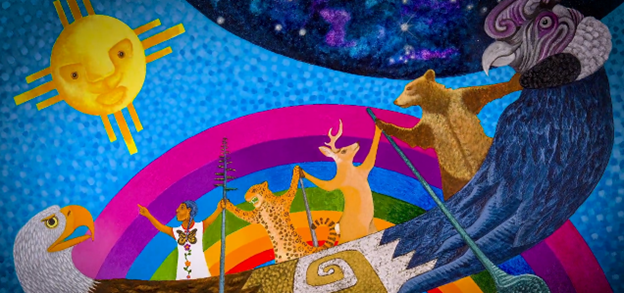 Be the first to respond!