Spotlight Photo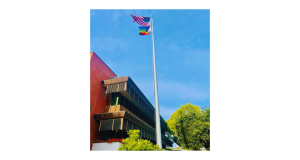 Pride flag flying over City Hall
Photo Credit: Bernadette Sullivan, City Manager's Office
Last Quiz Question
Congrats Ruth-Louise Moran! The photo featured in the last Snapshot quiz where we can find peacocks and pigs living together in San Rafael is located at Marin Sanitary Services on Jacoby street! Congratulations Ruth-Louise, and thanks for reading Snapshot! Scroll down to see this edition's quiz and be the first to answer!
---
San Rafael City News
Upcoming City Council Meeting – Tuesday, June 20th
The following items with be considered at the upcoming City Council meeting on June 20th, at 7pm.
Canal Street Underground Utility District
The City Council will hear a presentation from staff about undergrounding the power lines along Canal Street. The presentation will outline the findings from the Fall 2022 site walk, confirming the feasibility of undergrounding utilities between Medway Road and Spinnaker Point Drive. The proposed project emphasizes the benefits of enhanced pedestrian access, improved aesthetics, and upgraded sidewalks. With an estimated cost of $4.2 million, the project would be funded by San Rafael's available Rule 20A work credits also known as the "Utility Undergrounding Program," a program established by the California Public Utilities Commission (CPUC) to address the issue of unsightly overhead utility lines and poles in cities. Under this program, cities and counties can accumulate credits that can be used to fund the undergrounding of utilities. If approved, the construction timeline would commence in approximately five to seven years, based on PG&E's estimates for when they would be able to conduct the work.
Read the Staff Report Here
---
Commercial Linkage Fee Study
The City Council will hear an informational report from staff on a recently completed regional nexus study on commercial linkage fees. A commercial linkage fee is a type of impact fee related to new commercial development for its role in creating new demand for affordable housing. The City of San Rafael and several other jurisdictions in Marin County worked in collaboration to hire a consultant to analyze commercial linkage fees to determine proposed reasonable fees, with the County coordinating the effort. The project was conducted regionally to create the potential for establishing consistent policies and fees among participating jurisdictions. City staff will be conducting community and stakeholder outreach in the coming weeks before bringing a recommendation back to the City Council on any proposed changes to fees.
Read the Staff Report Here
---
Presentation of Proclamation to Larry Paul
There will be a special presentation about Larry Paul to acknowledge his service to the community and present a proclamation in his honor. Larry dedicated over three decades of service to the City of San Rafael, making significant contributions as a member and chair of the Design Review Board and Planning Commission. His respectful approach to design professionals, constructive suggestions, and involvement in important development projects have positively impacted the City's aesthetics and future. The City of San Rafael expresses sincere appreciation for his exceptional service and architectural expertise.
Read the Proclimation Here
---
Other News
San Rafael Awarded Adaptation Grant
The City of San Rafael is pleased to announce the San Rafael Climate Adaptation Planning Collaborative, has been awarded $644,000 by the Governor's Office of Planning and Research through the Adaptation Planning Grant Program. This funding will directly support our continued collaboration with our project partners including (County of Marin, Multicultural Center of Marin, Canal Alliance, and researchers at the University of California Berkeley) to address near-term flooding risks. This grant will help expand the City's capacity to work with disproportionately vulnerable communities in the Canal neighborhood to co-create solutions to improve safety and resilience. Together with our partners, the City will work to improve understanding of climate hazards, prioritize adaptation measures, and build climate capacity within community-based organizations while providing STEM educational opportunities for students from the Canal neighborhood. We're thrilled to announce our project is one of just fourteen awarded statewide!
---
Third Street Improvements  
NEXT WEEK June 19 – June 23
Crews will set the new streetlights and restore paving at Second Street and East Street. The work will require a sidewalk closure and pedestrian detours.
Crews will excavate at the Sanitation Department culvert repair locations on Second Street, between Shaver Street and G Street. The work will require a lane closure on Second Street.
IMPACTS:
The stairway from Second Street to Jessup Street (south of Ida Street) is closed.
For the Lane Shift on Second Street, the posted speed limit is 25 mph. Drivers should be aware of changed conditions and be alert.
Traffic Controls (temporary signs, message boards, traffic cones, delineators, and detour signs) will be put in place to direct motorists through the work area.
Curb parking spaces will be marked "No Parking".
The daytime hours of work will be from 6 am to 6 pm, with lane closures from 6 am to 3 pm on Third Street and Second Street westbound. Lane closures will also be in effect from 9 am to 6 pm on Second Street eastbound.
CLICK HERE FOR AN INTERACTIVE MAP
VISIT THE THIRD STREET IMPROVEMENTS PROJECT WEBPAGE
---
TALES OF THE CITY—Eden Housing kicks off construction at 3301 Kerner Blvd.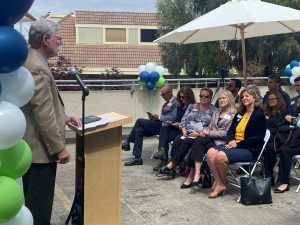 On June 9th, Eden Housing celebrated the start of construction of a permanent supporting housing project at 3301 Kerner Blvd. Mayor Kate, Vice Mayor Llorens Gulati, Councilmember Kertz, Assemblymember Damon Connolly, and Marin County Supervisors Dennis Rodoni and Mary Sackett were all in attendance for this milestone event. The event included remarks by Congressman Jared Huffman and Johnathan Logan, Vice President of Community Engagement at the Marin Community Foundation.
This adaptive reuse project will convert a vacant office building into 41 units of permanent housing for people exiting homelessness, with supportive and mental health services provided on site for residents. 3301 Kerner is conveniently located directly across the street from the Marin Health and Wellness Campus, with nearby access to public transportation, shopping, medical services, recreation, and employment opportunities. The City of San Rafael has contributed approximately 2.1 million dollars in funding through its Affordable Housing Trust Fund to help acquire the site and finance this project. The target date for project completion is December 31, 2025.
---
LAST COUNCIL MEETING on June 5, 2023
Beginning with the April 18, 2022, City Council meeting, the City Council has returned to in-person meetings combined with virtual real-time public comment.
At the June 5, regular City Council meeting, the Council:
Swore in the new City Manager, Cristine Alilovich.
Held open time for public expression.
Heard City Manager and Councilmember reports.
Approved the consent calendar.
Approved resolutions on the Final Citywide Budget for Fiscal Year 2023-24, Capital Improvement Program, Measure A Work Plan, and Legal Spending Limit.
Approved a resolution establishing the Police Advisory and Accountability Committee.
City Council meetings are held every first and third Monday of the month. City Council meetings that fall on a holiday are rescheduled for the following Tuesday.
---
Events
Apply to be a Member of the Marin County Youth Commission
The Marin County Youth Commission (MCYC) is currently accepting applications until July 2nd. MCYC, recognized as one of the oldest and most esteemed youth commissions in the United States, offers a powerful platform for youth advocates aged 12-23 to raise their voices and drive positive change. MCYC actively engages with policymakers and the Marin County Board of Supervisors to represent the needs of underserved populations, including youth of color, those with disabilities, homeless youth, rural youth, and LGBTQ+ youth. Join MCYC to participate in community service, promote social justice, and develop invaluable leadership skills. Don't miss this opportunity to make a meaningful impact. Apply now and help shape a brighter future for our community.
---
Dining Under the Lights
"Dining Under the Lights" summer block party is a monthly FREE event taking place on the second Friday of the month, where parts of Fourth Street and B Street will be closed from 6-10 pm. Local restaurants will set up tables on the street with live bands nearby to entertain the crowds. It is a fun and enjoyable outdoor event for the entire family.
---
San Rafael Summer Farmers Market
The farmers' market features an exciting mix of new and returning farmers and purveyors. You'll discover and connect with farmers selling a bounty of seasonal fresh fruits and vegetables. Savor the Summer Farmers Market with farm-fresh produce, honey, wine, baked goods, flowers, cured meats, jams, pastas, handmade crafts, and community. Come dine al fresco or take-home street style foods spanning the globe: Yucatan, Salvadorian and Spanish, to name a few, plus Southern-style foods and Mexican- style local roasted corn.
Rooted in the heart of San Rafael, the market also features handcrafted foods from local makers, one-of-a-kind pieces from crafters, artists, and small businesses from around the Bay Area. The market accepts CalFresh/EBT and offers up to $10 in Market Match for free fruits and vegetables.
Location: Downtown San Rafael, Fourth Street, Between A and Lootens Street
Dates: Thursdays, June 1 – August 31, 2023
Times: 5:30 pm – 8:30 pm
---
Marin County Fair
June 30th through July 4th | 11:00 a.m. to 11:00 p.m.
10 Ave. Of the Flags, San Rafael, CA 94903
It is finally here! Enjoy concerts, shopping, carnival rides, and mouthwatering food at the 2023 Marin County Fair to be held at the Marin County Fairgrounds.
Celebrated as the Healthiest and Greenest County Fair on Earth since 2008, the Marin County Fair proudly features a solar-powered carousel, solar-powered stage, and a 92% waste diversion rate. The fair offers fresh and healthy food choices, alcohol-free sponsorships, and a smoke-free environment for the enjoyment of all.
All fair tickets include general admission to the headline concerts (seating is first come, first served). The fair is a one-price gate — 28 fun carnival rides, exciting exhibits, a spectacular fireworks display, first-rate concerts and exciting attractions are free with your gate admission.
BUY TICKETS AND FIND MORE FAIR INFORMATION HERE
---
Quiz
Where in San Rafael can you find this wall?