Snapshot en Español
Spotlight Photo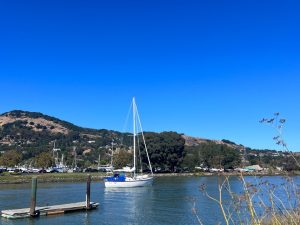 Pickleweed Marsh
Photo Credit: Walter Gonzalez Valdez, City Manager's Office
Last Quiz Question
Congrats to Shana Pierre! Who was the first to answer our Snapshot quiz. The pelicans featured in the last quiz photo are enjoying a nice day at the Baypoint Lagoon in San Rafael. Congratulations Shana, and thanks for reading Snapshot! Scroll down to see this edition's quiz and be the first to answer.
---
San Rafael City News
Special City Council Meetings, Monday, October 16th, and 23rd 2023
October 16th Special Meeting
The upcoming special City Council meeting planned for Monday, October 16th at 5 p.m. is open to the public, and will be dedicated to interviewing candidates for several of the City's boards, commissions, and committees. The City Council is committed to taking the time to ensure a thorough process for appointing individuals to serve our community in these pivotal roles. Therefore, there will not be a regular City Council meeting, which means there will not be time on the agenda for open public comment on October 16th. The next regular City Council meeting is scheduled for November 6th, 2023 at 7:00 p.m.
Read the Staff Report Here.
---
October 23rd Special Meeting
A special City Council meeting has been scheduled for Monday, October 23rd at 6:30 p.m. and is open to the public to conduct the final interviews for the Police Advisory Accountability Committee (PAAC) members. Seven individuals will be selected to serve on the PAAC. View the Frequently Asked Questions (FAQ) on the PAAC to learn more about its formation.
---
City temporarily suspends public comment via Zoom
The City of San Rafael greatly appreciates the participation of our residents and hearing from the community during its City Council, Board, Commission, and Committee (BCC) meetings. During the pandemic, when in-person participation was not possible, the City implemented Zoom and then hybrid (call-in) public meetings. While there are benefits to these formats, they also present challenges, including providing opportunities for anonymous callers to disrupt public meetings. As the City continues to emerge from the pandemic, effective October 16th, 2023, the City will temporarily suspend public comment via Zoom in real-time during its public meetings.
The City Council and BCC meetings will continue to allow for in-person participation, with the option to view the meetings remotely over Zoom and YouTube.There are still multiple ways the community can provide their input related to specific meeting topics, including:
Attend a City Council meeting (or other Board/Commission/Committee meetings) and provide public comment in person.
Email or mail a written statement which will be shared with the elected and/or appointed officials, as well as incorporated in the official public record. You can email the City Clerk at city.clerk@cityofsanrafael.org.
You will find more information on how to participate and comment on City Council meetings here: https://www.cityofsanrafael.org/guide-public-meetings/.
For information regarding the City's BCCs, please visit: https://www.cityofsanrafael.org/board-and-commission-meetings/.
Should the City resume public comment virtually, we will provide notice so that the community is informed of their options.
---
Other News
Marin County Participatory Budgeting
The County of Marin is empowering community members countywide with a new approach called Participatory Budgeting (PB), allocating $2.5 million for public projects. Through this new initiative, community members propose ideas, develop them into grant proposals, and then vote on which projects get funded, with grants ranging between $10,000 and $250,000. From last February through June, 104 project applications were received, including youth mentorship programs, climate resilience measures, justice reparations, cultural arts, and more. Several project submissions came from San Rafael residents and community-based organizations to bring programs and resources to our community.  The County selected a group of residents and community leaders to work with the County Office of Equity to review the proposals and recommend which will be put forward on the ballot for voting. All Marin County residents will get a chance to vote on the final list of projects this fall; exact dates are forthcoming.  Learn more about the Marin County Participatory Budgeting Project here.
---
Marin Master Gardeners Landscaping Tips: Maintaining a Fire-Smart Landscape⁠
Clear leaf and needle litter from gutters, roof, eaves, vents, and chimneys.⁠⁠
Clear branches 10 feet from the chimney.⁠
Rake-up fallen leaves and evergreen needles.⁠
Remove dead vegetation and dry grasses, and dead wood from trees and shrubs.⁠
Check plants for drought stress.⁠
Learn more about Fire-Smart Landscaping here.
---
Third Street Paving Project
The Third Street paving project is advancing. Residents in the surrounding areas can still expect construction activities that involve noise-generating work from the hours of 8:00 p.m. to 6:00 a.m. This will be followed by a striping operation to enhance road safety and functionality. To keep the community informed and prepared, the City will update message boards around downtown including locations on Second and Third Streets with project details, dates, and hours. Read below for additional details.
---
Third Street Improvements
THIS WEEK  October 9 – October 13
Monday night (10/9) construction crews resumed paving Third Street between Union Street and Grand Avenue.
Tuesday night (10/10) crews placed top lift of asphalt on Third Street between Grand Avenue and Cijos Street.
Wednesday night (10/11) crews placed top lift of asphalt from Third Street and Cijos Street to Shaver Street.
Thursday night (10/12) crews placed top lift Westbound Second Street from Shaver Street to the Intersection of Second Street and Fourth Street.
NEXT WEEK   October 16 – October 20
Nightwork from 8:00 p.m. to 6:00 a.m. Please move vehicles out of the overnight closures areas to avoid being towed. There will be road closures with detours in place.
Tuesday night (10/17) crews will pave Ritter Street between Third Street and Lincoln Avenue.
Wednesday night (10/18) paving operations will work on eastbound Second Street between Fourth Street and Shaver Street.
Thursday night (10/19) paving operations will be completed on eastbound Second Street between Fourth Street and Shaver Street.
During next week, the contractor will be resetting manhole covers to the new asphalt surface.
IMPACTS:
Traffic Controls (temporary signs, message boards, traffic cones, delineators, and detour signs) will be put in place to direct motorists through the work area.
Street parking spaces will be marked "No Parking." Please move your vehicles overnight.
The daytime hours of work will be from 6:00 a.m. to 6:00 p.m., with lane closures from 6:00 a.m. to 3:00 p.m. on Third Street and Second Street westbound. Lane closures will also be in effect from 9:00 a.m. to 6:00 p.m. on Second Street eastbound.
---
TALES OF THE CITY- School visits with librarians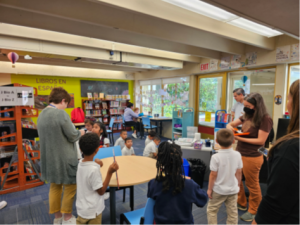 With school back in session, teachers have started to coordinate with the Library for class visits, occasionally hosting multiple sessions in a single day! On the morning of September 28th, students from St. Raphael School visited the Downtown Library. During their tour, Librarian Lea Aschkenas issued library cards and shared stories with the attendees. Later that afternoon, Librarian Alejandra Barrios from the Pickleweed branch journeyed to Davidson Middle School to present to a group of 28 students on library services.
---
LAST COUNCIL MEETING on October2nd, 2023
At the October 2nd regular City Council meeting, the City Council:
Received City Manager and Councilmember reports.
Approved the consent calendar.
Approved resolution adopting the City of San Rafael Emergency Operations Plan
Held open time for public expression.
City Council meetings are held every first and third Monday of the month. City Council meetings that fall on a holiday are rescheduled for the following Tuesday.
---
Events
Final 2023 West End Block Party
Friday, October 13th, 6:00 p.m. – 10:00 p.m. (music ends at 9:00 p.m.) 
Join this year's final West End Friday Night Block Party in Downtown San Rafael! The party spans Fourth Street, from F to G Streets, and runs from 6:00 p.m.-10:00 p.m., with live music wrapping up at 9:00 p.m.
---
Arbor Day Ceremony
Thursday, October 19th, at 11:00 a.m., Sun Valley Park 
You are invited to join the City as we celebrate our forty-first consecutive year of being a member of Tree City USA! To commemorate this milestone, the Department of Public Works, Parks Division, has organized an Arbor Day tree-planting ceremony at Sun Valley Park in San Rafael. We are thrilled to extend this invitation to the community and hope you can join us to celebrate!
---
Climate Action Community Forum
Thursday, October 19th, 4:00 p.m.- 6:00 p.m., City Hall, 1400 Fifth Avenue, 3rd Floor
You're invited to join the City's quarterly community update on the implementation of the City's Climate Change Action Plan hosted by Vice-Mayor Maika Llorens Gulati. These meetings serve as a collaborative platform for community members to stay informed of local climate action strategies and initiatives. Special guest, State Parks Director Armando Quintero, will be in attendance to share insights and updates on climate action at the State level and in the State Parks. More information, agenda, and zoom link for those who want to attend virtually can be found here.
---
Día de los Muertos Car Procession/Cruise & Car Show
Saturday, October 21st, 3:00 p.m., Northwest corner of Fifth Avenue and Tamalpais Ave.
Now an annual part of our Día de los Muertos celebration, the car procession/cruise extends the festivities, showcasing decorated cars while attendees view the Día de los Muertos altars in downtown business windows. The car procession starts at the Northwest corner of Fifth Avenue and Tamalpais will end in the parking lot at the corner of Fifth Avenue and Tamalpais Avenue, where participants are encouraged to display their cars. Music and food will be available at the Multicultural Center of Marin located at 709 Fifth Ave, San Rafael, CA 94901.
---
Floating Pumpkin Patch
Sunday, October 22nd, 1:00 p.m. – 3:00 p.m., Terra Linda Community Pool
The City of San Rafael is excited to invite you to our very first Floating Pumpkin Patch! Jump in the pool, pick a pumpkin, and decorate it at our decoration stations. Advanced registration is required and youth under 12 must be accompanied by an adult. To register click HERE. We hope to see you there.
---
Marin Green Home Tour
Thursday, October 26th, 6:00 – 8:30 p.m., Online Event
After the success of last year's event, the Marin Green Home Tour is back for 2023, and will take place this October 26th at 6:00 p.m. This will be a one-evening, online/virtual tour featuring a variety of home types, along with information and tips to help you live more sustainably, including resources for renters and homeowners alike! Registration is now open.
---
Repairing the World: Stories from the Tree of Life
Thursday, October 26th, Public TV Premiere Nationwide
Not In Our Town is excited to announce the national public television broadcast of their film Repairing the World: Stories from the Tree of Life in October, marking the 5-year commemoration of the deadliest antisemitic attack in U.S. history. Click here to watch the trailer and get more information.
---
Día de los Muertos
Saturday, November 4th, 3:00 p.m. – 9:00 p.m., Al Boro Community Center
Join us in celebrating San Rafael's 35th annual Día de los Muertos celebration! Local artists and community members will create ofrendas (altars) to honor the spirits and lives of loved ones who have passed, whether they be ancestors or important historical figures. These altars are open to the public and will be displayed from 3:00 p.m. – 9:00 p.m.
This free-to-attend celebration also includes art workshops for children, live music (multiple performers), cultural performances, a walking procession through the Canal neighborhood and traditional food available for purchase.
For more information on the event, visit https://dayofthedeadsr.org/
---
Quiz
What sport is played at this favorite San Rafael spot?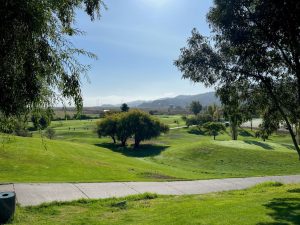 Be the first to respond!