Snapshot en Español
Spotlight Photo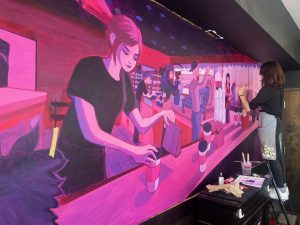 Local Artist, Sofia Estebecorena Prieto working on a new mural at the downtown Fourth Street Pink Owl Coffee Shop
Photo Credit: Bernadette Sullivan, City Manager's Office
Last Quiz Question
Congrats to Mary O'Mara! They were the first to answer our Snapshot quiz. The picture in our last Snapshot quiz featured crushed cans at Marin Sanitary Service in San Rafael.  Congratulations Mary, and thanks for reading Snapshot! Scroll down to see this edition's quiz and be the first to answer.
---
San Rafael City News
At the next City Council Meeting, Monday, November 20th, 2023
The following will be presented at the upcoming City Council meeting on Monday, November 20th, at 7:00 p.m.
Fiscal Year 2022-2023 Annual Comprehensive Financial Report
The Annual Comprehensive Financial Report will be presented for fiscal year ending June 30, 2023, to the City Council. This report includes government-wide financial statements with detailed financial information regarding governmental activities and business-type activities presented separately. The City posted another year of positive results that contributed to an improved financial position for the City.
Read more about the audit results in the staff report.
---
Other News
2024 Business License Renewal
The City are in the process of distributing business license renewal notices to all businesses with active licenses expiring December 31, 2023.  Each license renewal is due by February 15, 2024.  The City accepts cash, checks, money orders, and most major credit cards.  Licenses may be renewed online via credit card or through eCheck. If you have questions about business licenses, please contact the Business License Tax Division at (415) 485-3051 or BLRenewal@cityofsanrafael.org.
---
Winter Storm Prep
As the winter storm season begins, we're bracing for a mix of moderate to heavy rain and gusty winds over the next several months. Taking proactive steps now is essential to prepare and protect your home and family. Here are some things you can do to prepare:
Sign up to receive emergency alerts at AlertMarin.org.
Clear gutters & drains of leaves.
Update your emergency kit.
Assemble a stay-box.
Have sandbags at hand.
Make an emergency plan.
Stay informed and updated through the Emergency Portal
---
Three hours of Free Holiday Parking in City-owned Lots & Garages
Park stress-free while you shop and dine in downtown San Rafael this holiday season! Beginning the Saturday following Thanksgiving (November 25th), and through January 3rd, enjoy three hours of free parking at all City-owned parking lots and garages. On-street parking meters still require payment from 8:00 a.m. to 6:00 p.m., Monday through Saturday. Parking in downtown is always free every Sunday.
---
Marin COVID Level Rises
After nine weeks at low levels, the Marin County COVID-19 level was upgraded this week to medium based on increasing concentrations of the virus in local wastewater. This signifies a greater risk of exposure in our community. The approaching holidays typically fuel more transmission. Marin County Public Health is reminding all residents that the single most important measure to prevent serious illness and disruptions to school, work, and holiday plans is to get yourself vaccinated.
---
Eyes Up, Marin
Eyes Up, Marin reminds us to do our part in making our streets safer! Distractions, especially from our phones, can lead to serious consequences on the road. Whether walking, biking, or driving, staying alert and keeping your phone down is crucial.
Throughout Marin, you will see signs asking everyone to keep their "Eyes Up".  These signs will ask drivers to slow down, watch when turning, and look for pedestrians in the crosswalk; bicyclists to yield to pedestrians and to follow the rules of the road; and those walking pay attention when crossing the street. For more information about Eyes Up, Marin, visit www.streetsmartsmarin.org. Together, we can make a difference in keeping our streets safe for everyone!
---
Donate Toys through San Rafael Santa Cop this Holiday Season
The Santa Cop program unites employees from all City departments and our community partners to collect toys and donations for children and families in our community. Santa Cop will collect toys at all San Rafael Fire Stations through January 2nd, 2024.
San Rafael Fire Station locations:
Fire Station 51: 1375 Fifth Ave, San Rafael, CA 94901
Fire Station 52: 52 Union St, San Rafael, CA 94901
Fire Station 55: 955 Point San Pedro Rd, San Rafael, CA 94901
Fire Station 56: 650 Del Ganado Rd, San Rafael, CA 94903
Fire Station 57: 3530 Civic Center Dr. San Rafael, CA 94903
To learn more about the San Rafael Santa Cop program or to donate, please visit sanrafaelsantacop.org.
---
Marin County Participatory Budgeting
The County of Marin is empowering community members through the Participatory Budgeting (PB), allocating $2.5 million for public projects. Through this program, community members propose ideas and develop them into potential projects with costs between 10,000 and $250,000. The community is invited to vote on which projects get funded. Several project submissions came from San Rafael residents and community-based organizations to bring projects to our community.
Both online and in-person voting options are available to community members. You can vote and learn more about the Marin County Participatory Budgeting Project here.
---
Third Street Improvements
THIS WEEK: November 13 – November 17
Construction crews have completed the paving restoration on Second Street and Third Street.
Crews continued planting new street trees on Second Street and Third Street.
Crews worked on activating pedestrian streetlights along Second Street.
Crews worked on pouring out miscellaneous sidewalk panels.
NEXT WEEK: November 19 – November 22
On November 19th, from 8:00 p.m. to 6:00 a.m. on Monday the 20th – B St. will be converted to a two-way street between Second Street and Fifth Avenue. Please be alerted to changed conditions. Crews will be applying new traffic striping and activating new traffic signals to convert B St to two-way traffic.
Crews will continue to plant street trees on Third Street and median trees on Second Street.
Crews will work on energizing the pedestrian safety streetlights on Second Street between West Street and Miramar Avenue.
Crews will activate new traffic signals at Third Street and Brooks Street and at Second Street and Fourth Street.
No work will be performed on Thursday (11/23) or Friday (11/24).
IMPACTS:
Traffic Controls (temporary signs, message boards, traffic cones, delineators and detour signs) will be put in place to direct motorists through the work area.
Street parking spaces will be marked "No Parking." Please move your vehicles overnight.
The daytime hours of work will be from 6:00 a.m. to 6:00 p.m., with lane closures from 6:00 a.m. to 3:00 p.m. on Third Street and Second Street westbound. Lane closures will also be in effect from 9:00 a.m. to 6:00 p.m. on Second Street eastbound.
---
TALES OF THE CITY- – PRESCRIBED FIRE IN CHINA CAMP STATE PARK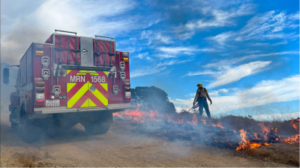 Firefighters from the San Rafael Fire Department, Marin County Fire, and California State Parks carried out controlled burns at China Camp State Park to lower the risk of wildfires. These burns, authorized by the Bay Area Air Quality Management District, are timed to coincide with favorable weather and air quality for optimal smoke dispersal. The program aims to manage vegetation, enhance wildlife habitats, and protect the park's oak woodlands and grasslands, as well as nearby communities. Intensified over the last two years, this initiative is supported by the State Parks Wildfire and Forest Resilience Program and the Marin Wildfire Prevention Authority in partnership with the San Rafael Fire Department.
---
 AT THE LAST CITY COUNCIL MEETING ON OCTOBER 20th, 2023
At the October 20th City Council meeting, the City Council:
Held a closed-session conference with legal counsel.
Heard City Manager and Councilmember reports.
Approved the consent calendar.
Held special presentations in recognition of:

Native American Heritage Month 2023
United Against Hate Week
Mark Machado's 16 years of service on the Parks and Recreation Commission.

Approved an ordinance to update City Council meeting times from 7:00 p.m. to 6:00 p.m., beginning January 2024.
Held open time for public expression.
Approved the consent calendar for the San Rafael Successor Agency.
City Council meetings are held every first and third Monday of the month. City Council meetings that fall on a holiday are rescheduled for the following Tuesday.
---
Events
Explore, Learn, and Connect at the San Rafael Public Library!
Join the San Rafael Public Library for opportunities to learn, explore, and connect! For more information, please our online calendar and check out the Library Quarterly Activity Guide. We look forward to welcoming you to the library!
---
Downtown San Rafael's Holiday of Lights & Winter Wonderland
Saturday, November 25th, 2023, 12:00 p.m. – 6:00 p.m.- Various shops in downtown San Rafael
The downtown San Rafael Business Improvement District invites you to attend the Annual Holiday of Lights and Winter Wonderland on "Shop Small Saturday" on November 25th. This event will have a "makers marketplace," a human snow globe, an ornament craft table, live music, food trucks, jump houses, a juggler, a toy drive, and sweets galore!
Throughout downtown San Rafael, there will be an elf hunt, "shop small Saturday" merchant treats and discounts, and a window decorating contest!
Don't miss the holiday tree lighting City Plaza at Court Street, 1000 Fourth Street, at 5:30 p.m. Click here for more information about the Great Elf Hunt and Shop Local & Shop San Rafael.
---
San Rafael Fire Foundation Crab Feed
Saturday, December 9th, 2023, 5:00 p.m., 618 B St, San Rafael, CA 94901
The San Rafael Fire Foundation is hosting its annual crab feed and silent auction event on December 9th, 2023, at the B Street Community Center in San Rafael. This gathering is a prime opportunity to support the dedicated women and men of our San Rafael Fire Department. For $100, attendees can enjoy an all-you-can-eat fresh Dungeness crab feast and/or book a table for up to 10 people for $1,000. To register, you can visit www.srfirefoundation.org. Alternatively, you can register via mail by sending a check payable to the San Rafael Fire Foundation to 369B Third Street #257, San Rafael, CA 94901.
---
Giant Menorah Lighting & Gelt Drop
Sunday, December 10th, 2023, 5:00 p.m. – 7:00 p.m., Downtown San Rafael Plaza, 1000 Fourth Street
Join Chabad of Marin and the City of San Rafael as we celebrate the first Sunday night of Chanukah on December 10th from 5:00 pm – 7:00 pm in the downtown San Rafael Plaza, 1000 4th Street. There will be music, dancing, giant menorah lighting, treats, chocolate gelt drop, and so much more!
---
Lighted Boat Parade 2023
Saturday, December 16th, 2023, 6:00 p.m., Various locations around San Rafael Canal (see below)
Boats decorated with lights, banners, and other festive regalia will sail across the San Rafael Canal in a marine parade that is not to be missed. Come witness the star-studded boat parade and cheer for your favorite design at the iconic Lighted Boat Parade 2023!
Suggested viewing areas include behind the Montecito Shopping Center, Point San Pedro Road and Third St., Yacht Club Drive, or Pickleweed Park.
For more information or to register a boat to participate, please call: (415) 453-9366.
---
City Hall
Reminder City administrative offices and facilities will be closed from Friday, December 25th through Monday, January 1st, 2024. Offices will reopen on Tuesday, January 2nd.  Police, fire, and paramedic services will be fully staffed with 9-1-1 emergency service continuing to dispatch calls 24 hours a day, seven days a week. Public Works and Sanitation District crews will be staffed and monitoring emergency maintenance requests.
---
Quiz
How many years has San Rafael held the annual lighted boat parade?

Be the first to respond!