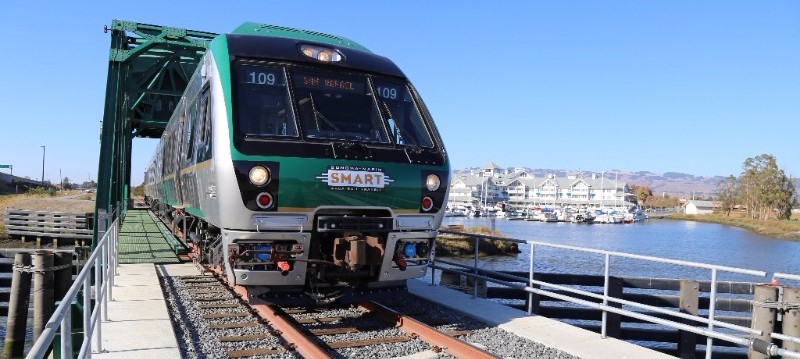 The Sonoma-Marin Area Rail Transit (SMART) has announced commercial service on the Larkspur Extension from Downtown San Rafael to the Larkspur Station will start on December 14th.  A ribbon cutting ceremony is scheduled at 1:00 PM on December 13th at the Larkspur Station to celebrate the completion of this second segment of SMART's rail service.  The new service will connect the County's largest transit center in central San Rafael to the Larkspur Ferry terminal which is only a short walk from the Larkspur SMART Station. In conjunction with SMART's new Larkspur service, the City will implement a second Quiet Zone from central San Rafael to the Cal Park tunnel that will create a Quiet Zone throughout San Rafael.  The Quiet Zone will be in place when commercial operations begin.
Testing along the extension to Larkspur is currently ongoing and the train horns will continue to sound until next Saturday when the Quiet Zone goes into effect.  In a Quiet Zone, train operators can sound the horn only in the event of an emergency or if the operator identifies a potential obstruction on the track.  Because the train horns will be silenced when the new Quiet Zone is established, please be mindful that train horns will not blow at any rail crossing within the City of San Rafael so pedestrians, bicyclists, and motorists should pay special attention at or near the train tracks and never stop on the tracks.
The City of San Rafael has two stations, the Downtown San Rafael and the Civic Center Station where riders can board the train. Parking is available near both stations with the downtown Third and Lootens parking lot offering all day parking on the upper level. Additionally bicycle parking is available at both locations. Bicycling parking includes racks and lockers which can be used for a small fee.
The Department of Public Works will continue to monitor traffic and signal timing at intersections along the extension. Adjustments will be made as data is collected and signal timing will be continually improved to ensure maximum safety and efficiency.
For more information regarding SMART including schedules and fare please visit https://www.sonomamarintrain.org/