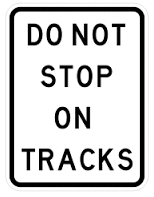 SMART Announces Full Service to begin August 25, 2017
SMART announced last week that it has received the green light from the Federal Railroad Administration to begin full passenger train service. Service will begin on Friday, August 25.
Please remember to use extreme caution around the railroad tracks as the train will only sound the horn as it leaves a station or in the event of an emergency. Never stop on the tracks or inside of the intersection. Do not proceed through an intersection (even with a green light) unless there is space to clear. Talk to your friends and family about train safety. Always be alert and aware around the railroad tracks.
We look forward to seeing you on the train!