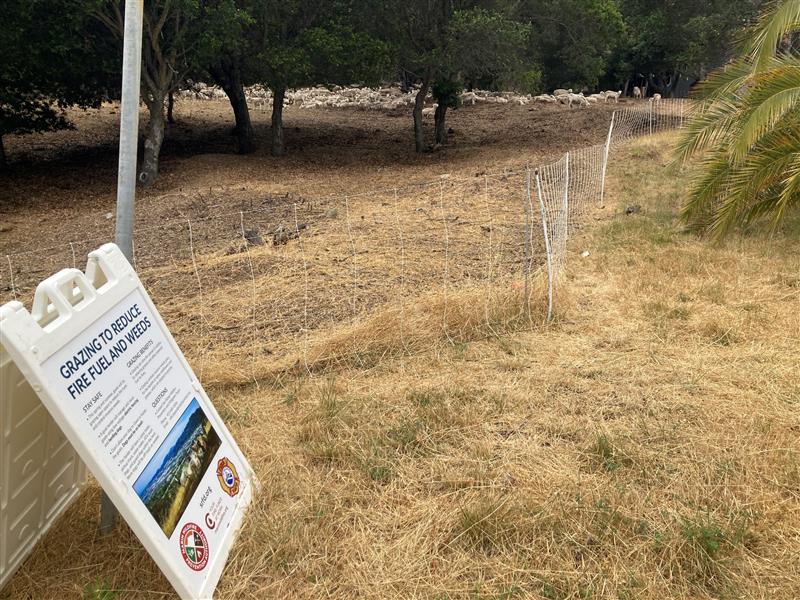 The Fire Department's prescribed herbivory, (grazing) program is underway in Open Space across San Rafael. We
are excited
to share that we also have a flock of sheep this year who are hard at work munching away for wildfire mitigation. This week, the sheep are moving through Robert Dollar Open Space where they will be through the end of June.
Goat and sheep grazing is one of the most effective tools for wildfire mitigation. Their work helps slow the spread of wildfire by reducing the amount of easy to ignite fuel, such as grass.
While it is fun and exciting to see our furry friends at work there are a few safety items to consider if you are in the vicinity of an active worksite
.
Portions of the open space may
be closed
to accommodate a safe work area, so please adhere to posted signage and closures
. For everyone's safety please always keep your dog on a leash and your children away from the enclosure.
The fences used to contain the goats
are electrified
and should not
be touched
, breached, or jumped over at any time
.
The goats and sheep are making good progress throughout the City! Keep an eye out for more updates over the summer.
If you have any questions about the City's goat grazing program, or any of our other wildfire mitigation projects, contact our Vegetation Management Specialist, Calvin Schrader at 415-485-3457 or calvin.schrader@cityofsanrafael.org.