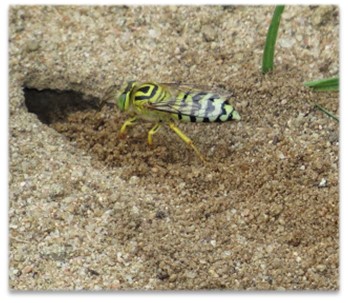 Sand wasps are currently in the parks as part of their natural seasonal cycle.
Sand wasps can be seen in and around level, sandy areas July through mid-August.  The sand in the playground area at the parks is a favored location for Sand Wasp nesting.  They dig tunnels to create single egg nest chambers which the females fill with fly carcasses to support hatched larva.
Sand Wasps are not known to sting or bite humans or other species
The City of San Rafael does not spray or otherwise apply insecticides to eradicate or control insects in public areas.  Sand wasps are not attracted to traps. Please be patient with these temporary "visitors" to your neighborhood park.
Thank you from the City of San Rafael Department of Public Works Parks Division, 415.485.3377