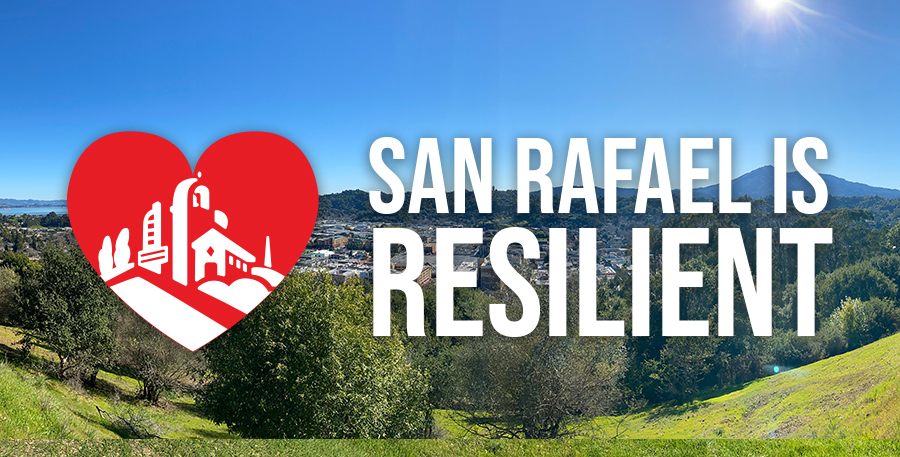 Yesterday, Public Health Officer Dr. Matt Willis provided a COVID-19 response update to the Marin County Board of Supervisors on current COVID-19 data, vaccination progress, Marin's continued status in Tier 3 (orange) in the Blueprint for a Safer Economy, and the conditions and timing for moving to Tier 4 (yellow).
Marin's potential move into Tier 4 (yellow- "Minimal Risk") could happen as soon as April 20th if COVID-19 cases do not increase. The move to Tier 4 would relax some regulations and allow for increasing capacity for indoor activities and gatherings.
---
Marin 
Pausing
 Johnson & Johnson Vaccine Distribution
Marin County has paused distribution of the single-shot Johnson & Johnson COVID-19 vaccine following a report of six cases of a rare type of blood clot in individuals who received the J&J COVID-19 vaccine. The six cases of blood clots all occurred in women between the ages 18 and 48, six to 13 days after receiving the vaccine. 
In Marin , J&J COVID-19 vaccine doses account for less than 3% of vaccine allocation. The pause in distribution will mainly impact vaccine mobile operations, where J&J's one dose increased vaccination capacity. Mobile teams have already switched to using Pfizer and Moderna to continue vaccination efforts. 
---
Vaccine Appointments for HPI Communities
Marin County and the Ritter Center have teamed up to prioritize first vaccine doses to the hardest-hit areas of the County based on the lowest quartile of the Healthy Places Index (HPI). These communities have been disproportionately impacted by COVID-19.  
Available Appointment Days 
Location: 10 Avenue of the Flags, San Rafael 
Wednesday, April 14

 

Thursday, April 15

 

Friday, April 16

 

Saturday, April 17

 
Qualifying residents live in one of the following neighborhoods/census tracts: 
1060.02 – San Rafael

: Santa Venetia

 

1082.00 – San Rafael

: Los 

Ranchitos

 

1110.00 – San Rafael

:  Downtown San Rafael neighborhoods bordered by 101, Mission Ave., Bret Hart Rd., and D St.

 

1121.00 – San Rafael

: California Park

 

1122.01 – San Rafael

: Canal

 
Make an appointment online or by calling 1-833-641-1988, Monday thru Friday, 8:00 a.m. to 5:00 p.m.   
LEARN MORE & CHECK YOUR ADDRESS
---
Kaiser
 Permanente
 & Marin County Create New Vaccination Site
Beginning this week, Kaiser Permanente (KP) and Marin County have partnered to provide COVID-19 vaccinations by appointment at the Marin County Fairgrounds in San Rafael. This new site will serve all residents by appointment only. Vaccines will be provided to both current-KP and non-KP members. 
You can make an appointment online today by visiting Marin's Vaccine Appointment webpage.  
---
Masks Are Still Required Post Vaccine
The Center for Disease Control and Prevention (CDC) recommends everyone continue wearing masks in public places until researchers confirm the long-term efficacy of COVID-19 vaccines against new variants. Additionally, scientists still don't know whether immunized people can get asymptomatic infections or act as carriers that spread the virus to others. 
Have You Been Fully Vaccinated? 
People are considered fully vaccinated: 
Two 

weeks after their second dose in a 

two

-dose series, such as the Pfizer or 

Moderna

 vaccines, or

 

Two 

weeks after a single-dose vaccine, such as Johnson & Johnson's Janssen vaccine

 
If you don't meet these requirements, you are NOT fully vaccinated. Keep taking all precautions until you are fully vaccinated. 
Once fully vaccinated you may: 
Visit inside a home or private setting without a mask with other fully vaccinated people of any age

 

Visit inside a home or private setting without a mask with one household of unvaccinated people who are not at risk for severe illness

 

Travel domestically without a pre- or post-travel test

 

Travel domestically without quarantining after travel

 

Travel internationally without a pre-travel test depending on destination

 

Travel internationally without quarantining after travel

 
Until we reach heard immunity, continue wearing your mask, keeping your distance from others when in public, and practice good hygiene.  
---
Beware of 
Fraudulent COVID-19 Surveys
The Department of Justice has received reports that fraudsters are creating fraudulent COVID-19 vaccine surveys for consumers to fill out with the promise of a prize or cash at the conclusion of the survey.  
Surveys are being sent by email and text message, promising a gift for filling out the survey. The messages claim that the consumer only needs to pay shipping and handling fees to receive their prize. 
If you receive a text message or email claiming to be a COVID-19 vaccine survey and containing a link or other contact information, please report the communication to the National Center for Disaster Fraud (NCDF) by calling 866-720-5721 or via the NCDF Web Complaint Form at: www.justice.gov/disaster-fraud. 
---
Mobile Vaccine
 Services Those Experiencing Homelessness
Last week, the City of San Rafael partnered with Marin County and the State to conduct the first mobile vaccines serving people who are experiencing homelessness in Marin. The Downtown Streets Team and Community Action Marin helped spread the word to people across the community, while St. Vincent de Paul provided breakfast burritos to those who received a vaccination.  
Lynn Murphy, San Rafael Police Department's Mental Health Liaison, led the mobile team to each tent under the freeway and at Boyd Park to bring the COVID-19 vaccine to as many people as possible. While the team was under the freeway, the owner of Taqueria San Jose made lunch burritos for Lynn and her team in support of these efforts. All together, 43 vaccines were administered.