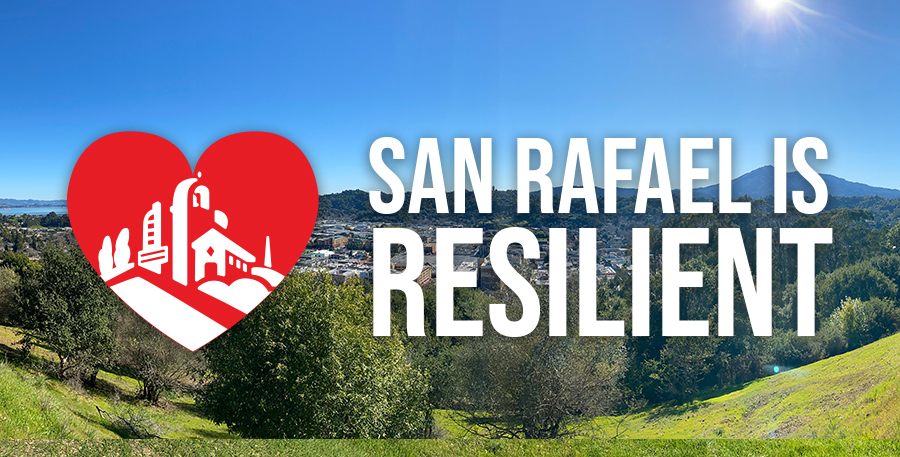 Marin County has achieved the first of two required weeks of COVID statistics that will allow us to move to the next, less-restrictive tier. If Marin maintains this progress, we may be able to advance to Tier 4 (yellow status) as early as May 3. At Tuesday's update to the County Board of Supervisors, Dr. Matt Willis discussed our County's progress toward the yellow Tier 4 in the Blueprint for a Safer Economy, vaccination progress, Marin's shifting vaccination strategy, new locations to obtain vaccination, our COVID-19 toolkit, and what can still go wrong.  
However, we are making progress with vaccinations in Marin County with 58% of eligible residents having their second dose completed and 81% who have received at least one dose. If you, or someone you know, is still waiting to get the vaccine there are plenty of opportunities in Marin to get vaccinated.  
---
CDC Announces 
New Mask
 and COVID Safety
 Guidelines 
On Tuesday, the Center for Disease Control released revised mask guidance for people who have been vaccinated. According to these new guidelines, if you are fully vaccinated (two weeks after your second dose of Pfizer or Moderna or one dose of Johnson & Johnson) you can "gather or conduct activities outdoors without wearing a mask except in certain crowded settings and venues." Mask-free activities, for the fully vaccinated, include exercising outside, dining outside, or gathering with small groups outdoors. 
You should still protect yourself and others in many situations by wearing a mask, especially during indoor gatherings with unvaccinated people (including children) from more than one other household.   
Read more information from the CDC
---
Marin County
 Shifting Focus to Pop Up Vaccine 
Clinics
Marin County is shifting its focus to mobile vaccine clinics and will be phasing out the large-scale vaccine sites by the end of May. Over the past two months, Marin has expanded its mobile operations to offer more targeted pop-up vaccine clinics in communities where few or no vaccination options exist. Appointment requirements have been waived and plans are underway to deploy mobile teams to large apartment complexes, local events, or shopping centers where people naturally gather. 
Marin's two mass vaccination sites in San Rafael will close at the end of May. The last date to obtain a first dose vaccine from the Marin Health and Wellness Campus on Kerner Boulevard or Marin Center (Marin County Fairgrounds) vaccine sites is Saturday, May 1. Both sites will remain open through May 29 to fulfill second dose needs.   
---
Second Doses Available through May
 at Large 
County 
Vaccination Sites
County's large vaccination sites at Marin Center, Larkspur Landing, and Kerner Health and Wellness campus are now open to people from outside the County ages 16 and older. First shots are available until May 1 and second shots are available through May even if you received your first shot elsewhere (bring ID and COVID Vaccination card). Walk-ins are accepted on a first-come, first-served basis at Marin Center and the Kerner Health and Wellness Campus. 
More Information about Vaccines in Marin  
---
CDC and 
FDA Lift Pause on Johnson & Johnson Vaccine
Last week the Center for Disease Control and the US Food and Drug Administration lifted the pause on the Johnson & Johnson vaccine. The announcement cited that the benefit to the public good outweighed the likelihood of blood clots based on the low percentage of cases to total administered doses. To date, Marin County Public Health has administered just over 1,000 doses of the Johnson & Johnson vaccine to Marin residents with no reported cases of blood clots. The County of Marin is not currently able to provide wide-spread access to the Johnson & Johnson vaccine but has used it for highest risk populations where a single shot is easier to administer than two doses. For more information visit the County's frequently asked questions about the Johnson & Johnson vaccine. 
---
Vaccine Q&A
 Sessions
If you have questions about the vaccine, Marin County is offering webinars that cover all the facts and figures plus the truth about some myths and misinformation. The webinars are offered in English and Spanish through May 27.   
 
Q&A in English:  Every Tuesday & Thursday, 9 a.m.  
Join the session on your computer or smartphone.  
Call (408) 638-0968 and use meeting code 9948 0065 846#   
Q&A in Spanish: Every Thursday, 11 a.m. 
Join the session on your computer or smartphone.  
Or call (408) 638-0968 and use meeting code 9948 0065 846#   
---
Stay Safe and 
Healthy San Rafael
As we move closer to business as usual, health officials continue encouraging everyone – vaccinated or not – to continue: 
Take prevention measures and choose safer activities: 
Fully Vaccinated People:

  Wear a mask

 when indoors 

or at a crowded outdoor event

.

 

Unvaccinated People:

  Wear a mask, stay 6 feet apart, and wash your hands.