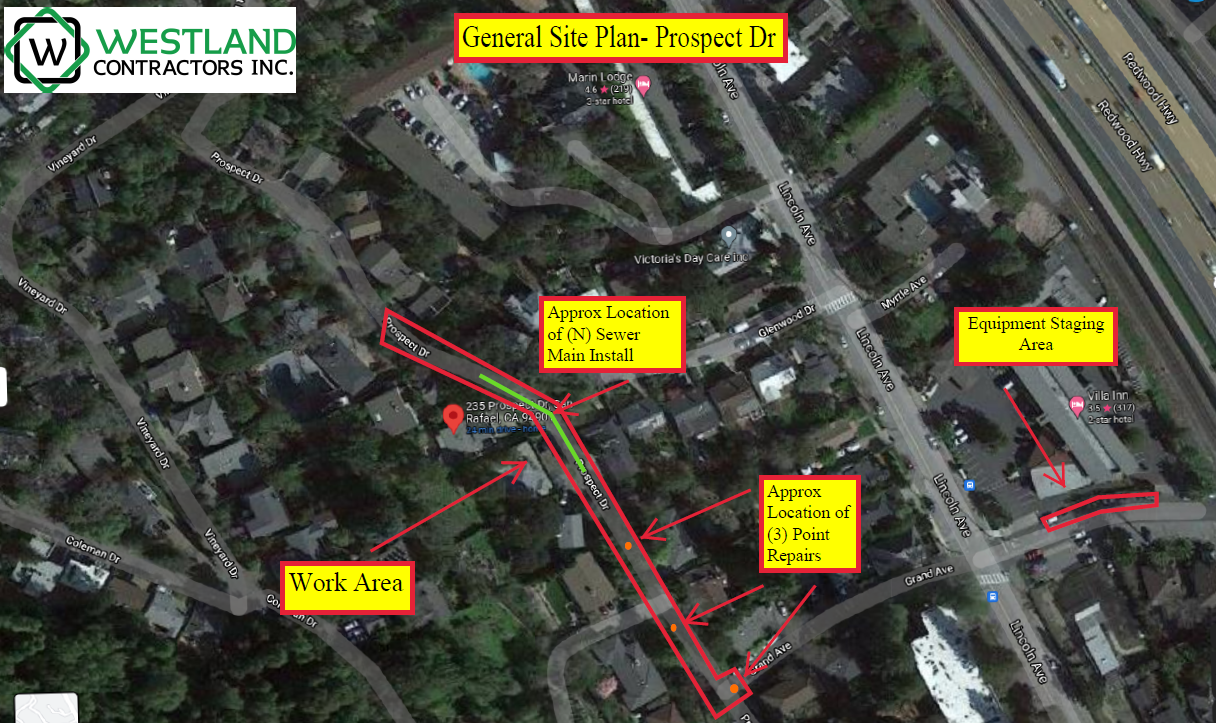 NOTICE TO LOCAL RESIDENTS & PROPERTY OWNERS
 10- Day Notice Road Closure
 SAN RAFAEL SANITATION DISTRICT PROSPECT DRIVE SEWER IMPROVEMENT PROJECT
 The San Rafael Sanitation District has awarded Westland Contractors, Inc. a contract to repair the sanitary sewer main serving your property. The project will involve trenching and working in the public right-of-way to perform the item(s) of work below:
Replace a damaged section of the sewer main.
Replace the existing sewer main with a new main for the entire block.
Replace existing sewer service laterals and cleanouts.
Paving Restoration
The work in your area of the project has been scheduled to start on 12/13/2021. Barring adverse weather or unanticipated conditions, work is expected to be completed by 12/17/2021.
Regular working hours will be between the hours of 7:00 a.m. and 5:00 p.m. except legal holidays.
Although your sewer service will not be interrupted, we will appreciate it if you could lower your water usage while the work is in progress. Every precaution is being taken to ensure there is no impact to existing utilities and street improvements. In the event of accidental damage, the utility owner will be notified immediately to make any necessary repairs, and you will be notified as well. If no one is home, a note will be left taped to the mailbox or front door.
This work will require a Road Closure for Prospect Dr between Grand Ave & Vineyard Ave. WCI will be detouring traffic along Coleman Ave & Vineyard for Vehicles. Vehicle access for local residents, businesses, deliveries and emergency services will be maintained at all times. For addresses 225-270 Prospect Dr, we ask that you utilize the detour and access North End of Prospect Dr at Vineyard during the course of the work. (see image below for detour). For everyone's safety, we ask for your help parking in driveways or away from the work area when No Parking Zones are posted. See image above for the General Site Plan for Work.
Although noise levels may be increased at times, and some inconvenience may be unavoidable, we are committed to do whatever we can to minimize impact from construction activities. If you have any questions, concerns, or special coordination needs, please contact Westland Contractors' field supervisor, Neil Hunt, at (650) 787-6794 or the District's Project Manager, David Nicholson, (415) 458-5369 Thanks in advance for your cooperation.