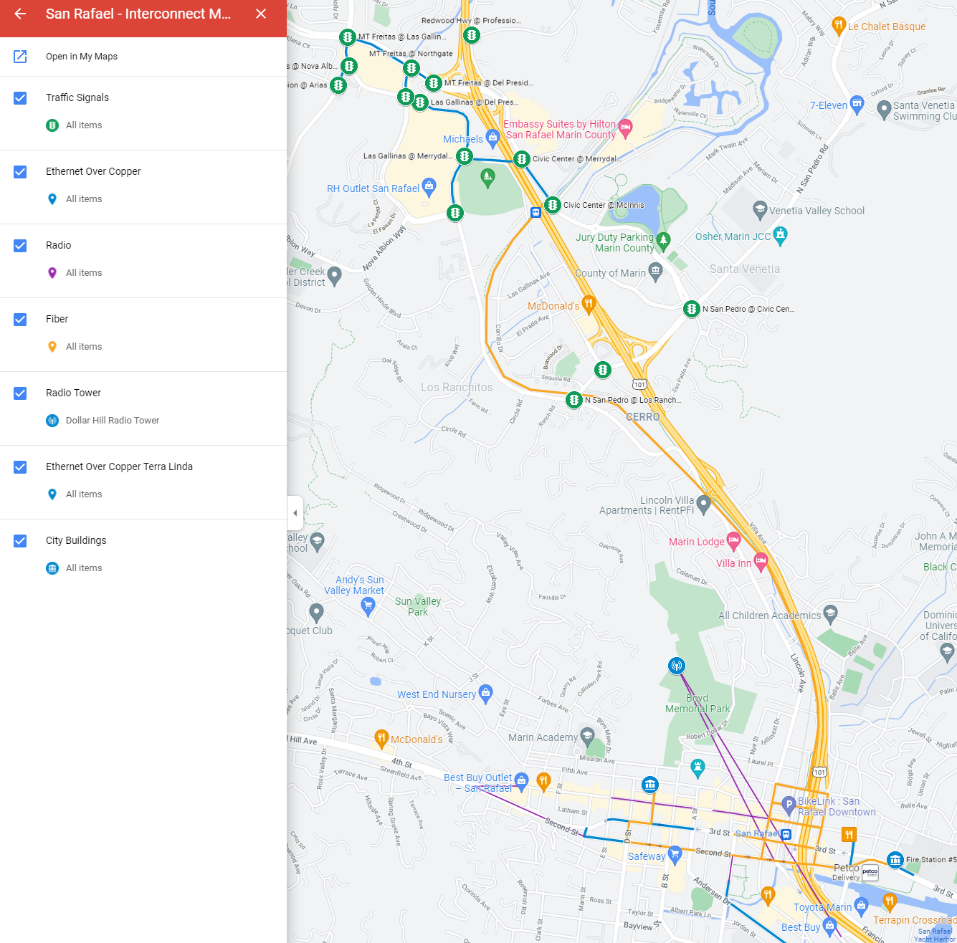 A fiber optic network provides a solid communication foundation for all future technologies to thrive. Currently, there's no technology that can transport data faster than fiber optic.  Okay, maybe a car full of hard drives.  A smart vehicle may ask the city infrastructure for information to help it make decisions.  This requires massive amount of data at speed of light.  A smart vehicle conversation with city infrastructure has to happen in microseconds.  A Smart City requires smart decisions.  Building out a fiber optic network for City use is a smart decision.
Very few people realize how San Rafael is on a fiber connectivity mission and on its way to becoming a Smart City.  The journey began with the preparations for the signal technology grant from MTC.  The City had traffic signals and cameras that used wireless communication to communicate at low, and often, unreliable speeds. Although some traffic signals around Irwin and Hetherton had fiber interconnects, the connection to the main computers were using wireless links. The signal technology grant helped outfit central San Rafael with detection, signal performance measures, and new cabinets and controllers. During the past couple of years, the City made its own investments with strategic connections of missing links and connecting the downtown signals to the new Public Safety Building.
It took a team of focused and highly skilled individuals to connect the traffic signals in Northgate area to the city's central signal master system by tapping into the SMART fiber line. Thanks to Digital Service, Sonic, SMART, Xantrion, and DC Electric who shared the Public Works team vision and made it a reality. We now have the ability to oversee signal operations and improve efficiency for all roadway users. The visionary planning of the fiber along the SMART right of way saved the community millions of dollars.
More key connections and fiber strengthening will be included in the Third Street Rehabilitation Project.
Thanks to all involved!