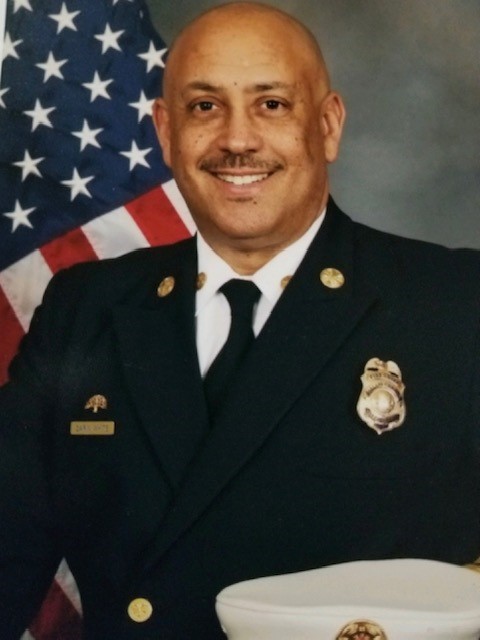 Following a nationwide search, the City of San Rafael is pleased to announce Darin White as the new Fire Chief, effective April 15, 2020. White comes to San Rafael after serving as the Fire Chief for the City of Oakland, overseeing 25 fire stations and 60,000 annual emergency calls. 
"With the threat of wildfire on everyone's mind and a new public safety center nearing completion, this position is key for us as an organization and as a community. We were looking for someone innovative, compassionate, and genuine," said City Manager Jim Schutz. "And we found him. We're thrilled to bring Darin on board here in San Rafael." 
A thirty-year veteran of the fire service and a life-long Oakland resident, Chief White had been serving as Acting and then Interim Fire Chief since January of 2017. He oversees the Medical Services Division, the Fire Prevention Bureau, the Support and Services Division, the Fiscal and Human Resources Divisions, Field Operations, and the Emergency Management Services Division. Chief White began his career in the fire service with the Port of Oakland in 1987 as a Commercial Aircraft Re-fueler with back up firefighting duties and eventually became an airport firefighter in July of 1990. He joined the Oakland Fire Department in 1998. 
"Like the department that I come from, the members of the San Rafael and Marinwood Fire Departments are true professionals that are ingrained in their communities. I am indebted to Chief Chris Gray for the many things he has accomplished through his collaborative approach, strong work ethic and vision," said White. "I am excited to join Team San Rafael, and to lead and work with the members of the San Rafael and Marinwood Fire Departments. I eagerly look forward to serving these communities."  
Chief White holds a Bachelor of Science degree in Fire and Emergency Service Administration, an Associate Science degree in Fire Service Technology, and this month he will complete his pursuit of a Masters of Science in Leadership with an Emphasis in Disaster Preparedness and Executive Fire Leadership. 
Former San Rafael Fire Chief Christopher Gray has known White for a number of years. "I know he will do a great job for the City of San Rafael and I'm confident our community is in good hands," he said. 
The recruitment was conducted by executive search firm Bob Murray & Associates, receiving 30 applications for the position from all over the United States. White's starting salary will be $193,824.  
To stay up-to-date on this and other City news, sign-up for the City Manager's bimonthly e-newsletter at http://www.cityofsanrafael.org/snapshot/.