The California Department of Transportation (Caltrans) has determined that the bridge structure underneath the Highway 101 northbound central San Rafael off-ramp is seismically obsolete. This off-ramp is used by thousands of vehicles every day to access downtown San Rafael and west Marin County. Caltrans and San Rafael have been working together for some time to design the replacement bridge and Caltrans had intended to reconstruct the bridge in the summer of 2019. However, construction bids for the project came in higher than the anticipated budget. As a result, Caltrans needed to seek additional funding, and at this time construction is slated to begin early 2021. At this time Caltrans has bid the construction and has retained a contractor.
Caltrans is the lead agency for this project, which means they will be coordinating all construction activities. The work consists of removing the existing concrete bridge and installing a new upgraded bridge structure. The majority of construction can take place while the bridge remains open to traffic. Lane changes will be made to keep the off-ramp open during construction including shifting lanes from side to side, so the contractor can construct the new bridge while the off-ramp stays open. Construction is anticipated to last one year.
Replacing the structure will include driving new piles to support the off-ramp, which can be noisy. Caltrans proposed three options for when the work would occur, and San Rafael surveyed the public as to which they would prefer. Based on the results of the survey, Caltrans intends to completely close the off-ramp for three 3 nonconsecutive weekends (11 PM Friday to 5 AM Monday) for major construction work to occur. Detours will in place around this off-ramp during the three closures.
Two important improvements will be made when the new bridge is installed:
An additional right turn lane onto second street will be added to reduce queueing on the freeway
Pedestrian safety will be enhanced at the intersection of 2nd Street by relocating the crosswalks in the intersection. Pedestrians will be able to cross the streets without interfering with turning cars on both Second Street and Irwin Street.
San Rafael will continue to provide updates about this project as they become available from Caltrans.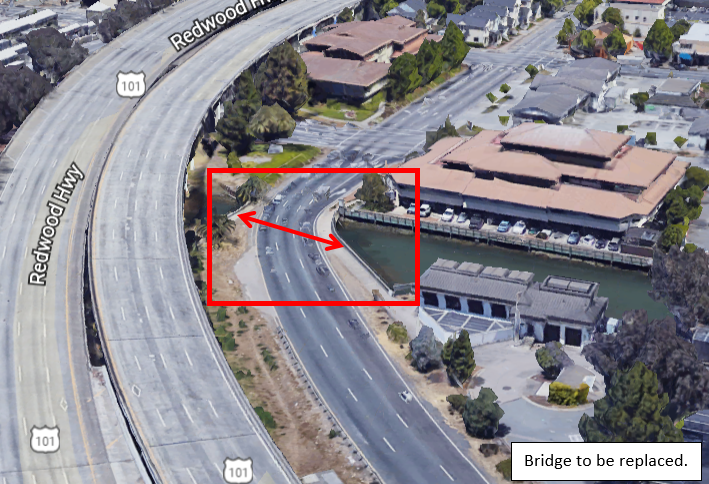 Goals for Project
Install seismically safe and updated bridge structure
Improve pedestrian safety by relocating 2nd Street crosswalks at intersection of Irwin and 2nd
Reduce traffic on Northbound 101 by adding a second right turn lan
Overall Objective
Replace the current Northbound 101 bridge off ramp with a seismically safe structure
Timeline

| | |
| --- | --- |
| Design | 2018 |
| Construction | Early 2021 - Early 2022 |
---
Questions? Contact us or Contact CALTRANS!
La-Tanga Hopes, Public Information Officer (PIO)
Caltrans, Division of External Affairs
Ph: (510) 715-8865
---