Built in the 1950's, the San Rafael Creek Bridge has been deamed seismically obsolete. This is the main off-ramp used by thousands of vehicles every day to access downtown San Rafael from Highway 101, northbound. During the summer of 2019, the California Department of Transportation (Caltrans) plans to replace the bridge.
As the lead agency, Caltrans has prepared the plans for this construction and is currently bidding the project. The work consists of removing the existing concrete bridge and installing a new upgraded structure. Replacing the structure will include installing new foundations for the support systems, this will require driving piles. Pile driving is when holes are drilled into soil to provide foundation support.
Survey Results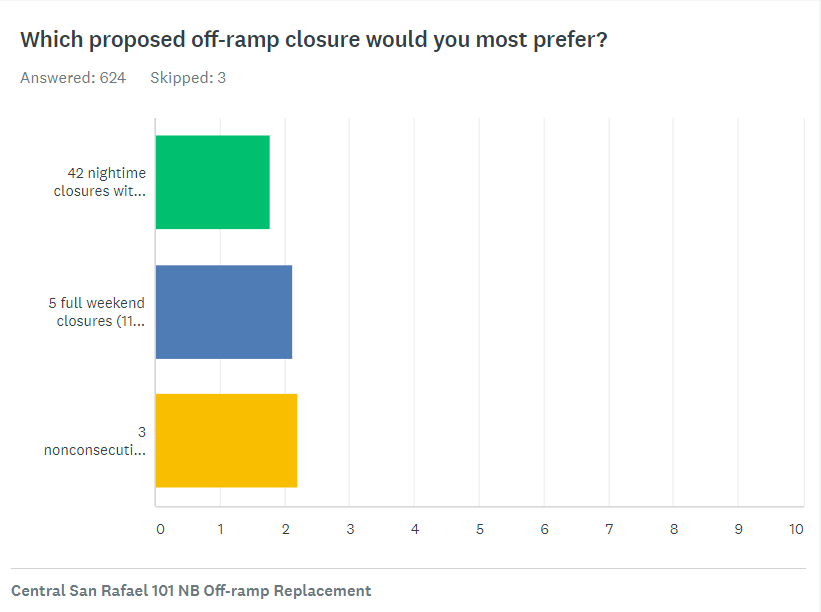 Survey Options Included:
42 nighttime closures with pile driving at night
5 full weekend closures (11 PM Friday to 5 AM Monday) with pile driving occurring from 7 AM to 10 PM each day. The first three weekend closures will be consecutive.
3 nonconsecutive weekend closures (11 PM Friday to 5 AM Monday) with pile driving around the clock
---
The original schedule for driving piles would include more than ??? days of driving piles at night. Caltrans recognizes this as an impact to the residents of San Rafael. A Caltrans survey created in November 2018 came up with several options for pile driving. The City of San Rafael sought input from community members on which approach would be most preferred. Based on this pole, Caltrans will be completely closing the off-ramp for three full weekends, not consecutively. Detours will in place around this off-ramp during the three closures. All other construction which will take place during regular business hours.
Significant lane changes will be made to keep the off-ramp open during construction. Changes will include shifting lanes from side to side, so the contractor can construct the new bridge while the off-ramp stays open. Preliminary discussions with Caltrans have indicated that the new bridge will be constructed one half at a time. Construction is anticipated to last one year. When the work is completed, the offramp will be a modern, seismically safe structure, there will be additional vehicle queuing in the offramp and there will be an additional right turn lane onto second street.In addition, pedestrian safety will be enhanced by relocating the crosswalks to the west side of Second Street and the south side of Irwin Street. Pedestrians will be able to cross the streets without interfering with turning cars on both Second Street and Irwin Street.
Construction Bids for this project will be received by Caltrans in mid to late February. The project will be awarded within three months of the bid opening. Caltrans will mobilize in late spring and begin work on the bridge in early summer, 2019.
San Rafael will continue to provide updates about this project as they become available from Caltrans.
---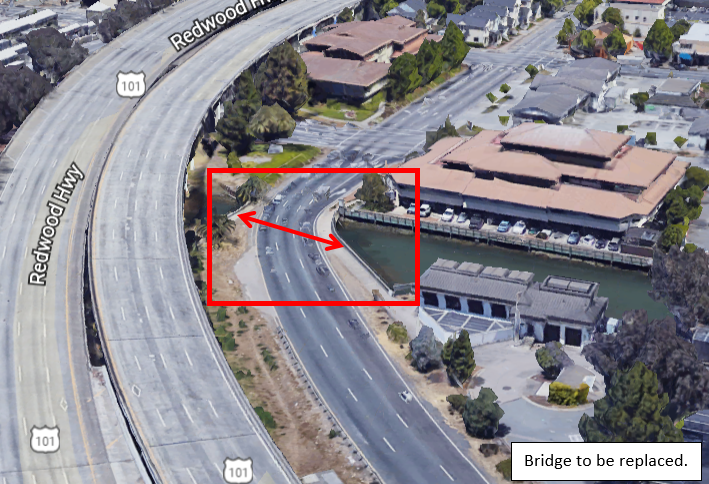 ---
Questions? Contact us or CALTRANS!
Bob Haus,,Public Outreach                               Ph: (510) 286-5576
Caltrans, Division of External Affairs          Email: Bob Haus
---