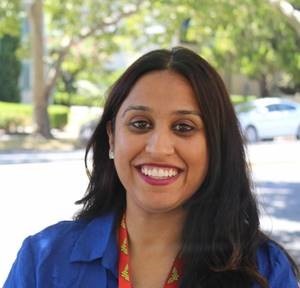 SAN RAFAEL, CA: The City of San Rafael is pleased to announce the appointment of Shibani Nag as the Director of Employee Experience and Culture, effective April 22, 2019. The "Director of Employee Experience and Culture" is a re-branding of the former "Human Resources Director" title and is not a new position.
"The collective efforts and talents of the City's workforce help make San Rafael a great place to live and work. We're fortunate to have recruited Shibani to join our leadership team," said City Manager Jim Schutz. I look forward to working with Shibani as we continue to engage our employees in co-creating high-quality services that our residents expect from a 21st-century government."
Ms. Nag brings over 12 years of experience, having worked in various management consulting roles across the private, public, and nonprofit sectors.  She began her career working in strategic recruitment, eventually specializing in change management and organizational development. Ms. Nag enjoys strategizing and implementing transformational change initiatives and is a true champion of workforce planning. She holds an M.B.A. in Organizational Development and International Studies, and a B.A. in Human Resources Management.
"I am both excited and incredibly grateful for this opportunity," said Ms. Nag. "The City of San Rafael is so beautiful with so much to offer. I look forward to preserving the legacy of the City, while exploring new and creative ways to spark innovation. Bridging the public-private sector divide with common goals and best practices recognizes the interconnectedness of our communities. Infusing the many dimensions of Diversity and Inclusion practices inspires employee engagement. Keeping an open mind and heart towards continuous process improvement prepares our workforce for the future."
As the Director of Employee Experience and Culture, Ms. Nag will oversee the activities of the Human Resources department, where she will be responsible for maximizing employee value through talent acquisition and management, employee onboarding, benefits, employee experience and culture, internal communications, strategic planning, and more. The department has 4 full-time employees and an annual operating budget of approximately $865,000.
Ms. Nag's starting salary is $160,776.
ABOUT THE CITY OF SAN RAFAEL
San Rafael is the economic and cultural heart of Marin County, and its high quality of life is centered on its commercial districts, strong neighborhoods, and community resources such as active lifestyle and natural environment. The City of San Rafael is a full-service City with a Council/Manager form of government, which has over 400 employees and an annual budget of $100 million. The vision of the City is to be a vibrant economic and cultural center reflective of its diversity. The City has an engaged and supportive City Council that desires to strengthen the urban and commercial areas, as well as sustain the beautiful natural environment.
To stay up-to-date on this and other City news, sign-up for the City Manager's bimonthly e-newsletter at www.cityofsanrafael.org/snapshot/.