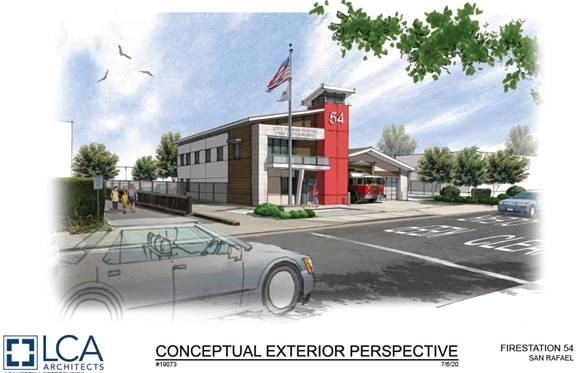 Last week Public Works submitted a major grant for the reconstruction of Fire Station 54 under FEMA's new Building Resilient Infrastructure Communities (BRIC) Program. If successfully awarded funds through the BRIC grant program, the City would receive $4.1m in federal funds, with a $1.4m local match, for the $5.5m Fire Station reconstruction. The project qualifies for the BRIC grant program because it mitigates potential damages to a critical public safety facility from both a seismic and/or flooding event. The local match of $1.4m for this project would be funded by Measure E sales tax dollars.
Fire Station 54 is located at 46 Castro Ave in the heart of the Canal Neighborhood. The Fire Station serves approximately 14,300 residents – includes all of the Canal, Spinnaker and Baypoint Lagoon neighborhoods, as well as Bret Harte and some of the other surrounding San Rafael neighborhoods west of Interstate 580. Built in 1964, the station is in great need of modernization upgrades to meet the needs of a 21st century Fire Department. Additionally, the station is not currently seismically up to code – and seismic upgrades to the station have identified in the City's Hazard Mitigation Plan as a critical project. The one-story Fire Station 54 and East San Rafael are also located below the FEMA Base Flood Elevation level and within the 10-year floodplain. The reconstruction project proposes to not only seismically upgrade the building, but also would elevate the living quarters to the second floor where all of the critical operations of the station would be moved. This would ensure that the fire station would remain operational during a major flooding event.
The City's BRIC grant application was submitted to CalOES on December 3, 2020. Over the next month CalOES will review the City's application along with hundreds received from other cities in California and submit the top applications onto FEMA on January 10, 2021 for the next phase of review and hopefully, approval.