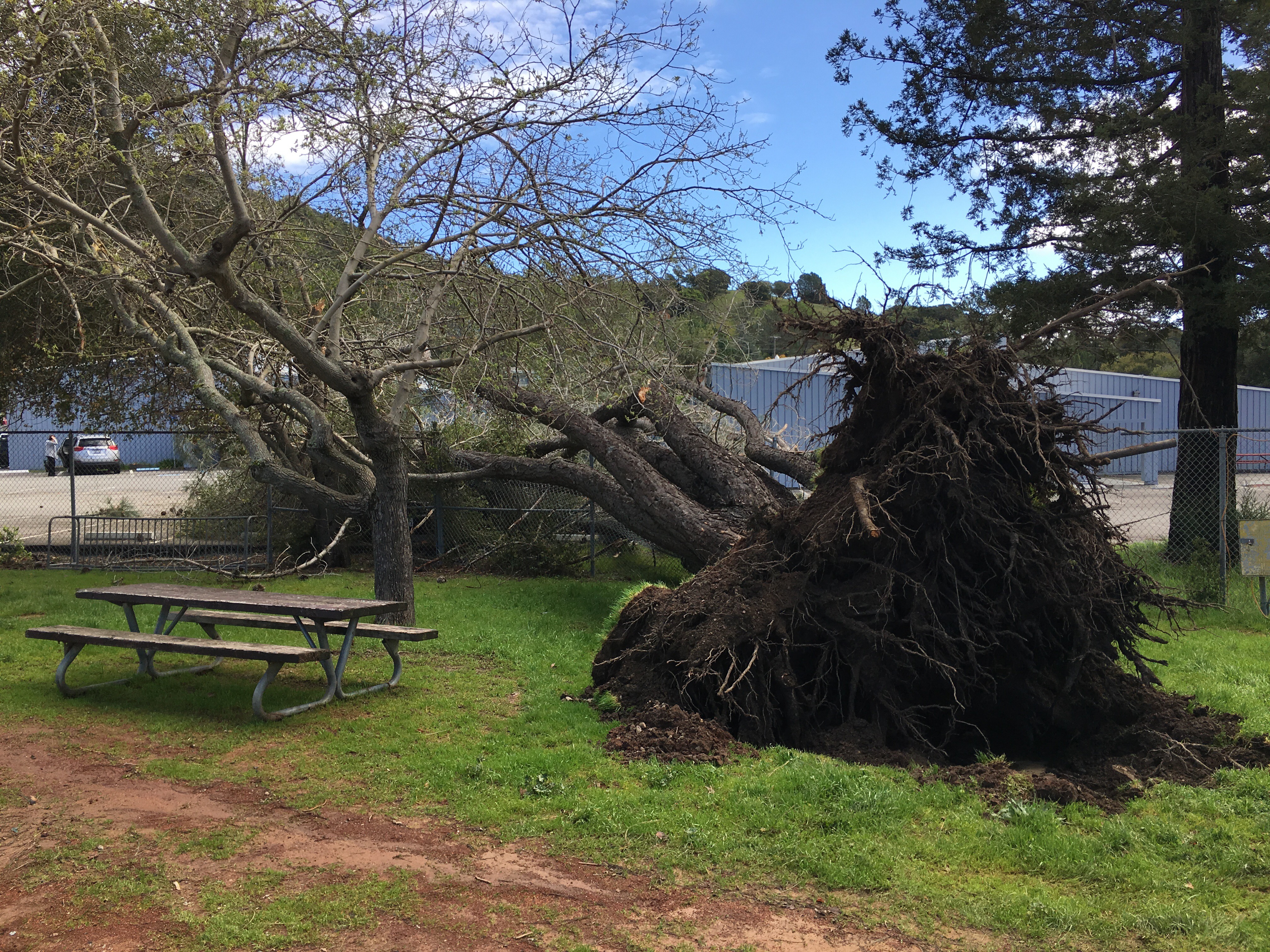 Proposal Post Date: July 26, 2018
Proposal Due Due: August 21, 2018, 10:00 am (see Addendum #1)
Link to full FY 2018-19 Emergency On-Call Tree Services Request for Proposals Document
The City of San Rafael (City) hereby requests proposals for on-call tree services from a qualified tree maintenance business that is duly registered and licensed with either a C61-D49 or C27-D49 license in the State of California.  Services shall include emergency on-call tree services as required by the Public Works Operations and Maintenance Manager at various City locations, and shall be performed on an on-call basis. Typical services include, but are not limited to, the following:
Remove small/large trees
Trim branches
Pruning
Trim or remove diseased trees
Grind stumps
Chip branches
Haul off debris
Other assignments as required
Due to the specific needs for emergency tree work, the City may seek to enter into an agreement with multiple contractors for Emergency On-Call Work to ensure availability and response in the event of an emergency. The City shall retain the lowest bidder for Emergency On-Call Work as the primary contractor for all emergency work, which means they shall be contacted first for any proposed work. In the event that the primary Emergency Call-Out Work contractor is unresponsive, the City shall contact the secondary contractor, etc. This shall be done for Emergency Call-Out Work only.
Proposals shall be submitted by businesses that have a capable and demonstrable performance in the type of work described in this Request for Proposals document.  In addition, all interested businesses shall have sufficient, readily available resources, in the form of trained personnel, support services and financial resources to carry out the work without delay or shortcomings.
The Contractor will be required to perform and complete the tree trimming and removal services by providing all labor, tools, transportation, equipment, materials, and supplies necessary to complete all work. Work must be completed in a professional, thorough and timely manner, in accordance with the standards and specifications as contained in this RFP.
The term of the initial contract will be one year. At the City's discretion, the contract may be extended for up to two, two-year terms or terminated if the selected contractor is unable to fulfill the duties described.
The not-to-exceed, aggregate total amount for all emergency on-call tree services for the one-year term is $75,000.
In order to submit a bid for Emergency On-Call Work, the contractor must have a maintenance yard within twenty-five (25) miles from San Rafael City Hall (1400 Fifth Avenue, San Rafael).
Interested businesses are invited to submit proposals in accordance with the requirements of this Request for Proposals (RFP). The proposals shall be sealed and filed with said City Clerk, 1400 Fifth Avenue, City Hall, Room 209, San Rafael, California 94901 on or before August 21st, at 10:00 a.m. (see Addendum #1)