On Monday, February 4th, the San Rafael City Council held an informational discussion (watch the video here) about the potential adoption of renter protection policies in San Rafael – specifically, Mandatory Mediation and Just Cause eviction.
San Rafael's Rental Market
According to the City of San Rafael's 2015-2023 Housing Element, in 2010 San Rafael had 24,011 housing units. According to the 2010 US Census, renter households occupied 48% of San Rafael's housing units, and owners occupied 52% of housing units.
Even as the growth rate of San Rafael's housing stock has slowed, demand for housing has persisted and increased. In 2013, the Association of Bay Area Governments, which sets regional growth targets through the Regional Housing Needs Allocation (RHNA), forecasted a 5% growth in households in San Rafael for each decade from 2010 to 2040. This growth rate means that San Rafael's 57,700 residents in 2010 will increase to 68,700 by 2040. If the rate of new housing creation is lower than the rate of population growth, then supply and demand will continue to diverge, and housing prices – in both the ownership and rental markets – will continue to rise.
Importantly,"consumers" in each market experience these price increases differently. For existing owners, higher prices mean increased equity. By comparison, renters experience increasing prices as just that, higher prices. The County of Marin's Community Development Agency shared the following infographic at their September 11, 2018 "Preventing Displacement: Rental Housing Workshop."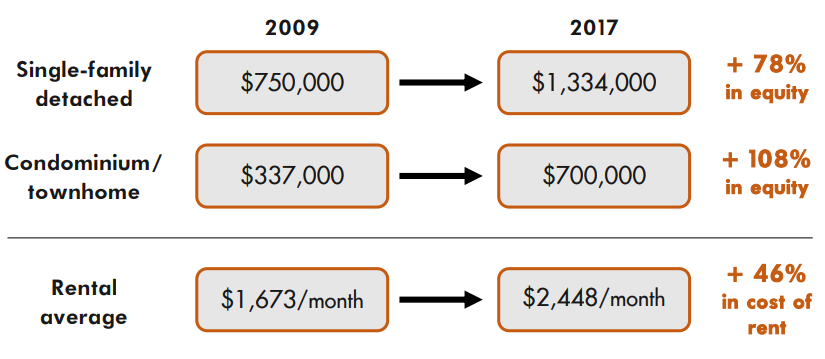 This dynamic reveals a crucially important link between the ownership market and the rental market. If more and more of a household's income is directed towards increasingly expensive rents, while at the same time the cost of becoming an owner also continues to rise (e.g. the cost of a down payment will continue to rise as prices rise), it becomes increasingly difficult for renters to become owners.
There are a variety of challenges to creating more supply in the ownership market. As a follow up to the San Rafael Community Development Director's August 20, 2018 "Housing Update" Report, in 2019 Community Development staff will be returning to Council to discuss local "Barriers to Housing Creation." Additionally, there are a variety of new state laws and funding mechanisms that have been recently adopted or that are currently under consideration in the Legislature, which could also significantly impact the overall housing stock in San Rafael. Whether these changes are occurring at the local or state level, any impact to the housing supply will occur on a medium to long-term time horizon. In the meantime, aside from simply being unable to become owners, there will continue to be urgent challenges for renters in our community.
#1 Overpayment
Housing overpayment, as defined by the state and federal government, refers to spending more than 30% of income on housing. According to a 2018 report from the Marin Economic Forum, the majority of low-income renters in Marin County fall within these definitions of housing overpayment.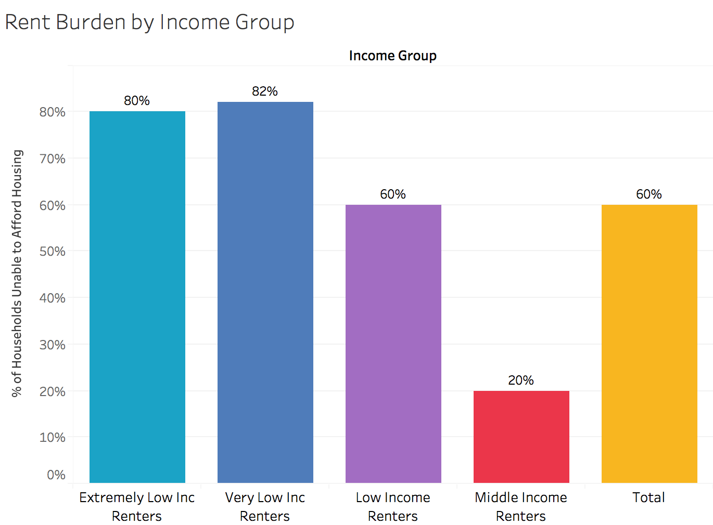 #2 Low Vacancy Rates
The vacancy rate refers to the number of available housing units – for sale or rent – available at any given point in time. According to the City of San Rafael's Housing Element, "A low vacancy rate may indicate that households are having difficulty in finding housing that is affordable, leading to housing overpayment and/or overcrowding." Additionally, in rental markets with low vacancy rates, tenants without viable housing alternatives might end up choosing to reside in rental units with deficiencies that affect the habitability of the property. The City of San Rafael does have a Housing Inspection Program to get such deficiencies corrected. According to the Marin County Community Development Agency, the rental vacancy rate in Marin County is currently below 3%. A healthy rate is closer to 6 to 7%.
#3 Jobs / Housing Imbalance
According to the San Rafael Housing Element, more than 87% of those employed in San Rafael reside in other cities, which implies a significant jobs / housing imbalance.  Affordable workforce housing is needed for those who contribute vital services to the City but whose incomes limit their ability to obtain affordable housing in San Rafael. Examples of workforce occupations priced out of the local housing market include nursing assistants, elementary and high school teachers, as well as many public employees.
#4 Homelessness
According to Marin County's 2017 Homeless Point-in-Time-Count, the leading reason people cited for becoming homeless was "economic issues" (42%). According to the same study, currently homeless persons cited the top three forms of assistance needed for exiting homelessness as housing-related: rental assistance (62%), more affordable housing (60%), and money for moving costs (46%). In 2018, fully 100% of the people who have been placed in housing through the Marin County Continuum of Care moved into a rental arrangement, not an ownership arrangement.
Potential Solutions 
On Monday, February 4th, the San Rafael City Council heard an informational report from staff about two policies that could potentially address some of these challenges. Similar policies have been adopted by communities throughout the Bay Area, and both policies have been adopted by the County of Marin.
Mandatory Mediation – Mediation is a process in which a neutral third party facilitates the negotiation of a mutually acceptable resolution to a dispute between parties. Mediation programs commonly apply voluntary, private and informal processes. With "Mandatory" Mediation, if a triggering event occurs (e.g. rent is increased by a certain percentage), then the tenant is able to request mediation services. It is then mandatory that the landlord participates in the mediation process, but the parties cannot be compelled to reach a resolution. Instead, the goal of these programs is to facilitate constructive conversations in a neutral and accountable environment.
Just Cause Eviction – Just Cause policies are intended to provide stability for households who rent by regulating the grounds for eviction, typically by prohibiting termination of a residential tenancy without express reason. These policies serve to promote greater awareness of the rights and responsibilities of landlords and tenants and provide a clear and transparent process for evictions and lease terminations, particularly when rental agreements do not exist or lack specificity. Just Cause ordinances typically identify acceptable reasons that a landlord may terminate a tenancy "for cause" (e.g. failure to pay rent, nuisance behavior), as well as other reasons a landlord could evict for "no cause" (e.g. the landlord is moving back into the unit). Just Cause ordinances fully retain the rights of landlords to terminate a lease for valid reasons, but they also help prevent evictions of responsible tenants, providing them with greater security and stability.