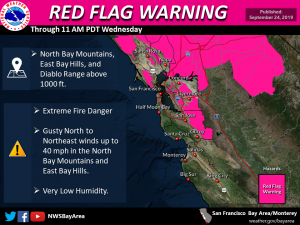 UPDATE: City of San Rafael open space areas have been re-opened
The National Weather Service issues a Red Flag Warning when a combination of warm temperatures, very low humidity, and strong winds puts a community at extreme risk of wildfire.
A Red Flag Warning was issued beginning Monday, September 23 at 9 P.M. that included elevations above 1000 feet in Marin, Napa, and Sonoma Counties.  The concern of the approaching weather system was that fires that develop would likely spread rapidly – and a simple spark could cause a major wildfire.
Due to elevated risk and fire danger, all City of San Rafael open space areas were closed to the public.  This action was done to ensure public safety, prevent fires  and to provide first responders with faster and easier access to open space areas in case of a fire.
The Red Flag warning remained in effect until 11 A.M. on Wednesday, September 25 (today).  Although the warning is no longer in effect, a heat advisory remains in San Rafael until 7 P.M. Please take precautionary measures such as staying out of the sun and drinking plenty of fluids.
We will notify the public when open space areas are reopened. In the meantime, open space areas remain closed.
Working with you for a fire safe community.