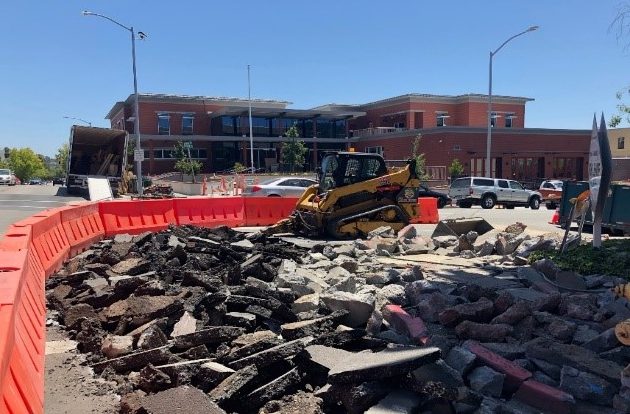 In December 2017, construction commenced for the Measure E-funded Public Safety Center (PSC), a new state-of-the-art facility for police headquarters and public safety services. On August 26, 2020, the City's PSC achieved final completion. Due to the lengthy construction of the building and the increased demand from fire trucks and heavy vehicles stationed at the PSC, staff determined that streets neighboring the PSC needed substantial rehabilitation. Most of these streets needed pavement rehabilitation prior to construction of the PSC, however, because of heavy construction equipment utilizing these streets over many months, the pavement sustained additional damage requiring rehabilitation at this time.
Subsequently, Public Works developed a resurfacing project which included the resurfacing of the following streets: C Street from Fourth Street to Mission Avenue, Fifth Avenue from A Street to the Mount Tamalpais Cemetery, D Street from Fourth Street to Fifth Avenue, and Vía Sessi. In addition, this project included the conversion of C Street and D Street from one-way roads into two ways roads so emergency vehicles exiting the PSC can access roads easily and maintain higher response times. The project also included the construction of a small retaining wall at the end of Vía Sessi and the installation of an ADA compliant bulb out at the southwest corner of D Street and Fifth Avenue.
The City's contractor, ERA Construction, Inc., has demolished the southwest corner of Fifth Avenue and D Street and is planning on pouring the new bulb-out to match the southeast corner on Monday. This project will also involve the replacement of the C Street parking garage's lower driveway which will take place next week. These improvements will allow the City to resurface D Street from Fourth Street to Fifth Avenue, and slurry seal C Street from Fourth Street to Mission Avenue, and from A Street to the Tamalpais Cemetery.